I like meatless Monday and I have a few must try meatless meals and meatless recipes that I've shared before, which are part of our meal planning. This vegan burrito is perfect if you are looking for something easy to make, if you hate cooking EVERYDAY. OR have times when you are challenged to get a quick snack, lunch or dinner on the table that is meatless.
My biggest challenge is eating lunch at home alone. My second biggest challenge for meal planning is making sure Sammie has something healthy when she gets home from school to eat before she head off to sports or piano lessons that has protein but, not always meat.
I know for a lot of families give up meat for Lent, or are going meatless on Friday's means finding new recipes to try that are meatless. Or looking for clean eating ideas that are quick to make. What's your biggest meal challenge for going meatless?
Meatless Monday
Have you tried meatless burritos? You probably have but, we have a convenient, quick meal solution that is a meatless burrito. Because some days you just need QUICK and EASY! Find out more below about this Chick'n Fajita Burrito and the other vegan burritos. Plus see how to enter our giveaway!
Meatless Monday Recipes
If this isn't a meatless idea for you; you might like our other meatless recipes: Baked Salmon recipe, Fish Tacos with homemade Avocado Sauce, Slow Baked Salmon, Vegetarian Pasta Salad, Tortilla Cream Cheese Roll Ups, Vegan Chili, Avocado Sandwich, or this filling lentil soup recipe.
Meatless Burritos
This is a sponsored post for MomsMeet and AlphaPlantBased.com latest product line of the Alpha Burrito, which I did receive for free to try and am being compensated for. There may be affiliate links in the post at no cost or no additional cost to you.
We were introduced and asked to review (our honest opinion and thoughts) Alpha Burritos, it's a 100% plant based burrito with non diary cheese. Have you ever heard of Alpha burritos? Or food products? Let me share a little bit about these vegan, vegetarian and 100% plant based burritos and what we liked about them. Plus meatless ideas for how you can turn this quick meal solution into a lunch or dinner, besides using them for snacks.
Do you ever ask yourself,"What can I make myself for dinner on the cheap?" Or "What should I eat for dinner tonight? Or "What are meatless ideas can I get on the table quickly??
Sometimes you just need an convenient solution that isn't fast food that is healthy and meatless.
These burritos we tried aren't huge man sized restaurant burritos, (you know the kind you have to cut in half and still are too big!) which is perfect for me. They are a single serving size and the one I tried was 310 calories and 11 grams of protein. I tried the Chick'n Fajita Burritos
. They are the perfect size for a healthy snack, lunch or dinner.
Want to kick your meatless burrito up a k-notch?
Make burritos into a meal for meatless Monday
A plant based burrito by itself might not be filling enough for a lunch or dinner depending on how HANGRY you are but, add these side dishes to complete your lunch or dinner making it a meal.
Try adding sliced in season fruits (strawberries, blueberries, mango…)
Side of Mexican rice (I used left over rice from the night before and heated in the microwave)
Add sliced avocados (are always a hit in our family)
If you are not vegan a side of Greek yogurt topped with diced green onions
Sliced tomatoes, green onions, chopped cilantro
Fresh Mango Salsa recipe
Strawberry Avocado Salsa recipe
When I went shopping, I was going to add a few other flavors into my cart but, these were a hot ticket item in our local Walmart and sold out. Bummer! I'll have to head back when they restock the other flavors such as; Mexicali Burrito
, Philly Burrito
and Pizza Burrito. I really want to try a few more flavors. I have read the other reviews and other's are saying they are equally as good.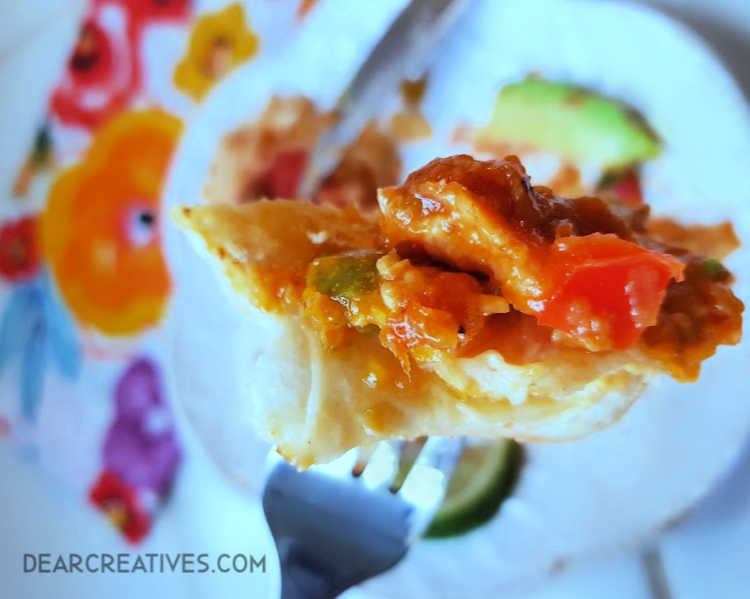 Vegan burritos are an easy dinner idea. We make them fresh when we have time but, love the option of having quick meals for clean eating especially on sports days and weekends.
Making the burritos are this EASY!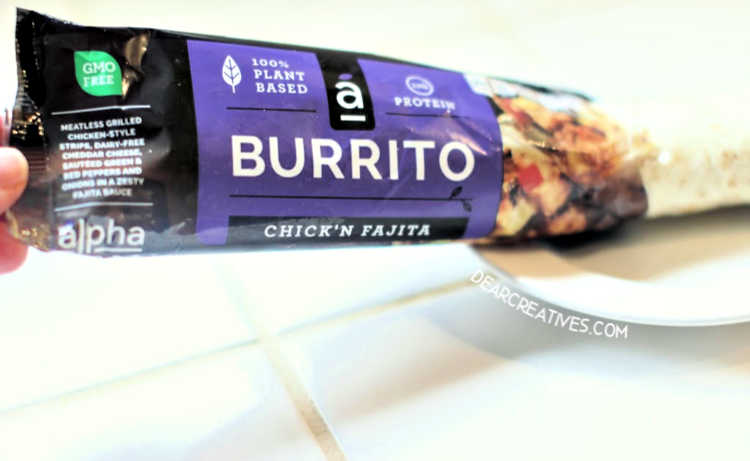 Slip them out of the package, onto a plate. Heat in the microwave. It only takes about 90 seconds to heat up. (If you want you can finish with a panini press
for a lightly browned, crispy crust.)
What I liked about these plant based burritos is the FLAVOR! Plus, they tasted like chicken. Texture and all but the burritos are 100% plant based! They are super flavorful, and have about 11 grams of protein. GMO free, no cholesterol. You can find out all the details here.
Are you ready to stock up your freezer for a quick meatless idea?
Try Alpha Burritos the Chick'n Fajita Burrito
, Mexicali Burrito
, Philly Burrito
and Pizza Burrito. Which one do you think you or your family would like to try?
We picked up our Alpha Burritos (under $3) at our local Walmart, on the end cap in Paso Robles, Ca. you can find out all the stores where Alpha Burritos are available via their store locator. They are at other stores such as Kroger, Publix, Wegmans, Albersons, Fairway Market, Sprouts Farmers Market, Safeway…….
Want to win vouchers to try Alpha Burritos for free?
Enter in the Rafflecopter to be in the drawing!
Mandatory follow @alphafoods
Additional places to follow Facebook
All other entries optional, Good luck!
I don't know about you but, living in central California burritos are a staple in our diet. Having a quick, healthy option is always a win!
Have you ever tried Alpha Burritos and their other plant based products?