10 Must-Have Craft Storage Ideas I couldn't live without for my craft room's organization and craft room storage. Hopefully, my organization tips help you! It's that time of year where we all seem to be cleaning, purging and making things sparkle again! If you aren't cleaning your craft room you can see our other craft ideas or home organization posts.
Creating and making things means making messes. But, keeping your craft supplies organized helps keep cut down the time you spend looking for things. Meaning more time for making!
Craft Storage Ideas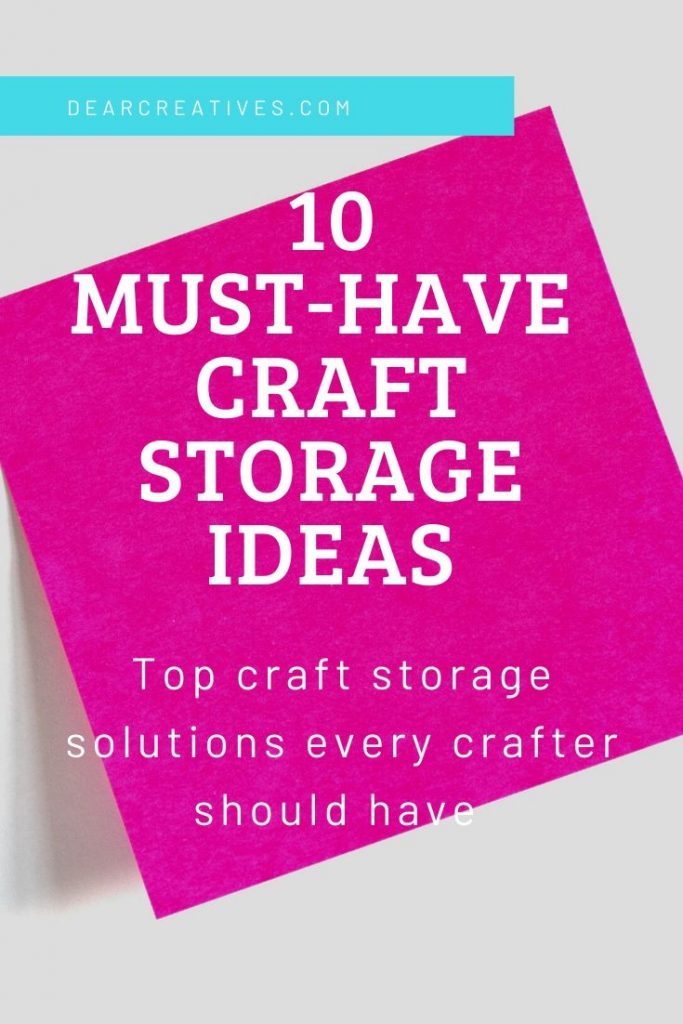 It honestly can be so frustrating when you want to make something, work on a project, or sewing project but, can't find the tools or specific supplies you need. I feel better when everything is organized in the craft room. Then put back after creating so that I can find it for the next project.
How to store craft supplies?
Craft storage every crafter should own!
Own a labeler like this. I label all my craft storage bins, baskets, art bins, and boxes. Each label has what is inside them making it easy to find what is needed.
Put 2-ounce acrylic paints in boxes with lids like this, labeled according to colors. Then store them on a bookcase, stacked.
Have a Rotating Art Supply Organizer makes it easy to store colored pencils, pencils, pens, scissors, paintbrushes…
Craft paper and scrapbook paper storage like this. These also come in other sizes.
Clear Plastic File Storage/Magazine Storage Organizers. These are great for magazines, thin books, storing patterns. I even store quilt rulers in one.
Ribbon Storage like this Ribbon Storage Rack which I have but, then I also use a tiered hanging basket (easy to grab most used ribbons and laces) but, I spotted this Ribbon Storage which is on my list to get, as it is larger.
A Toolbox for tools or craft storage. To store such tools as screwdrivers, cutting tools, glue gun. And Twin Top Supply Box which is great for crafting or sewing supplies.
If you journal or make art journals washi tape storage like this.
If you paint with tube paints or draw a 3 tiered toolbox is a must. I've had mine for years, they are so durable. I also have a woodbox easel with storage. This gives me additional storage and lets me bring what I need where I am painting. Like outdoors, in the kitchen or traveling.
Everyone should have a storage cart like this or a utility cart if you have space they are handy for moving things to where you are working. Great for when you store supplies in another room and pull them out to craft. They are also great to have for storing your kid's craft supplies.
Easy Ways To Organize Craft Supplies
These are easy ways you can organize your craft room. Put all the supplies into boxes or bins, then on bookcases stacked and organized by categories. Meaning all paints together, all drawing and art journaling supplies together, paper-crafts, tools, ribbons…
Having a labeler has saved me so many times because you can easily read what is in the box or bin! If you don't have one put a labeler at the top of your must-have list. I use it for organizing other things in our home too.
You might even like this free online class, Craft Room Organization with Totally Tiffany. Or see this post craft room organization or our other posts listed below for even more organization ideas. Be sure to subscribe as we will have a free printable craft room cleaning checklist (and organization list) for you soon!
I hope this helps you if you are working on your craft rooms' organization.
Home Organization