Over the years I've made stuffing a lot of ways. Way back we used to stuff the turkey that had been washed, dried and salted. This is not recommended any more. Seriously, you need to make your stuffing in a separate side dish. Every year my daughter Krissy and I plan Thanksgiving. We search out new recipes to try. Last year we found a yummy stuffing recipe that is really easy to make and serve. This can be served anytime of year as a side dish too.
Now, this recipe was adapted, I'll share the details in the recipe card. We found it deliciously good and it looked pretty plated. If you don't want to do all the work of making stuffing balls, you can just bake it in a dish for serving. Cook time may very. For this recipe you create little round balls of stuffing goodness.
We cooked ours in two 11 x 13 baking dishes. Which worked perfectly for a large crowd. You can easily cut the recipe in half if you have a smaller group. When we have stuffing we make gravy and often times mashed potatoes.
Side Dish
Stuffing Recipe: Stuffing Balls With Sage And Onion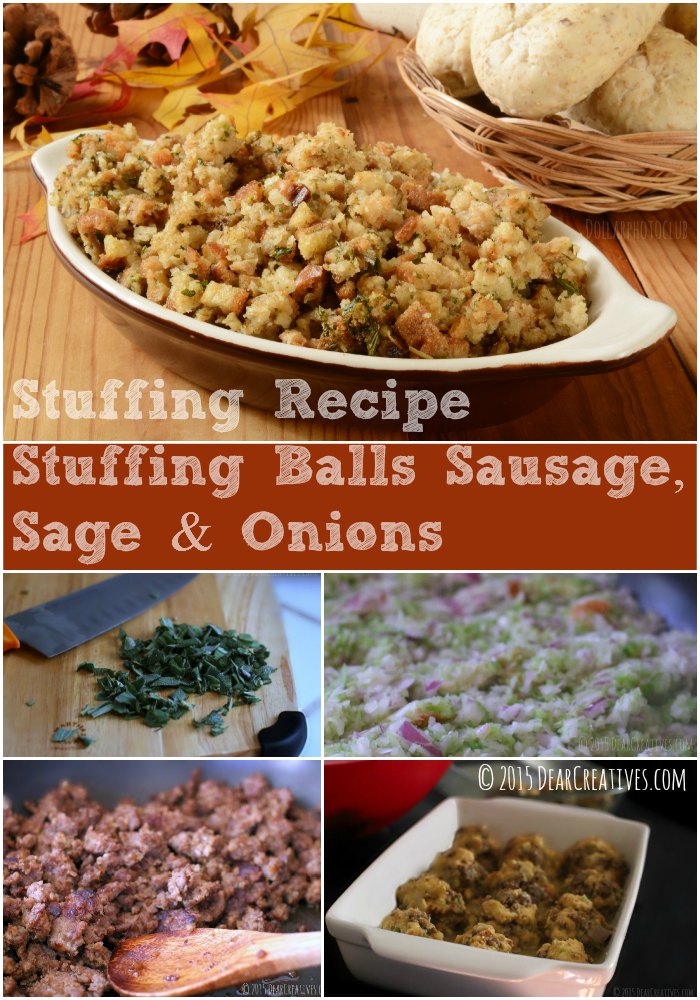 How to Make Stuffing Balls:
Gather all your veggies together. Onions, garlic, celery, sage. Have loaves of bread, eggs, chicken both and seasonings.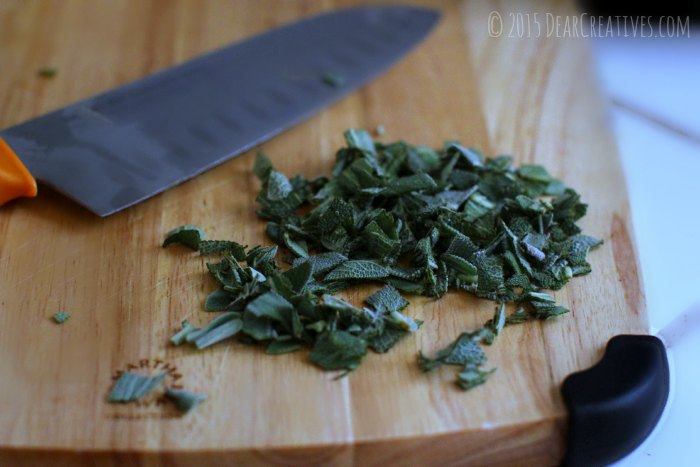 We hand chopped the sage.
We used our food processor for onions, garlic and celery. (our food processor has outlived it's 5 year warranty by over 2 times and we highly recommend it if you don't own one.)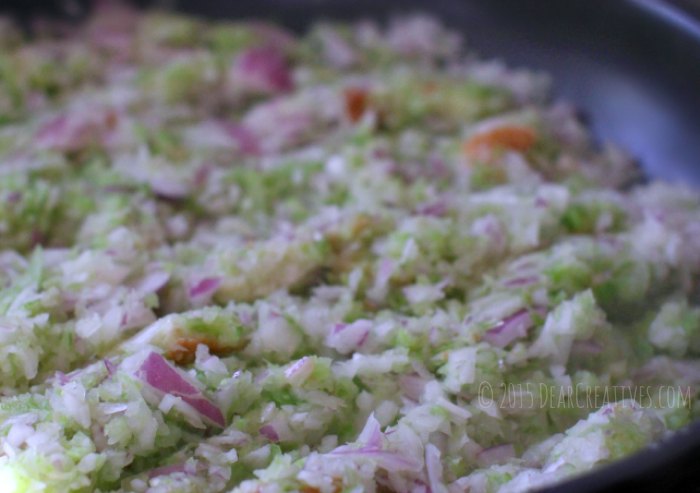 If you don't have a food processor just finely chop these items.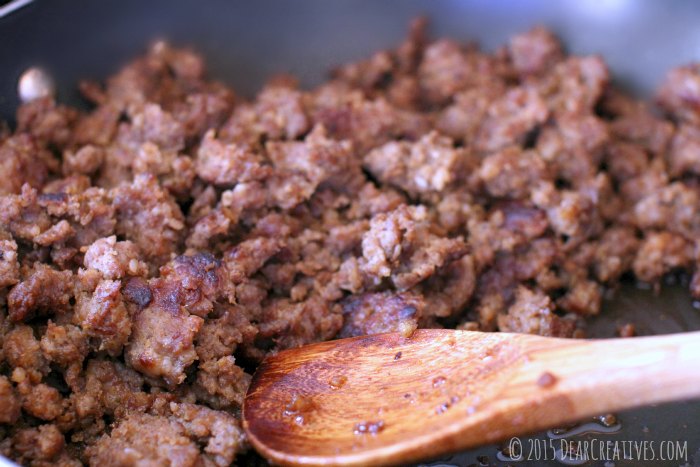 You need a non stick skillet or other skillets. You'll cook the ground sausage and drain off any of the grease. In the other skillet you'll sauté the onions, garlic, celery and sage.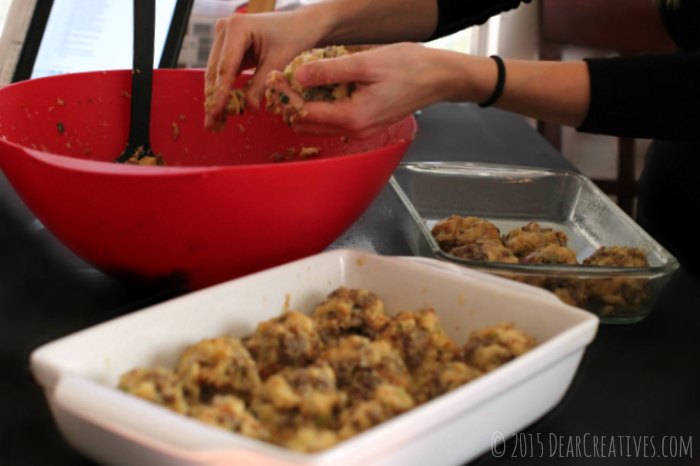 Then you'll add it all to a large bowl. Adding the other ingredients. When all mixed together you'll assemble the stuffing balls with sausage and sage. Be sure to spray non stick spray to pre-coat your baking dish prior to adding your stuffing balls for baking.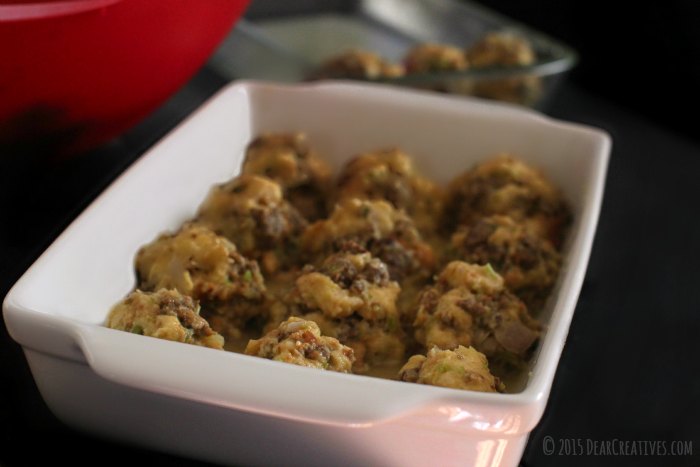 When they are fully assembled you'll pour half of the chicken stock into each baking pan. Bake in a pre heated oven 350* for approximately thirty minutes.
Stuffing Recipe:
Stuffing Balls
Stuffing Balls With Sage and Onion
2015-11-09 01:03:23
Serves 15
Delicious, pretty stuffing balls. Great with gravy a perfect addition to any meal including Thanksgiving.
Ingredients
2 pounds Jimmy Dean Ground Sausage (or something similar)
2 loaves bread cut up into small pieces
4 eggs, whisk prior to adding to bowl
4-6 tablespoons butter
7 stalks celery
1 red onion
1 large yellow onion
4 garlic cloves minced
1- 1/2 tsp black pepper
1/4 cup fresh sage leaves (chopped)
1 cup chicken broth (save to last pour half into each dish)
Pam Non Stick Coating Spray
Instructions
Cook sausage and drain off any oils from cooking sausage. Set to side to cool slightly.
Cut up bread and set to side.
Chop up sage and put in a bowl until needed.
Chop up finely in food processor or by hand. Then sauté in butter : onions, garlic, celery. Next add sage cook a few minutes longer.
Add all the above ingredients to a big bowl, after steps are done.
Next crack open and whisk eggs in a separate bowl. When whisked add to the big bowl with other ingredients.
Next add sage and pepper.
Mix together with spoon and use hands to form stuffing balls.
Add them to a pre sprayed (non stick spray) baking dish. When completely full cover each dish with half a cup of chicken broth.
Notes
Pre coat your baking dishes with Pam non stick coating.
Reserve Chicken broth to add at last step prior to baking, half a cup for each baking dish.
Store any left overs in refrigerator after covering with foil or saran.
Easy to heat up next day in microwave with left over meat.
Adapted from Whitney Bond
Dear Creatives https://www.dearcreatives.com/
We really enjoyed this recipe. I'll be sharing a few more we tried over the next few weeks.
Do you have a favorite stuffing recipe? Have you tried stuffing balls before?