I thought I might not can or freeze at all this year but, our neighbors dropped by with fresh white peaches from their tree. Then my Mr. picked up a few big juicy peaches from the farmers market. This means it was meant to be, a date night with my trusty pot and a big spoon stirring up some a fresh, homemade peach jam recipe. I mean what's not to love about pulling out trusty easy canning recipes and cooking up a concoction of organic fruits with a hint of lemon and sugar to make jam?!
Like always, August and September brings hot days and nights in Central, CA. They even have a car show in a nearby town called Hot August Nights. Kind of like when all the teens drag raced and drove their cars downtown in American Graffiti. Well, you get the picture weather so hot you just want to hang out outdoors all night long. But, thanks to a new fan installed in my kitchen and opening up the windows the full way I was able to heat up my pot and get cooking!
Peach Jam Recipe
I can't say I'll miss the hot August nights but, I will miss the fresh fruits for making jam. I have made jam several times before and will share a few recipes at the end of this post.
How to can Peach Jam
For this recipe I literally washed and cut the peaches up, tossed them into the pot.
Added in lemon, sugar and a tablespoon and a half of pectin. Cooking it up while stirring and smashing the peaches with an old fashioned potato masher. Then cooking some more until it was bubbling hot when you can't stop it's roll and your one hot mama.
Peach Jam Recipe Notes:
If you omit the pectin you'll need a longer cook time to reach the boiling point.
If you can or freeze you know before start to have all your canning supplies washed and sterilized before you even begin. You want to add the jam into the clean, sterilized jars while the jam is hot.
There are plenty of tutorials to be found but, I have added how to can peaches video I sourced to help you. You'll find it below.
One thing I love about making freezer jam or canning every year is I don't have to wait until next year to have the perfectly fresh taste of the seasons pick of fruits! Sometimes this makes me miss living on a little piece of land, in a climate where I can have a garden outside. But, lucky for us we have neighbors who have peach trees and farmers markets nearby.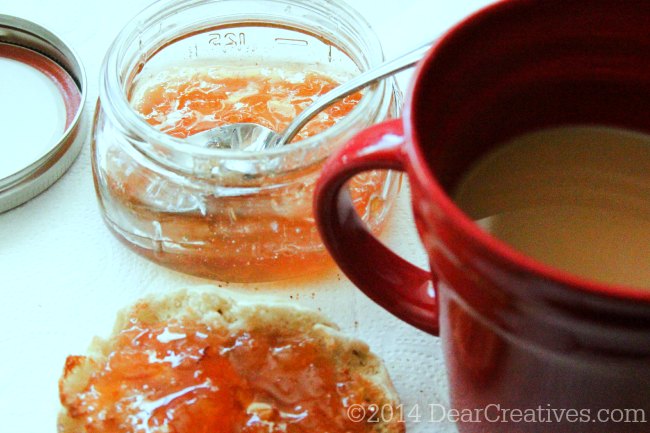 The fruits of my labor paid off with a overly indulgent helping of peach jam on a twice toasted English muffin served with a perfectly brewed coffee with a touch of cream. Maybe I'll make some fruit bars next with a bit of the jam, when I do I promise to share. Be sure to subscribe or follow along on Facebook so you don't miss out!
Here's a few tips and recipes to get you started
Watch out for late season fruits and what is available locally at your farmers markets. Working in small batches can make it faster and easier when canning or freezing.
You might have caught Ball Canning Show Pickled Foods Show

September 4 but, i

f you missed it you can check the video archives for canning, freezing and pickling.
Here's a video tutorial for a Homemade Peach Jam Recipe
This will help anyone new to canning peaches. The video goes through the entire process. The only difference is I use a potato masher to get my peaches more mashed up.

Did you freeze or can any peach jam recipes this year? Do you have a favorite peach jam recipe?
Related Canning /Freezing Posts:
Helpful Canning / Freezing Information: