Hey beauties, it's been a while since I had a chance to share what beauty, and skin care products we are crushing on, and working for us. Today we are sharing how to Freshen Up Your Skin Care Routine for spring, and summer. Along with sharing a few beauty tips for moving into warmer weather.
Freshen Up Your Skin Care Routine
Spring – Summer Skin Care – Beauty Tips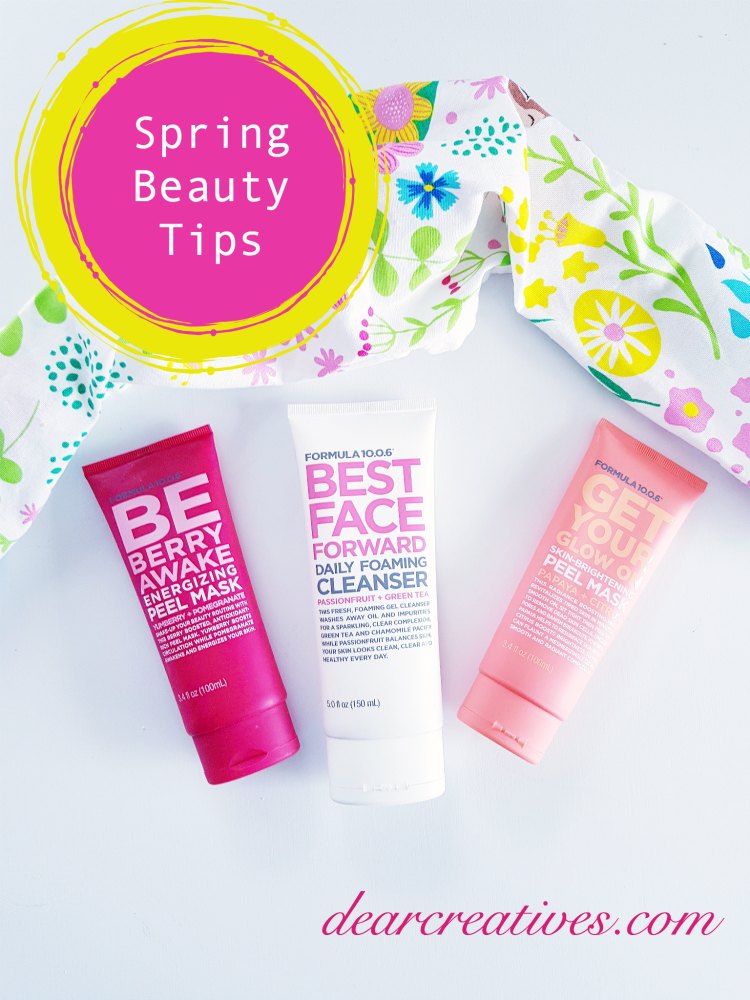 For us the weather is all over the place, cold, and windy a week at a time, to sunny and in the 80's. We aren't a one size fit's all when it comes to skincare. But, there are a few beauty products that can work for mom/ teen daughter. We have found a couple of really great face washes, scrubs, and skin peels.
What should be doing for your skin care as we head through spring, and into summer?
Switch out skin care routines
Clean

Exfoliate your skin
First up, having a facial brush to gently clean your face is a great addition to your beauty arsenal. Either a soft facial brush or a rotating spin facial brush with 3 heads, will work. Use it with a gentle cleaning cleansers. Facial brushes are great for deep cleaning, and getting your pours clean, makeup removal to exfoliation.
Let's sluff off winter, and welcome spring, and summer with renewed skin. For the 30+ crowd, this deep cleansing skin kit, with facial brush is one you'll want to consider. Dermatologically designed system with formulas that target the root causes of skin aging.
If you haven't gotten on the mud mask, and peel routines. Call the skin patrol now. I'm giving you a ticket to skin care health, and here's the 411. You need to use these beauty products in your skin care routines. Not everyday but, once a week to once a month.
Here's just a few reasons to love, and use mud masks, and peels
Perfecting troublesome skin

Formulations use Fresh, natural ingredients

Promote clear, healthy skin
Hands down our two favorites are the Be Berry
and Get Your Glow On
peels. Peels are great as we head into the warmer months.
Grab skin care travel kits, and care for your skin on the go!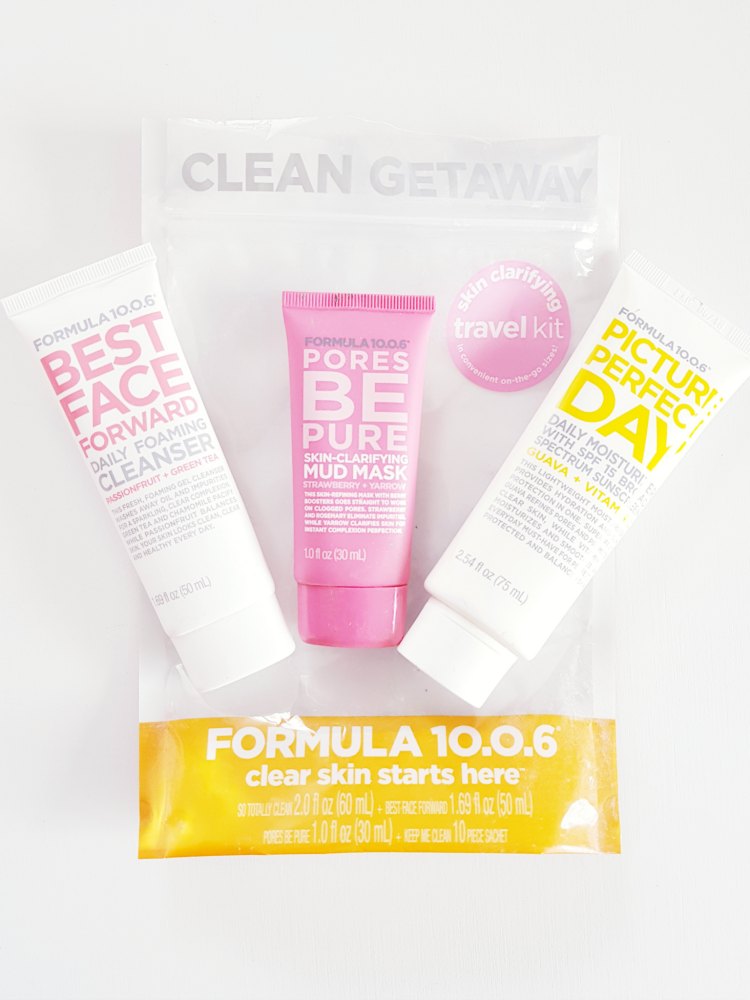 We got hooked on this line when we purchased a Skin Care Travel Kit for a trip we took, then decided to try a few more skin care products from the line.
The skin care travel kit comes with
A convenient travel pouch

Best Face Forward Daily Cleanser 1.69 oz Foaming Gel Cleanser helps skin look clean, clear and healthy

Keep Me Clean Wipes 10 ct. Instantly Refresh Skin anytime anywhere

Pores Be Pure Mud Mask 1.0 oz. Skin Refining Mask with berry boosters works on clogged pores

So Totally Clean Deep Pore Cleanser 2.0 oz. Helps Clear Acne pimples, blackheads, whiteheads
My needs are a bit different then hers but, the travel kit was great for both of us. We both love the facial wash, it's gentle and leaves your skin feeling soft. The Mud Mask was a win/win too. Sammie loves the wipes. We used up the entire deep pour cleanser.
Nix the heavy cleaners, creams, and lotions it's time to lighten up your skin care

My last trip to to the beauty store, I decided to try the Be Berry Foaming Daily Cleanser, which is slightly different than the cleanser Sam and I were using. The Be Berry has moisturizer, yet is lighter than the one I normally use. It has blackberry, and coconut in it. It also moisturizes your skin while cleaning it. Not only does it smell good, it leaves your skin fresh, and smooth. Now, I don't have to add additional moisturizer unless my skin feels dry. This is a great cleanser, and moisturizer in one.
Sammie still uses the Best Face Forward Cleanser, but add this Picture Perfect Day Moisturizer
when her skin needs a moisturizer. Since she's a teen, she has different needs, and this routine seems to work good for her. What's great is this moisturizer has sunscreen in it which helps if she's just heading to school with no makeup on. Some sunscreen on your face if better than none, the SPF is 15 in this moisturizer.
Daily moisturizer

SPF 15

Contains Guava

Contains Vitamin C

Protects and Balances Skin
How do you keep your skin clean after a workout?
After playing sports or working out use skin cleaning wipes
, Sam loves these because they are for sensitive skin, and have grapefruit extract. If you wear makeup, you may need makeup remover wipes
, then these wipes.
99.1% natural towelettes for normal to oily skin

Formulated with pink grapefruit extract

Removes dirt, oil and makeup without rinsing; Gentle enough for daily use, even on acne-prone skin

Cleansing cloths contain no parabens, phthalates or petrolatum

Dermatologist and ophthalmologist tested facial wipes
What type of make-up should you use when your going to be outside?
Be sure to use a lighter makeup with sunscreen in it
My favorite is this rescue foundation with SPF 30, it's tinted, hydrated, and a gel cream. It comes in a large variety of colors to match your skin type.
We hope this post helps you find a few new beauty, and skin care products. We found all these to be super affordable, which is a bonus!
Don't forget to purge expired makeup, and freshen up with new natural makeups.

See our other posts below.
Are you looking to update your makeup? You might like this deal Stowaway Starter Kit – $49 ($72 Value) This is a natural line of cruelty free makeup. We have tried their line, and love their travel sized options….
You can see this post for our review.
New here? Be sure to subscribe.
Pin it for Later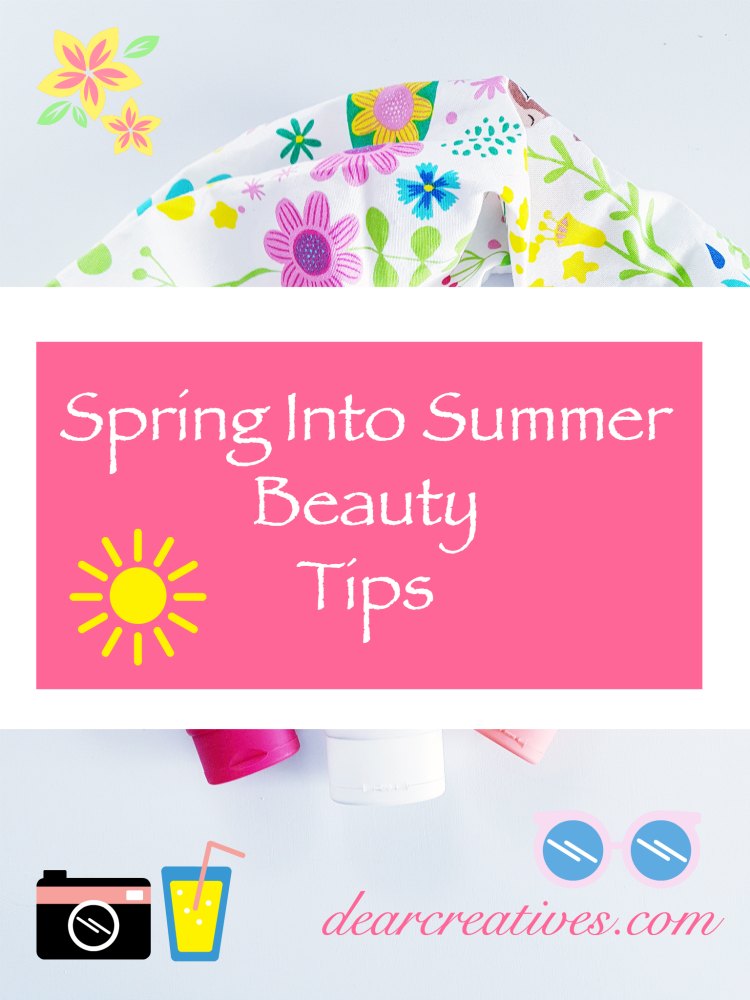 Have you tried any of the Formula 10.0.6 line? What natural beauty, and skin care lines are you crushing on right now? Continue the conversation by commenting here, or on Facebook and tagging us on social media @DearCreatives
What are you doing to freshen up your skin care routine?