Easy Pumpkin Cranberry Bread – Are you looking for an easy holiday recipe to make? This is it! With a few ingredients, a boxed pumpkin bread mix, and these instructions you will be slicing and serving this for any night of the week or a holiday gathering. Additionally, you can use our pumpkin bread recipe to make it from scratch (if you prefer) and these additions, plus instructions.
It is perfect for celebrations and easy enough to make the same day or ahead of time. Looking for a different recipe? See all our quick bread recipes.
Affiliate links may be included in the post. By clicking the links for qualifying purchases we earn a small commission. This is at no additional cost to you.
Easy Pumpkin Cranberry Bread
This is a simple way to elevate pumpkin bread (from scratch) or by using a box mix. On this day we used a box mix for pumpkin bread, adding dried cranberries and chopped walnuts (or pecans or no nuts). Then give the pumpkin loaf bread a dusting of powdered sugar…
When you don't have time to make pumpkin bread from scratch pick up a box and elevate the pumpkin cranberry bread by adding dried cranberries and chopped walnuts and dusting the top of the bread with powdered sugar.
Let's make this!
Helpful kitchen tools for recipes like this!
Pumpkin Cranberry Walnut Bread Recipe
Ingredients
Instructions
Preheat the oven using the directions on the box.
Prepare a loaf pan with nonstick spray.
Mix the pumpkin bread per the directions.
Stir in dried cranberries and chopped walnuts until well combined
Pour into prepared loaf pan
Bake according to package directions
Cool slightly then remove from the pan.
Dust with powdered sugar.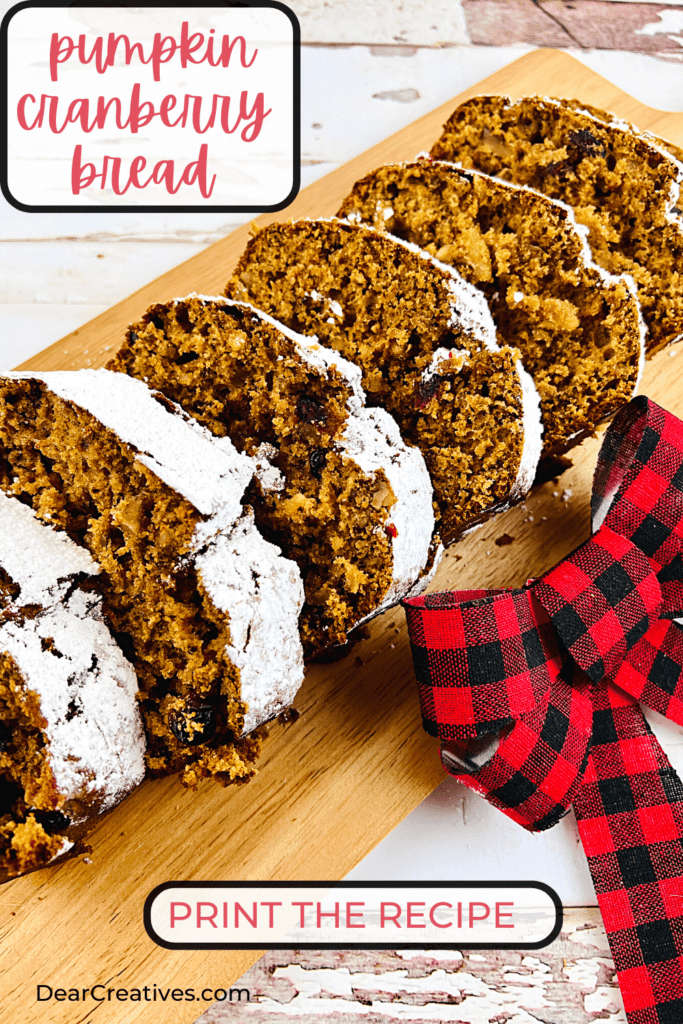 Slice, share, and enjoy! And don't forget to pin the recipe if making it later. Sometimes you just need a good semi-homemade recipe to make and bake. Honestly, they'll never know how you made it. Whether you use the shortcut or make it all from scratch. Wink, wink.
Print The Recipe
Baking Recipes