Pumpkin Banana Muffins are moist, have all the fall flavors, and have a little bit of chocolate with the addition of chocolate chips. If you are looking for a good recipe for banana pumpkin muffins get out your mixing spoons, this one you will be making over and over again!
Looking for something else to bake? See all our muffin recipes.
The recipe is easy and makes about 16 muffins depending on your scoop size. You can eat them over several days. Or bake, cool, and freeze the muffins. Use them for snacks, in lunches (kid's lunches), or for a sweet treat…
Pumpkin Banana Muffins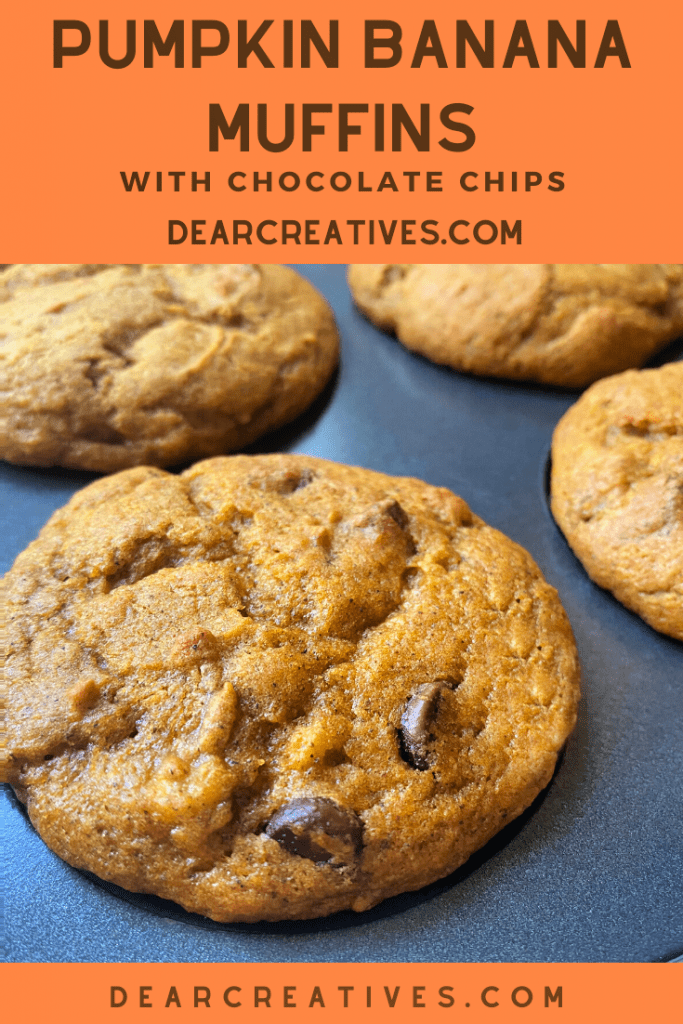 Pinky swear you won't taste the bananas. If you prefer here is a recipe without bananas. Make these Pumpkin Muffins! They are moist and light too. You can use fresh or canned pumpkin for this recipe.
Pumpkin Banana Muffins Recipe (With Chocolate Chips)
Ingredients
Instructions
Preheat the oven to 350 F
Line your

muffin pan

with

liners

. Set the pan to the side until needed.
In a large bowl or mixer mix together butter and sugar. Next, add in the eggs and vanilla until combined.
Mash the bananas with a fork. (In a separate bowl).
Add the bananas and the pumpkin puree to the mixture.
Meaure and slowly whisk together in a separate bowl all the measured dry ingredients – (flour, cinnamon, pumpkin spice, baking powder, baking soda, and salt). Adjust pumpkin spice to your taste.
Add the dry ingredients (slowly) into the wet ingredients. Mix together until combined. Don't over mix the batter.
Next, fold in the semi-sweet chocolate chips.
Scoop into the lined muffin pan. Bake the muffins until done and the batter comes out clean. Bake about 20-25 minutes. (The baking time varies with oven and altitude. Check on the muffins before the end of the baking process).
Cool, serve and enjoy!
Are you counting calories? You can omit the chocolate chips if you prefer the muffins without them.
Print The Recipe
New here? Be sure to Subscribe. Grab our bonus printable recipe binder and cooking resources. Plus, never miss a post with our newsletter!
Don't forget to Pin it for Later
What kind of homemade muffins do you enjoy baking (and eating)?