Have you made a fall wreath yet? Did you know that you can use the same process to create all seasonal wreaths? I love seeing them on doors during the various seasons. They especially look nice hung indoors near a dining area. You can set the mood for a festive gathering by making a decorated wreath for your home's decor. Really they aren't that hard or expensive either. We hope you enjoy today's grapevine wreath ideas tutorial.
A while back I shared a really simple Easy Grapevine Wreath Decorating Project DIY Crafts project, it takes you through all the supplies and steps of creating one. When your done don't forget to see all our fall craft ideas.
For this wreath DIY it was the same process but, with one additional supply a floral wired garland. I'll share a few resources for some later in the post along with my top 6 tips for wreath making. I have sourced a few floral supplies that are perfect for fall and a couple for winter-holiday too.
To get started you just need these basic supplies to create any wreath. A set of wire cutters, pliers and a hot glue gun with glue sticks. Floral wire is helpful for creating a hanger on the back. Depending on your skill level you can make this in 30-45 minutes.
Fall Harvest Wreath DIY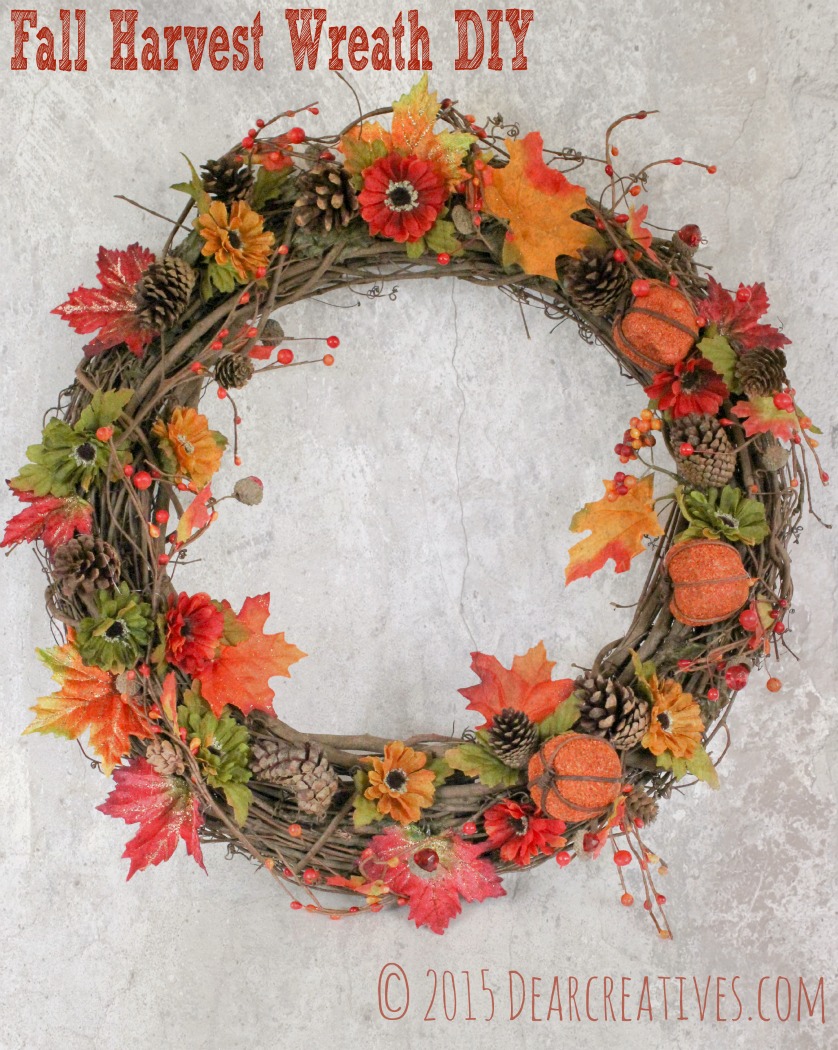 Honestly it's so simple by starting with a grapevine wreath, wire or other type of form. I started with a dried grapevine wreath.
Grapevine Wreath Ideas
The first thing I did was create a wire hanger on the back of the center top of the wreath. Then I wrapped my pretty garland around slipping it under some branches to hold it in place.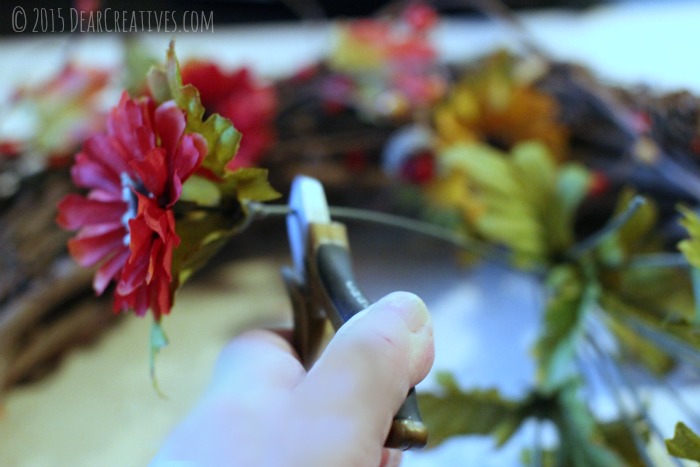 Then I cut silk flowers from bunches that I purchased at Michael's Crafts. I used silk flowers but, you can use dried flowers too.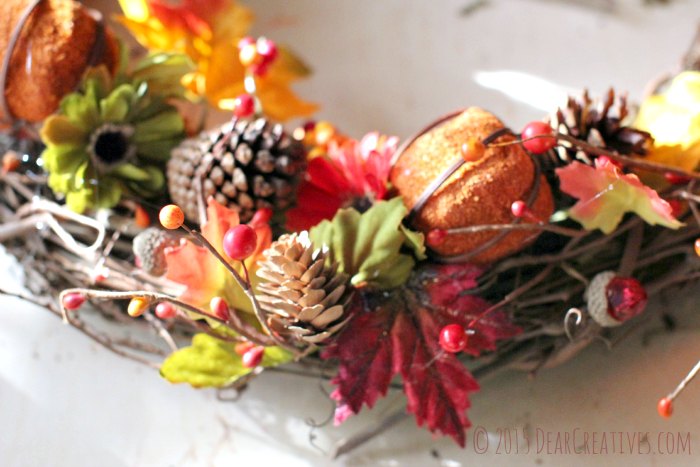 I would place the flower stems into the vines tucking them down in place. If you leave them about 2-3 inches long you might not have to hot glue them as they have wire inside you can twist a bit to keep them in place. If they aren't secure then use your hot glue gun to glue into place.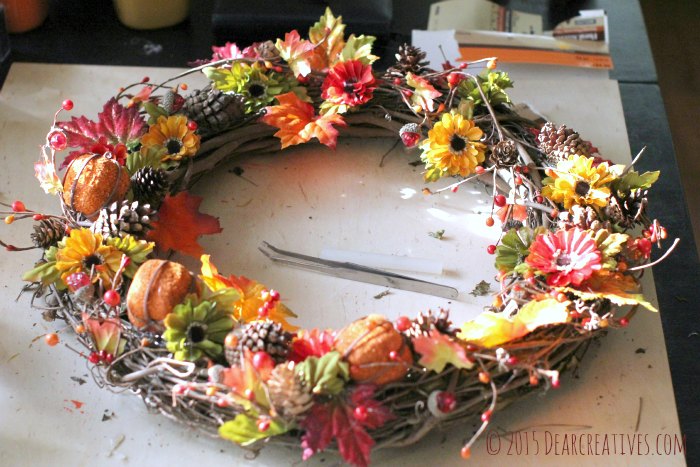 Another tip I have for you is use a long pair of long tweezers for tucking in and hot gluing. This way you won't burn your fingers.
Related Step by Step Grapevine Wreath Ideas, and Tutorial:
Want the step by step tutorial (it also has a detailed supply list to help you get started) to create your own wreath? Easy DIY Fall Wreath
Don't forget you'll need to add decorative garland to your list of supplies to make one like the fall wreath above! See a few options below.
Wreath Supplies:
Here's a few of our favorites:
Must Have Wreath Making Tips:
Protect the surface your working on with a large piece of wood like a quarter piece of plywood
Gather all your supplies before starting
Create the hanger on back first
Use tweezers when hot gluing
Be sure to step back from your project to check placement of items
Do not hot glue down until sure of visual balance *(pre set hot glue items where they will be on your wreath first & use above step)
Don't forget to subscribe for more DIY craft projects, recipes and more!
Hope that helps you to get started on a seasonal wreath!
What types of wreaths have you made?