Have you decorated for fall yet? Usually, I have all my fall decorations up by now. I update my mantle, add fall decor to my kitchen, spruce up my entryway and add a bit of fall spilling onto my front porch. But, since I have been gone I am getting a late start. I still need to get a few new things for when I am hosting guests. Plus, refresh and makeover my home for fall. I decided to take a peek then share my top 20 favorite fall finds with you. Get ready to style to your home for fall.
Fall Decor Ideas
You can see also see decorating ideas right here with my home decor ideas. But, today I thought I'd share the best fall-autumn home decor finds I don't think that I can live without several of my picks. I am loving all the oranges, neutrals, mustard and gold tones. Rustic, farmhouse and fall wreaths. Oh, my!
Decorating For Fall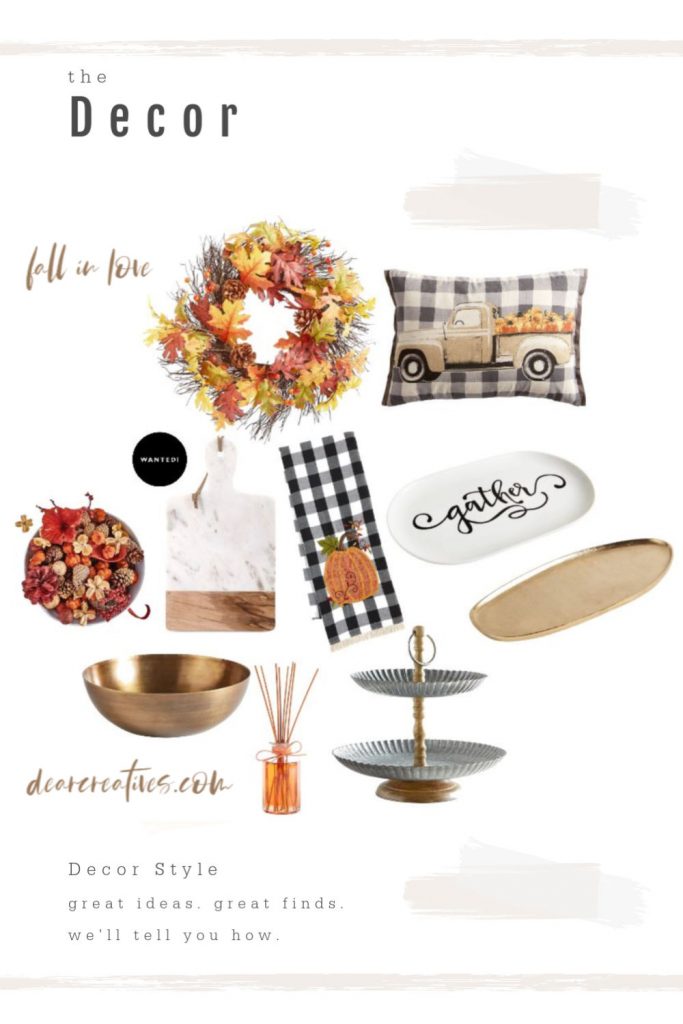 1./2./3./4./5./6./7./8./9./10.
Is buffalo check in style for 2019?
Yes, buffalo check is still trending for your fall decorating. Plus I think it can be easily transitioned to the Christmas season.
This weekend I'm about to let the magic happen. Or at least get the summer/back-to-school decor pulled down. I already am setting my plan in action, ordering my fall favorites and started taking the plunge into all things fall with a few decor accents. Sammie is trying to get me to add in Halloween decor for a party though I am ready to jump right into fall.
When should you decorate for fall?
If you haven't already, right now is the perfect time to get started. If you are using Halloween decor then start the day after Halloween or as close to it as you can.
It's been hot up until today. Finally, fall has arrived (hopefully it's here to stay) Today is the first-day temperatures dropped over 30 degrees! I am so ready and not ready for fall at the same time. Can you relate? Get ready to gather your fall accents, fall table decor, and let's get decorating.
Fall Kitchen Ideas
home decorating tips
This large Pumpkin Spice Candle is perfect glowing in your house for fall. Or pick the small Pumpkin candle. They come in four colors, including a pretty orange.
Now is the perfect time to pick up a pretty wreath for a fall centerpiece for your table or to hang on your door.
I love using trays for vignettes, magazines or books, and arranging things. Or use them for trays for setting coffee onto where you are gathering with friends. This whitewashed tray is one of several styles that I have my eye on. Pop over then see how everyone is styling theirs.
For the kitchen, living room over the mantle or in the dining room, I am obsessed with this oversized clock (which happens to be on sale!)
Or this rustic sized clock on sale. I can't decide. What would you pick??
I am still loving these pumpkin mercury string lights that can go all the way through to Thanksgiving! Halloween party or Thanksgiving gathering they will be so pretty.
Make your house smell welcoming. For me, having pets I love having pretty scented things like this pumpkin spice potpourri perfect for in a bowl or vase set on a table, side table… (take the pet smell away)
We love serving cheeses and making charcuterie boards. Do you? This marble and wood cheese board is so pretty for in the kitchen or serving in the dining room.
If I picked one new platter to get it would be this one that has the words gather written on it.
Updating my doormat and kitchen tea towels when I spotted these two items; pumpkin spice tea towels for the kitchen and pumpkin spice and everything nice doormat for the porch.
Looking for more pretty fall things to add to your decor?
Where to buy fall decor?
Grab new table cloths, table runners, napkins, and baskets… Head right over (here) to find all the new fall decor, plus sale items at my favorite home decor store. My other top spots to shop for fall decor is Amazon Home and Jane.
Do you need more fall decor ideas and inspo?