Benefits of Journaling + Journaling Tips You Need Now!
I'm sharing the Benefits of Journaling along with journaling tips and journaling ideas for you. It's been a while since I have picked up my journal. Not, that I haven't wanted to. In fact, I was gifted and received the prettiest leather journal and pen to write with. There is something about a new journal you can't leave it lying around and not writing in it. Right?!
Affiliate links may be included in the post. By clicking the links for qualifying purchases we earn a small commission. This is at no additional cost to you.
Journaling Tips
Life sometimes is challenging. And we all have setbacks. I have had my fair share of setbacks this winter. And to be honest I have been struggling with everything going on in the world.
One thing I love about journaling is that you can pick up your journal and start at any time. And begin writing your thoughts again. If you haven't started journaling yet. I'm sharing more ideas for how to get started journaling along with a few journaling resources. See the benefits of using a journal.
Words are powerful!
Jotting down a quote, positive thoughts, journaling your feelings, goals, fears, blessings, gratitude, or … can make really make a difference in how you feel.
How To Get Started Journaling?
Get a journal and a pen that feels good in your hands.
Open up the journal.
Don't be afraid of the blank page.
If you don't know what to write or where to start. (Check out my journaling Pinterest board for inspiration and journaling ideas).
Words are powerful see the words, quotes and ideas for journaling that I have pinned.
Start anywhere, just start journaling.
Need more help getting started? Grab journaling prompts. Here's one for you; Printable Journal Page With Prompts – 15 printable journaling ideas and prompts. I have more coming.
Benefits of Journaling
Forget about the what-if and I can't! What if my writing isn't perfect, my handwriting isn't perfect, I feel like I can't draw…
The perfect thing about journals is they are for you! You don't have to share them What to do if you feel rusty? Just open the journal/book and write. Just begin.
Like anything in life, if you want beauty in your journal just practice. Write down travel adventures, memories, bible verses, favorite quotes…
If you want to express hurt, anger, disappointment, and fears. Do it. Let it go and feel better from doing it! These past few years have been rough.
Just get started journaling or pick it up again!
Journal positivity to journals too. Add happy thoughts, days where things that happened were worth remembering, things you are grateful for, what you celebrated…
What is yours?
When did I start to journal? And art journal? I suffered from depression and anxiety, after the loss of my mom. It truly helped me heal.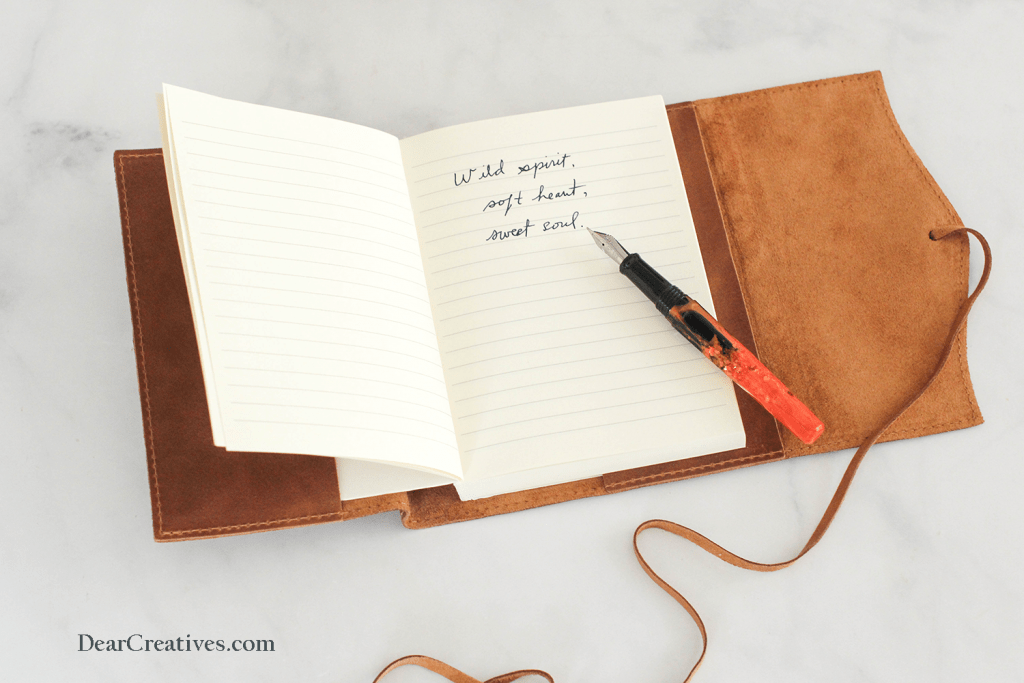 Sometimes I miss my daughter who is at college. I grab a quote that reminds me of her. And write it down. Wild spirit soft heart, sweet soul… somehow it makes me feel like she is closer to me. Being an empty nester gives you a lot of time to think about everything! I can't image this journal being empty long. I have a lot to spill.
There are many benefits to using a journal (no matter what age you are). Where are you on your journaling journey? What types of journaling do you do?
How often do you journal? Or should you?
It doesn't have to be every day. Strive for it to be a daily habit. I read that habits can take on average 66 days for a new behavior to become automatic. Just make journaling part of your daily routine. Just try it and repeat it as often as you can. Spend 15 minutes or…
A few of my favorite quotes and affirmations
Grateful for all small things, big things, and everything in between.
She believed she could so she did!
I am in charge of my happiness.
Life happens coffee helps.
Take time to make your soul happy.
Art Journaling Magazines
These magazines are filled with ideas and inspiration.
I love creating in journals. My art journals are where I've explored art and creativity. See what others are creating in their journals. Get ideas, papers, and articles filled with how-to…
Be Postive, Be Optimistic, and Be Motivated
Do you need to reset your mindset? Try to stay optimistic, positive, and motivated. You might like to follow accounts like the mindset journey on Pinterest or @benlionelscott on Instagram too. Use those powerful words, quotes, and inspiration in the journal.
Stay strong and stay motivated. Girl, there have been too many days lately where I need to revisit this! It will remind you of the power of the mind. Break the negative thoughts…
Repeat those words of positivity in your journal! Be committed to being positive. Take care of yourself.
Art Journaling Tips
What if I don't want anyone to see what I have written? (let go of those negative thoughts) Cover them up with pretty papers like this or these pretty papers by using a glue stick. And if you have a mixed media journal use acrylic paint… And write a positive word over them.
I journal everywhere. Do you? I store the supplies that I carry with me in this cute storage case. Use an art bin to store excess supplies.
A journal is your safe place to collect your thoughts and empower your mind and manifest dreams.
Where to buy journals and journal supplies?
My new journal and pen were gifted to me from PenHeaven.com. You can purchase leather journals, page refills, pens, gifts for journalers, and other journaling supplies. The journal is a buttery soft journal with lined paper and ink pen.
Happy Journaling!
New here? Be sure to Subscribe.
Pin it for Later
Related Content