Are you crazy about pumpkin spice lattes? But, maybe not the price of buying a hot, iced, or blended PSL from Starbucks (every day). Why not try making pumpkin spice lattes at home! We share a few ways to make this pumpkin spice latte. Make a Starbucks Pumpkin Spice Latte at home.
Looking for other coffee drinks to make? See all our coffee posts.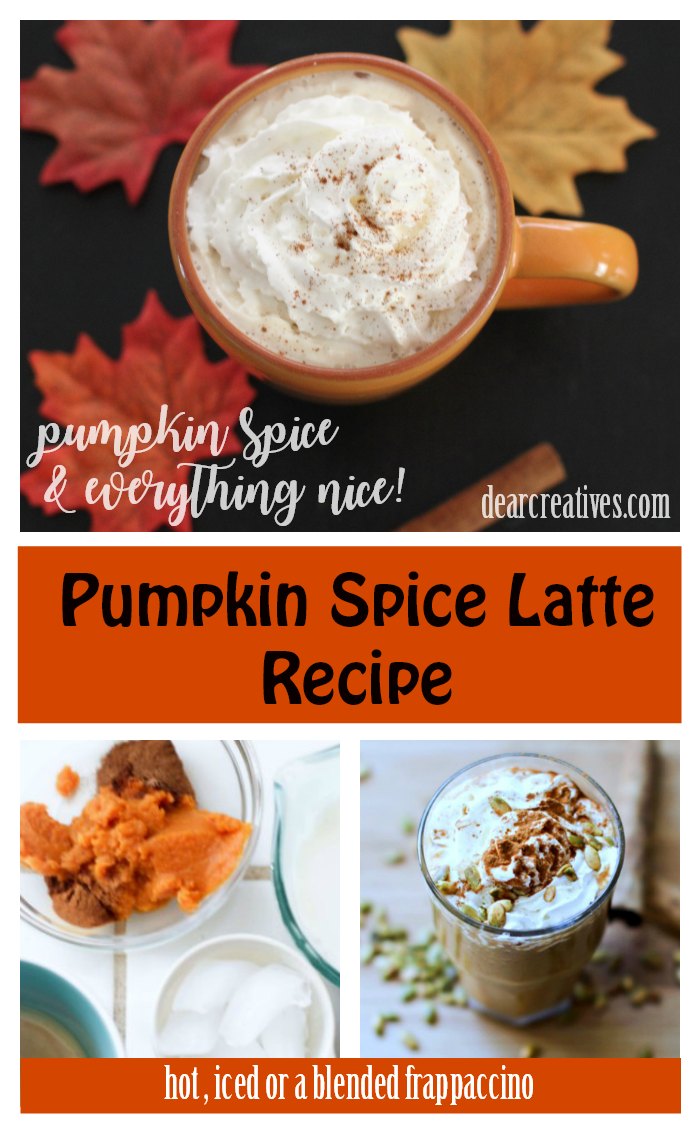 Fall is the perfect time for all the flavors of pumpkin. Why not pair it with our pumpkin muffins recipe. Or just sip on it during the afternoon while enjoying "me time" or with a friend. Honestly, where we live it's still to warm for hot drinks so we make them iced or blended during the afternoon. We make hot pumpkin spice lattes when the weather cools down.
The great thing is this pumpkin spice latte recipe is the same for warm, iced and blended pumpkin spice drinks. The only difference is the steps are slightly different. It is to make coffee shop beverages at home.
I'm going to break it down for you.
Pumpkin Spice Lattes
Ingredients for making pumpkin spice lattes
Want to get all fancy? Impress your guests with a festive pumpkin spice latte? Add pepitas
or pumpkin seeds
for garnish too. You can sweeten or make your pumpkin spice lattes with pumpkin pie syrup.


First things first. Gather your ingredients and decide if you are making your pumpkin spice latte warm, iced or blended.
For today's we made our blended. Remember the pumpkin spice recipe is the same for all three.
Pumpkin Spice Latte (warm) omit the ice and do not cool your coffee or espresso shots.
For Pumpkin Spice Lattes (iced) or (blended) cool your coffee or espresso shots add a little vanilla, milk, or non-dairy milk and cool
NOTE: for iced or blended Pumpkin Spice Lattes (either cool in fridge or counter depending on how much time you have) Why add the vanilla or milk? Because it will help keep the coffee from getting bitter. (It's a true coffee shop trick, your welcome 😉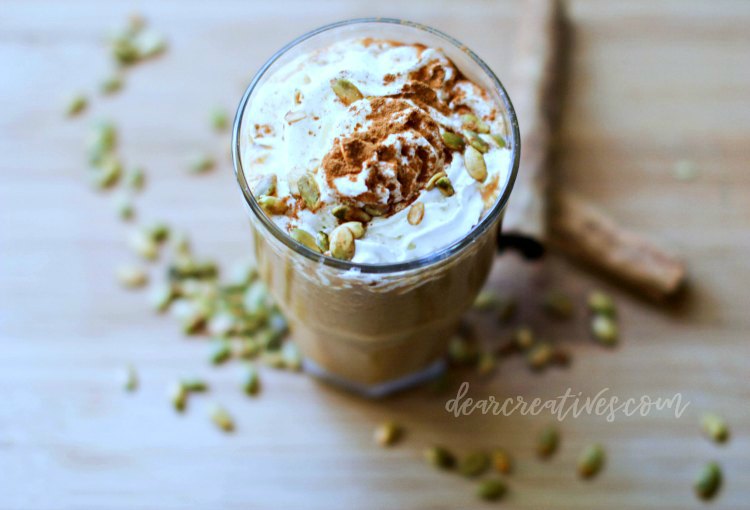 How to Make a Pumpkin Spice Latte at Home
Add your pumpkin puree, vanilla, spices, and non-dairy milk or milk to a small stovetop pan.
Simmer until warm, while mixing. Do not bring it to a boil!
Then add your brewed coffee or two shots of espresso to the cup
Immediately pour warmed pumpkin mixture over the coffee or espresso
Optionally add honey or sugar (or your favorite sweetener)
Top with whip cream and cinnamon
How to Make a Pumpkin Spice Frappuccino
Add all the ingredients to the blender, lid securely, and blend. I used my Vitamix Personal Cup Adapter
for my Vitamix
Add your non-dairy milk or milk, pumpkin spice, and cinnamon
Cool your coffee or espresso and add your

cooled coffee ingredients

into your blender
Then add your pumpkin puree and vanilla
Next, add your ice to the blender
Optionally add honey or sugar (or your favorite sweetener)
Blend until creamy just about 40 seconds
Pour into a glass
Top with whip cream and cinnamon
And if you want to get fancy top them with the pepitas
or pumpkin seeds
.
Pumpkin Spice Latte Iced
Put your pumpkin puree, vanilla, (cold) non-dairy milk, or milk in a bowl and whisk together
Make your shots of espresso or coffee add them to your mixture
Next, add ice to a glass
Pour your milk mixture, with shots or coffee into glass over ice in your glass (Do NOT add hot coffee or shots to your iced glass it will crack the glass)
If you don't want a pumpkin latte with Pumpkin Puree?
If you don't want to use pumpkin puree or pumpkin pie spice you can use the pumpkin pie syrups
and sauces instead. Just omit the other ingredients. Add syrup to non-dairy milk or milk, add coffee or shots of espresso, and stir. Top with whip cream.
Follow the same directions for iced and blended with these ingredients. You probably will not need sugar as these syrups are sweeter already. You can steam your non-diary milk or milk with a milk frother
. They are super handy to own for making coffee shop drinks at home.
Pumpkin Pie syrup
Pumpkin Pie flavored sauce
Need more options or substitutions for your lattes?
I've also seen recipes where they used maple syrup for the sweetener instead of sugar or honey.
My favorite fall and winter drink are soy caramel lattes. I love inserting my favorite syrups like caramel and topping them with whip cream and caramel sauce.
There are so many syrup flavors to pick from PERFECT for making coffee, flavored drinks, Italian sodas at home. Have you tried Torani syrups?
Pumpkin Spice and Everything Nice!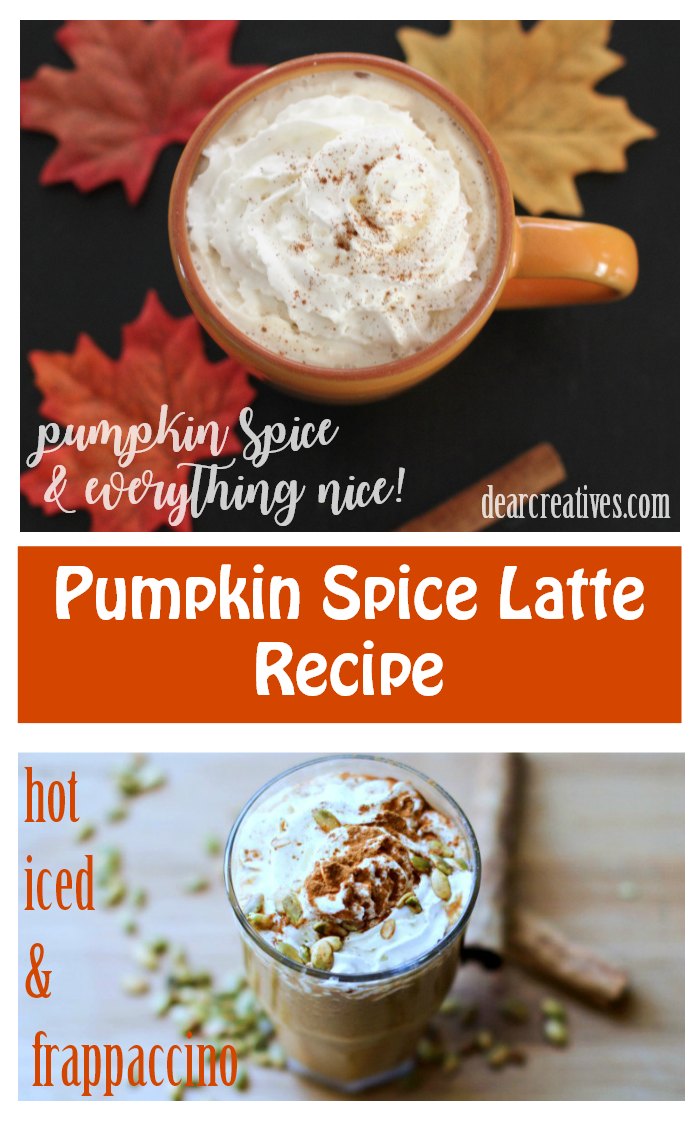 Don't you just love all the flavors of fall in your coffee drinks?
Pumpkin Spice Latte Recipe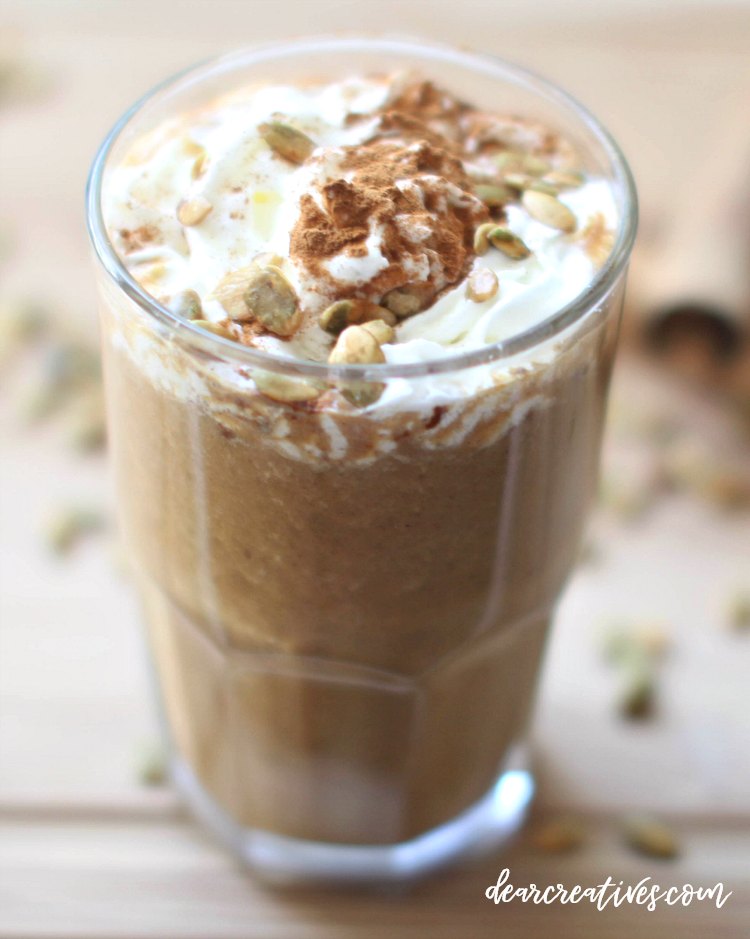 What's your favorite fall drink? Do you like them hot, iced, or blended? Pair a coffee drink or latte with any of our Pumpkin Recipes!
Looking for more drink recipes to try?