I'm sharing is a Whole Grain Bran Muffins, it's a cookbook recipe. Recently I had the chance to review the cookbook, "Cooking That Counts"- Cooked By the editors of Cooking Light. This is one of the healthy muffin recipes in the cookbook.
The cookbook focuses on low-calorie recipes, and meal plans to lose weight. Which is perfect for any time you are going to focus on losing weight. Or are looking for low-calorie recipe options.
If this isn't what you are looking for try baking any of these muffin recipes. Or head up to the recipe index for more choices of what to cook
"Cooking That Counts"
You know, losing weight with low-calorie recipes doesn't mean you lose out on flavorful recipes. One of their dinner recipes I tried was their Fast Skillet Chicken Cacciatore. It was not only quick, and easy; it was delicious. Similar in taste to my Slow Cooker Chicken Cacciatore. I'll share the slightly adapted recipe with you another day. This bran muffins recipe reminded me of some of my favorite baking muffins recipes, only healthier.
Healthy Recipes
Are you focusing on cooking healthier recipes? Or low-calorie recipes? We are. Before we get onto the muffins recipe, let me share a few favorite things I liked about this cookbook. There is an introduction to meal plans, and making meals count. It includes a must-have ingredient list and healthy cooking basics. You'll also find a 1,200 Calorie 30-Day Menu Plan. This includes breakfast, lunch, dinner, and snacks. Handy for ideas, or to follow.
Recipes in the cookbook cover breakfast, lunch, dinner, and snacks. In the back of the cookbook is nutritional information, and measuring charts for conversions. The cookbook is laid out with 150 recipes that will help you stay on track without feeling deprived. The images are so pretty, directions easy to follow, and the pages slightly waxy. If you love the magazine Cooking Light
, then you'll love "Cooking That Counts
". I can't wait to share a few more recipes we try from this low-calorie cookbook.
Whole-Grain Muffins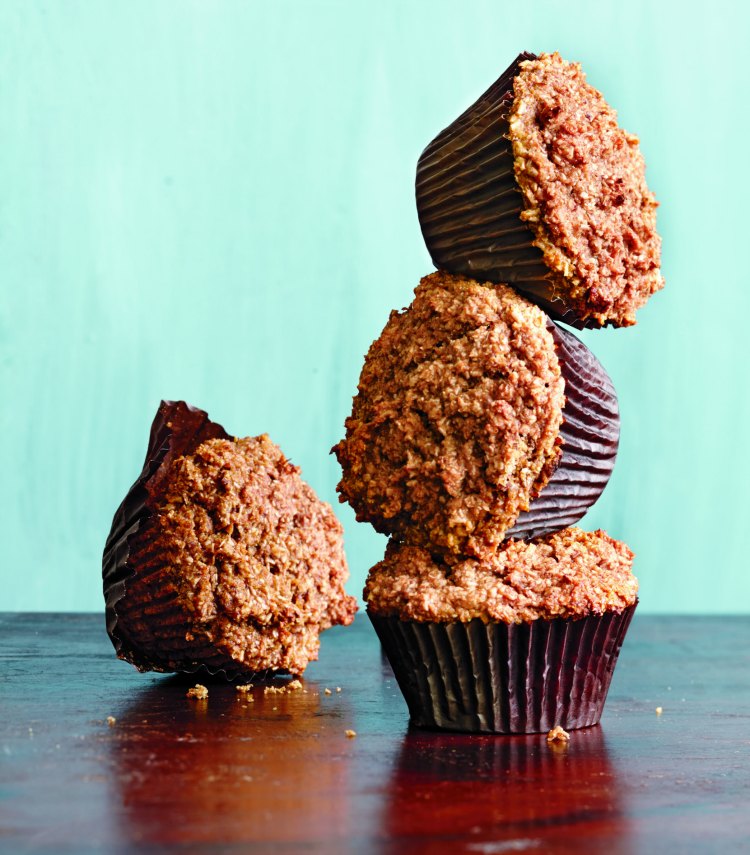 How to make Whole-Grain Bran Muffins
Excerpted from Cooking that Counts by the editors of Cooking Light. Copyright © 2017 Oxmoor House. Reprinted with permission from Time Inc. Books, a division of Time Inc. New York, NY. All rights reserved.
Hands-on: 25 minutes | Total: 1 hour, 25 minutes
Serves 12 (serving size: 1 muffin)
This classic recipe uses naturally sweet dates and ripe bananas to give these muffins a health boost. You can freeze these muffins for up to 2 months.
Cooking spray
13⁄4 cups wheat bran (about 4.5 ounces)
1 cup whole pitted dates (about 6 ounces)
3⁄4 cup fresh orange juice
1 cup nonfat buttermilk
1⁄2 cup mashed ripe banana
2 tablespoons butter, melted
2 tablespoons canola oil
1 teaspoon vanilla extract
4.5 ounces whole-grain pastry flour (about 1 cup)
11⁄2 teaspoons baking powder
1⁄2 teaspoon baking soda
1⁄2 teaspoon ground cinnamon
1⁄4 teaspoon salt
2 large eggs, lightly beaten
1. Preheat the oven to 350°F. Place 12 paper muffin cup liners in the muffin cups; coat the liners with cooking spray.
2. Spread the bran on a baking sheet. Bake at 350°F for 8 to 10 minutes or until lightly browned, stirring once.
3. Combine dates and juice in a saucepan over medium heat; bring to a boil. Cover, reduce heat and simmer 20 minutes. Remove from heat; uncover and let stand 5 minutes. Place date mixture in a food processor; process until smooth. Add buttermilk and next 4 ingredients; process until smooth.
4. Weigh or lightly spoon the flour into a dry measuring cup; level with a knife. Combine the flour, bran, baking powder, and the next 3 ingredients (through salt) in a medium bowl, stirring with a whisk. Add the date mixture to the bran mixture, stirring just until moist. Add the eggs, stirring just until combined. Spoon the batter into the prepared cups. Bake at 350°F for 28 minutes or until a wooden pick inserted in the center of the muffins comes out clean. Remove the muffins from the pan; cool on a wire rack.
CALORIES 168; FAT 5.4g (sat 1.7g, mono 2.3g, poly 0.9g); PROTEIN 4g; CARB 29g; FIBER 7g; SUGARS 12g (est. added sugars 0g); CHOL 36mg; IRON 2mg; SODIUM 183mg; CALCIUM 89mg
serve with:
• 1 small banana (90 calories)
• 1⁄2 cup 1% low-fat milk or milk substitute (51 calories)
1,300-calorie plan/1,400-calorie plan: No changes
1,500-calorie plan: Add 1⁄2 tablespoon peanut butter (45 calories)
to spread on the banana.
Whole-Grain Bran Muffins
Cooking That Counts
" has marked recipes with a small symbol to whether they are dairy free, gluten free, or vegan. Also with the exception of a few recipes, most are done between 30 minutes to an hour. Perfect for busy families, who have to cook daily.
I have to say, I also like that "
New here? Be sure to subscribe. Bonus, you get a free printable Recipe Binder.
Baking Supplies you may need
Are you focusing on healthy meal planning?