Dear Creatives, Meal Plan Monday here today! Here are some recipe results & meals from left overs to share with you. I tried the slow cooker beef dip sandwiches from the previous Meal Plan Monday which only calls for your beef roast, beef broth & the french roll buns or hoagies for the sandwiches. It is a simple crock pot meal just put it in & cook it all day until tender & shreds apart. The only thing is even with adding 1/2 an onion & salt & pepper it just didn't have enough flavor for our tastes, but it was still good. We just added a little horse radish or brown mustard to the sandwich to give it that kick we like. If you are after a mildly flavored meal that is easy this recipe delivers just that!
I used some of the left over meat to make beef vegetable soup the next day. It was super easy & it's one of those kitchen sink, all in one pot kind of meals. What ever veggies you have on hand can go right in. Here is how & a simple recipe for beef vegetable soup. If you've read the blog for awhile you know Sammie loves soups so I am always up for cooking or trying new soup recipes.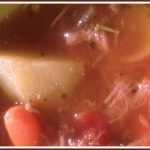 Beef Vegetable Soup
Simple & a great way to use up left over beef shredded or cubed (roast, beef for stew or tri tip meat)
Ingredients
Pre cooked left over beef

32

oz

+ beef broth

1

can diced tomatoes

2

cloves

garlic minced

1

onion chopped

3

potatoes

medium sized wash & peel + cube

whole baby carrots

1/2 small bag

1

poblano chili pepper or 1 jalapeno

oregano 3-4 pinches

rosemary 1/4 tsp

pepper

2

beef bullion cubes

1 1/2

cup

bow tie noodles
Instructions
saute onion & garlic

add broth & bullion

add meat, veggies & herbs

cook for 15 min.

add bow tie noodles cook another 15 min.

Serve
I tried Pioneer Woman's Chicken Alfredo from the previous recipes line up. You might enjoy that, sorry I don't have pictures. Be sure you know how to make sauces a few people mention not being able to get it to thicken. I looked around & these videos explains how & why which may help you if you've never made white sauce!
I am reserving making the hummus dip for Super Bowl Sunday & did cook fish, but didn't make the fish tacos. I baked the fish in the oven that day. Which is so easy to do if you never have. Just bread your fish, a little olive oil or non stick spray on a foil lined cookie sheet & bake, half way through just flip over to finish baking. About 20-30 min or until flaky. (depends on thickness of your fish) Yummy! ( I used Italian Seasoned Bread Crumbs) The recipes I picked for this week may possibly be used for game day meals!
Let me know if you try any of the recipes I have shared & feel free to link up your recipe, meal plan posts each week. Email me if you have a recipe you'd like me to try & add to an meal plan list! Here are a few recipes I am hoping to try this week & share the results soon.
What are you cooking this week?
Meal Plan Monday #3
Do you hate meal planning? I am trying New Recipes & Reviewing them on my site each week sharing how they turned out, how I used the left overs & what changes I made.
Do you have a recipe to share with me to try? Come by & email me!