Dear Creatives, I'll admit I don't know if I'll be getting crafty this week, but I thought I would share my latest project on my list of to dos. It may just have to wait to the weekend or even the next, but I will be excited to re-paint & re-do two Pottery Barn chairs I found at the flee market. Today I will share some of the tips & tools for your furniture diy & re-purpose projects.
I was able to scoot away from helping my daughter one afternoon & found some upholstery fabric 40% off. I can't wait to share the before, during & after photos of my upcoming re-purpose project. Now I am in the prep stages for re-purposing these chairs. I had just happened across a few articles on tips for painting & glazing furniture I thought I would share with you today. Also a paint matching tool for tackling your furniture diy re-purpose projects & grabbing your perfect color.
Furniture Stripping via MissMustardSeed
10 Simple Painting Tips from Liz Marie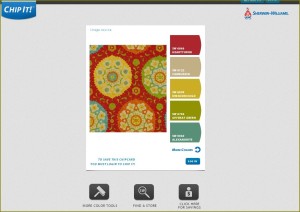 As far as getting the perfect paint for painting the wood match to my fabric I would have to say try Sherwin Williams new Chip It This tool is a way to be able to see in advance what color (s) of paint I would consider using for my re-purpose project. You can use a photograph or url to grab your item you would like to match. When you insert the photo or url you get results pulled from the colors of the image like above showing you all the colors. You can click image to view it larger. I will have to take a photo & share mine later. This is a free match up tool to grab the perfect color paints. You can find a whole lot of designer tools right here at Sherwin Williams & you'll even find they have an app for your phones that you can grab.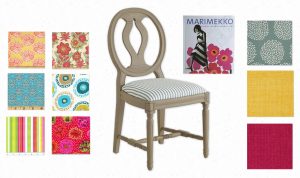 Another tool you can use is Olioboard for inspiration or decor ideas. Here is a board I put together of a chair similar in some aspects to the ones I found. When I was searching fabrics I looked at many like the ones above. I wanted to be sure I knew the fabric would match in the two rooms the chairs would be in. I wanted something floral as the detailing in the center of the chair is a flower carved in the wood. I wanted to have a variety of colors in the fabric ( I easily ruled out the solids & stripes) not too small that you couldn't see the pattern from far away & not so large that the pattern would have to be centered perfectly. I didn't want to deal with stripes either since I previously did my dining chairs in stripes. I can't wait to show you my actual results & colors I picked. Let's just say I am pretty excited for this project!
Now if you are looking for an easy project this one that takes old drawers & making a modular bookshelf might be something you might enjoy. This re-purpose idea is something that might be a perfect, pretty storage solution. To see how it was done visit CraftyNest & if you are still looking for project inspiration check out HGTV's 12 Clever Uses of Old Furniture
Do you have any decor diy projects you are working on?
Do you have one you would like to share you can link it up right here! PS. if you have any tips or articles share them in the comments.
CanvasPeople.com is offering a free 8×10 or $40 off larger sizes (just pay shipping) as a special introductory deal! Remember 2 canvases are always better than 1 and with $40 off larger sizes, you can get the size you want even cheaper! Plus, While supplies last, they'll include a one-year subscription to Kiwi magazine ($6 value, 6 issues) with any purchase of a canvas print (a $49.99 value) (excluding taxes and shipping & handling charges) starting at $14.95!