Do you wear eyeglasses? Eyeglasses are super trendy right now. Wear stylish eyeglasses for fun or because you need to wear glasses to improve our eyesight, like us. Everyone in our family wears glasses. How can you grab a pair of prescription glasses or sunglasses and still look stylish?
We will show you how you can look stylish in eyeglasses with or without an Rx. No matter what know that everyone needs to wear the right sunglasses. More about that in a minute.
Looking for other life and style posts? View our lifestyle.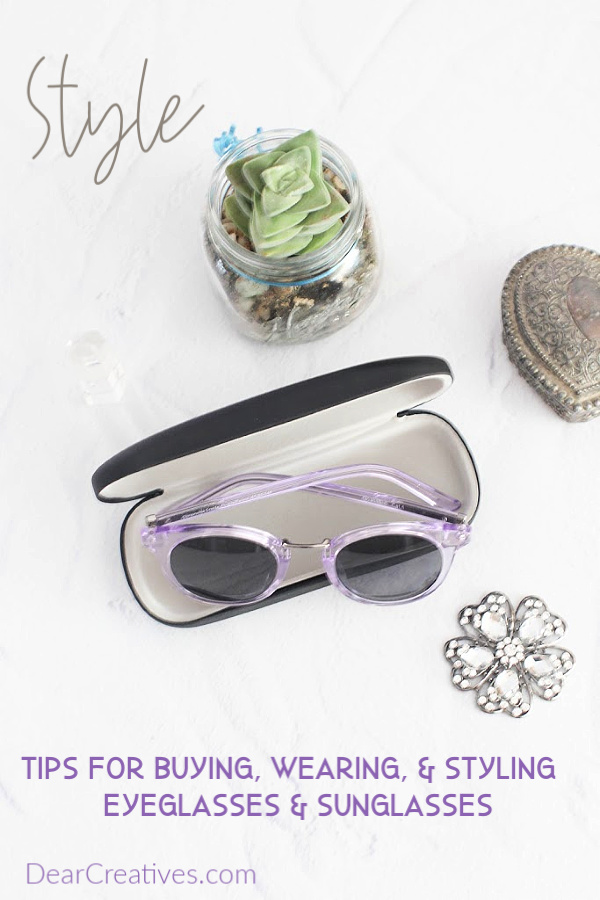 We partnered up with DiscountGlasses.com to bring you today's post. We were compensated, receiving eyeglasses and sunglasses with our Rx for free.
How to pick out stylish eyeglasses?
When picking eyeglasses or sunglasses out be sure to try on lots of styles
Consider the shape of your face (how-to)
Pick eyeglass frame types that compliment the shape of your face (how-to look good in eyeglasses)
The top of your eyeglasses should follow the line of your eyeglasses
Look for stylish glasses but, consider durability and pricing
Select your glasses based on your needs (Eyeglasses, sunglasses, Rx, no Rx, Bifocals, Progressive lenses…)
Consider full-frame, rimless or semi-rimless styles
Pick colors, patterns or traditional styles
Stylish Eye Glasses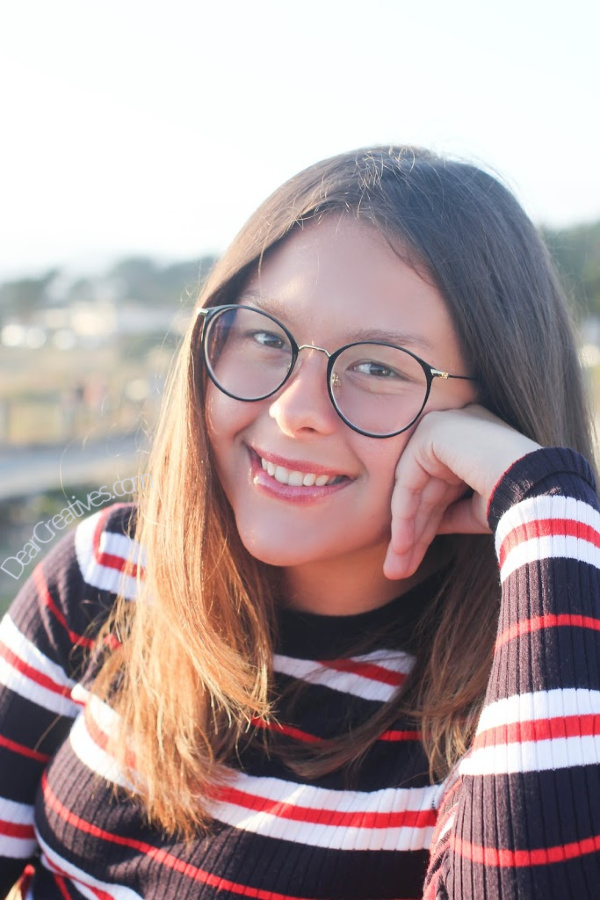 Eyeglasses – Prive Revaux The Rand Glasses | Buxom Lip Gloss
Styling the eyeglasses you wear should be as easy as putting them on. Pick a pair that suits your personality, look, and style. Whether you are nerdy, quirky, cute, the boss, bookworm, librarian, street style or sophisticated…
Find a pair of eyeglasses that suits your style, and frames your face.
The eyeglasses that Sam picked come with, brand authenticity guaranteed, Privé Revaux logo on temple and a branded eyeglass case and cleaning cloth included. If you are looking for style this is it! Complete with an ultralight metal frame. These eyeglasses are perfect for a teen or adult.
Find your style and own it!
One thing I love about my daughter is she knows exactly who she is and her style. She owns it, head-to-toe. Own your own style. Just grab a pair of glasses and be yourself.
High-Quality Sunglasses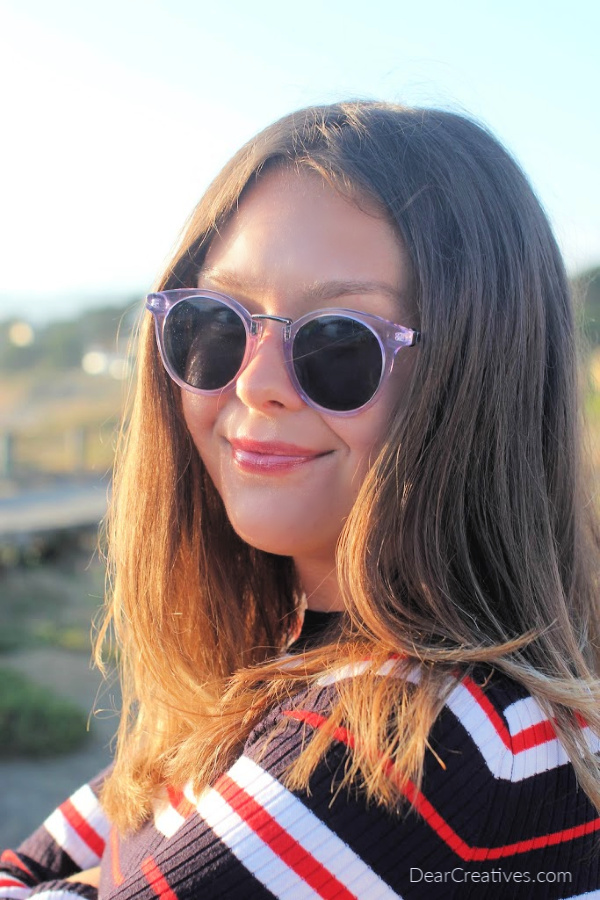 Sunglasses – Westend Clintonville | Striped Fine Knit Top
Living in California we always need a good pair of sunglasses. But, everyone needs to protect their eyes no matter where you live. Whether you are looking for mirrored, polarized or prescription sunglasses finding a style that you are happy with is key.
Grabbing sunglasses that have 100% UVA/UVB protection is a must. Sammie picked these trendy sunglasses with just that, protection. The Westend Clintonville are modern eyewear with a vintage spirit. Available in 7 colors and style combos. The logo is on the temple and branded eyeglass case was included. They are adorable on her and she loves the style. The frame colors go with so many outfits making this a versatile choice.
Perfect for driving, beach days, school or strolling the town square.
How does wearing sunglasses help your eyes?
Whether you need an Rx or not wearing sunglasses is really important. In this *article shares how wearing sunglasses impacts your eyes, according to science.
Sunglasses must-have 99%-100% UVA/UVB protection is a must. *(source) Wearing sunglasses can protect a person's eyes from all these concerns. But not all shades are created equal. "It doesn't matter how dark they are or the color of the lenses," Taylor says. "The most important thing is that the sunglasses block 99 to 100% of UVA and UVB rays."
You want sunglasses to be bigger and cover your eye area protecting your eyes, and vision.
How to wear makeup with eyeglasses?
Keep foundation makeup to a minimum and add concealer makeup to needed areas, keeping makeup lighter at the eye pad area and where your eyeglasses rest on your face. (Keeping makeup from rubbing off onto your eyeglasses) Blot and add a light setting powder to keep glasses from sticking to your nose area.
If you do decide to wear an eye shadow apply an eye primer, keep the eye shadow lighter.
It's all about the brows. Keep them clean, styled and pencil them in as needed.
A light coat of mascara and eyeliner is all you need to dress up your look. (A curling mascara will keep your lashes from hitting your eyeglasses, It works!)
Focus on your lips using lipstick or glossy lip looks. It helps balance out facial features.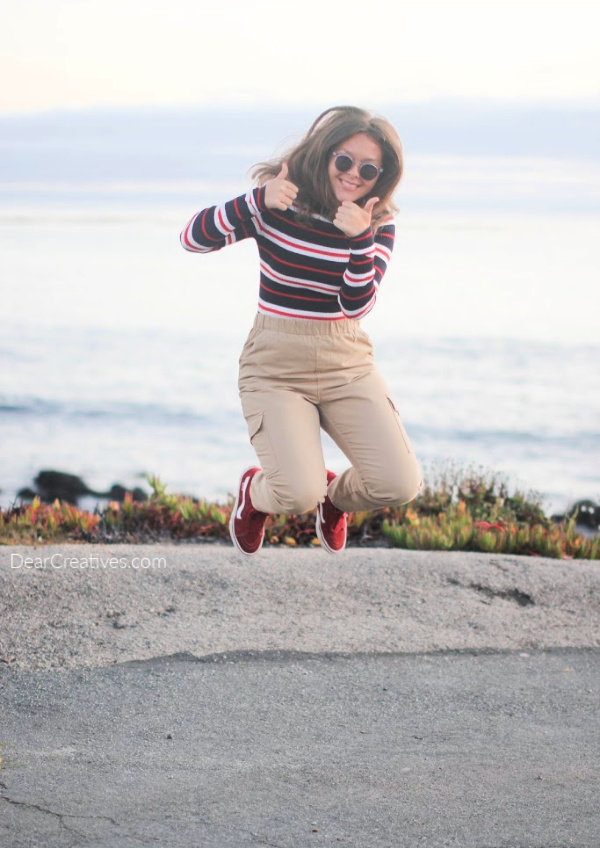 Twill Cargo Pants | Vans | Knit Top
Sam loves her new eyeglasses and sunglasses!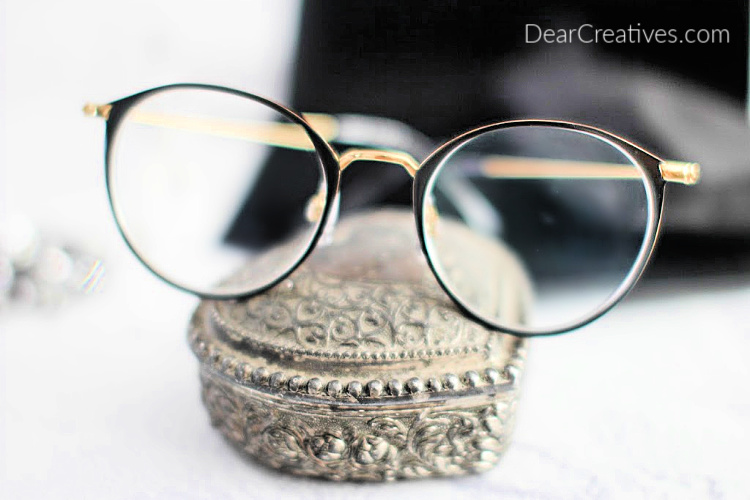 We both love the quality of them. (and you will love the pricing too) I can't wait to get my eyes checked and grab a new pair of eyeglasses myself!
Can I buy glasses online?
Yes! First, get your prescription from your eye doctor, along with your copy of your PD (pupillary distance – We recommend you get this done by your eye doctor for most accurate measurement vs. doing your own measuring. But, you can see how to do it yourself on Discount Glasses). Optionally, when buying eyeglasses online have the eyeglass provider call the eye doctor directly for your prescription.
Try on eyeglasses in the store and virtually. Why? Trying styles in stores will help you buy online too. Because you get a better feel of where to start when picking your eyeglasses to try on virtually. Or just try eyeglasses on virtually to see what eyeglass styles compliment your face. These days all you need is a camera on your cell phone or camera on your computer to try them on.
Not sure about what eyeglasses to buy?
DiscountGlasses has a free trial, (Try Before You Buy) you can try 2 pairs for 2 weeks with lenses to see if you like that style. Pretty awesome, right?!
Eyewear Trends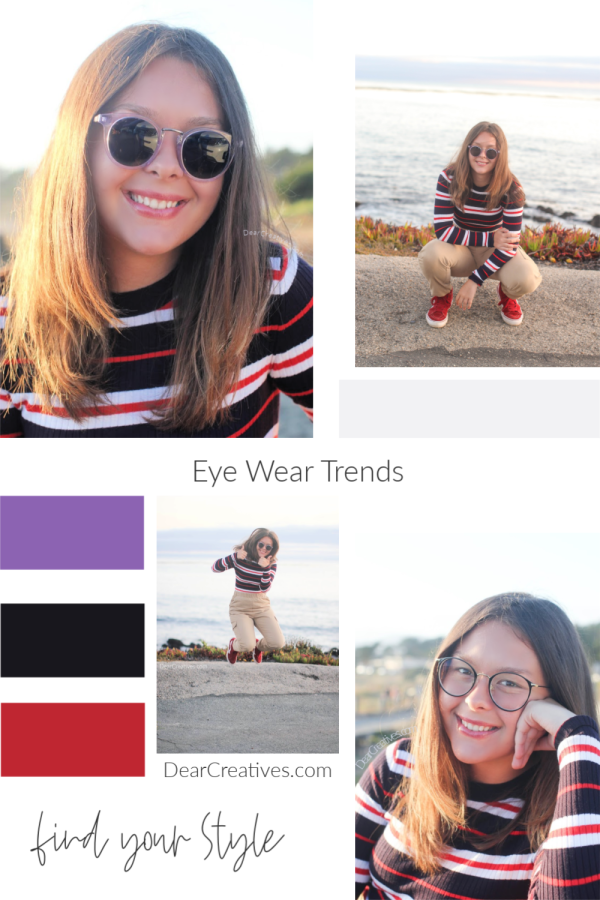 We are always watching eyewear trends. Every year or two we get new eyeglasses and sunglasses. Here are styles we spotted that are on-trend right now.
What eyeglasses are in style now? What frames are in style now?
leopard – tortoiseshell
neutral hues like pinks, lavender
thin and lightweight metal glasses
oversized glasses in clear
gold
hipster
red
vintage styles
Need more style inspiration? Use hashtags @discountglasses or #discountglasses on social media to see how everyone is styling their eyeglasses.
Where to buy stylish eyeglasses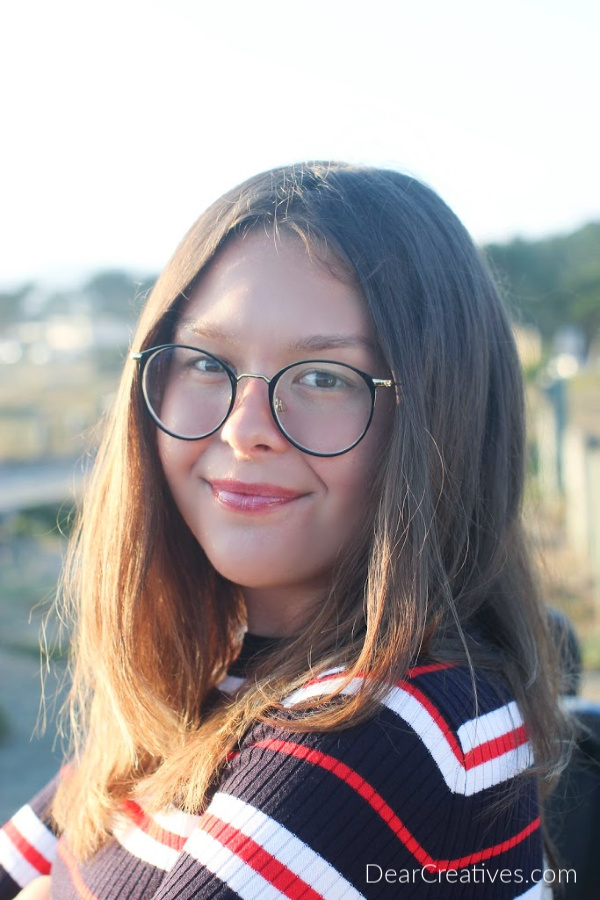 Have you ever wondered if you can buy your eyeglasses online? Or where to get good eyeglass frames?
Go try eyeglasses online at DiscountGlasses.com pop over to see all their styles and frame selection options. I'm sure you will find styles for everyone in your family, even kids eyeglasses.
Happy eyeglass shopping.