When you are the type of family that does lots of DIY improvement projects that means that there are going to be times you need to show your tools some tough love. Whether they get greasy, are a bit rusty or are just plain downright dirty taking care of your tools is an important part of getting the job done!
We are sharing our cleaning tips for how to clean tools and how to clean tires.
I'm going to share a few simple tricks perfect for your tools in your home or garage! We don't often think of dishwashing liquid for being a powerful enough cleaner to help with keeping these garage items clean but, Dawn does just that!
Dawn
beyond the sink is perfect for those other uses. I have enjoyed using Dawn for some time now. You may know Dawn's catchphrase from the commercials, "softer hands and sparkling dishes." I wanted to share how I used Dawn for some tough jobs beyond the sink. It's amazing what it can do!
Tips for Cleaning Tools
I thought I'd help the hubby clean up some dirty socket tools he had in the garage and share how well Dawn works for cleaning tools. These were some greasy, dirty dusty tools I found in there.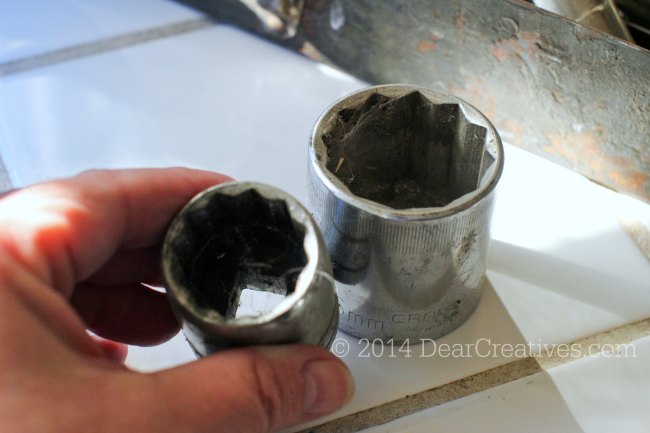 How to Clean Greasy Tools
Add a teaspoon of Dawn to a gallon of hot water.
With a dishrag or sponge, scrub away the grease and oil (do not soak hand tools*).

When clean, thoroughly rinse them under running water and dry them with a towel right away.

*soaking could lead to etching on certain materials
I followed the directions listed above. Then using an old toothbrush or a cleaning-toothbrush
I cleaned inside of the sockets. You can see the grime came off and I continued to scrub until fully cleaned. Then rinsed and dried. One by one.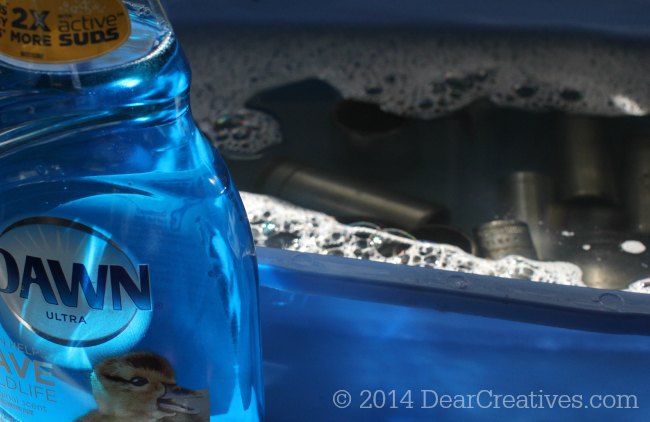 I had these sockets
cleaned up in no time flat!
Remember don't soak them. Note*soaking could lead to etching on certain materials.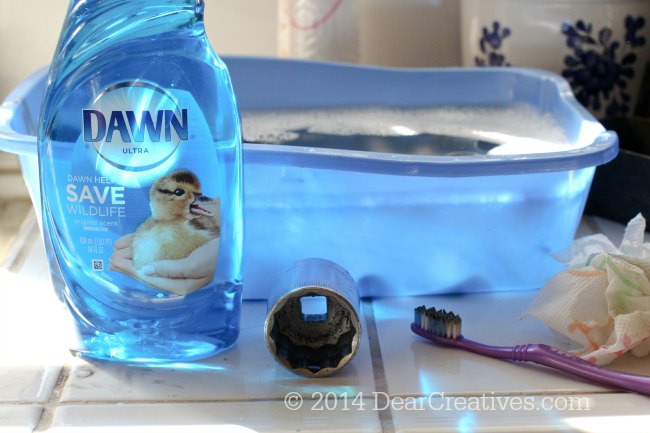 I was pretty amazed that I could see the silver socket so clean! Now, that's the way to this heart. But, hey guys you can do this for your self and with your tools. Next up are the wheels and tires on our cars after a hot, dusty season and one rain that caked on mud, it's time to get the shine back on them!
How to Clean Tires and How to Clean Wheels
To remove grease and oil from car or bike wheels, add a teaspoon of Dawn to a gallon of hot water.

Dip a soft sponge into the bucket, and squeeze out any excess suds and water.

Scrub those hubs until all grease has been removed from the metal surface.

Rinse with clean warm water, and dry with a soft towel*.
Now that you've seen how easy it is to get beyond the dishes with Dawn. They even have a line of ultra cleaning for your tough cleaning jobs!
Disclosure: This post has been compensated I am part of the Double Duty Divas Tools/Garage Crew. All opinions, text, and images are 100% honest and my own. I also appreciate Dawn for their efforts to help save wildlife. For over 30 years, Dawn dishwashing liquid has been an important part of rescuing and releasing more than 75,000 animals affected by oil pollution. What's not to love about that!
Sorry, the giveaway and twitter parties have ended.
What would you try Dawn on first? Your tools or tires?