Do you ever get so busy on the weekends when spring hits and your working in the yard that you don't have time to fix lunch but, need to get everyone fed? There have been a few weekends like at my house lately! Seriously between all the yard work of pulling weeds, mowing and trimming the roses or getting the dog washed. Then we are also working on projects to share with you all. We have been non stop.
It's times like this where we don't have time to run to the grocery store to go shopping but, head to our freezer for quick meal solutions to cook up something we've pre stocked. Recently we had the chance to try Red Baron Pizza that I purchased and had in our freezer. What I liked about the pizza we tried is the thin crispy crust, tasted pretty good but, best of all that it was super quick and easy. Add a salad bag and bam! You've got lunch. Just insert your favorite beverage on a hot day. Ours is lemonade. What's yours?
Quick Meal Solutions For Busy Weekends:
Red Baron Brick Oven Pizzas;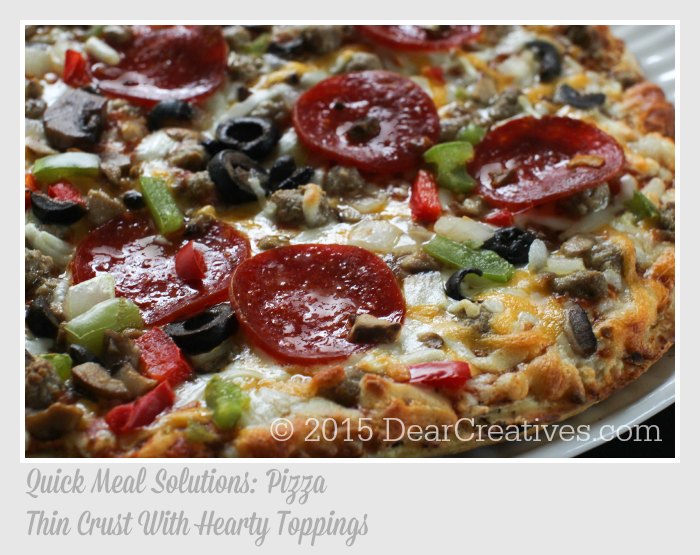 You can find many different toppings and types of pizza made by Red Baron Brick Oven Pizzas. We just tried the Thin and Crispy with Premium Cheese and Hearty Toppings that I got for free and had stocked in the freezer from BzzAgent. We thought it was good for a frozen pizza and it was perfect for our busy spring weekends with the addition of a salad. I think I want to try the rising crust pizza next, as those are usually my favorites! They even have minis which would be a good appetizer and breakfast scrambles pizza which I could see kids enjoying. You might enjoy trying them too.
Honestly, pizza night usually ends up on Friday nights, when we are having a group of kids over like swim-spa parties in the summer or when Sammie has friends over. Lately it's been a quick meal solution to our weekend meals. Have you tried Red Baron?
Red Baron Brick Oven Pizza;
Red Baron Brick Oven Pizza is created in a fiery 800-degree brick oven for an authentic crust that's crispy, bubbly and perfectly golden-brown.
Topped with robust sauce and premium cheeses and meats, these delicious pizzas ensure pizza night is a special night for everyone in the family.
No need to make reservations or wait for delivery.
It's quick and convenient to bake.
You can find the NEW Red Baron Brick Oven pizzas in the freezer case at your local Target! These pizzas would make quick meal solutions for anytime.
Want to find out more? Check out the website and their store locator
Have you tried Red Baron Pizza? What one is your favorite?