Hi everyone! Hope you've had a great week! It's been a quiet but, busy one here. If you are new here to the party or blog don't let not seeing the comment right away detour you from leaving one. They have to be approved due to the amount of spam comments. I love seeing how your week has been and hearing from you. Last week's party was filled with so many amazing entries!! Thanks for joining in the party!
Ready to get this blogging linkup party started. I can't wait to see all your inspiration crafts, creativity, DIY s, beauty and fashion and recipes! I've been tweeting and pinning all week and will continue to share your posts. If you missed last week's blogging linkup party filled with crafts, DIY, recipes and creativity you can find the party #136 here. Hope your ready for this week's Inspiration Spotlight Party.
Lots of sweet recipes, crafts, diy and other projects have been shared this past week. If I didn't comment on your blog it didn't mean I didn't stop by or share! Be sure to visit at least a few bloggers from the bloggers linkup party. Meet someone new and see their recipes or projects.
Here's a recap of this week on the blog in case you missed any of our posts;
Craft Link-Up Party
Blogging Linkup Party Inspiration Spotlight #Linkup Party 137
This Week's Blogging – Craft Link-Up Party Inspiration Spotlight Features;
Craft Link-Up Party Inspiration Spotlight Shout Outs;
I've been pinning, tweeting and sharing all your entries! Thanks to everyone for sharing last week! If you missed last week's party be sure to out all the great links from last week's party. *link at top of post! As always there were more shout outs than mentioned!
Please don't forget to visit at least one or two entries from the blogging linkup party and leave the bloggers a comment. Don't just drop a link and run.
Now it's your turn to Join In this week's linkup party and grab a Button!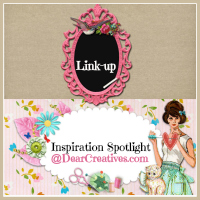 <div align="center"><a href="https://www.dearcreatives.com/"rel=nofollow" title="Dear Creatives"><img src="https://www.dearcreatives.com/wp-content/uploads/2013/01/Button-inspiration-spotlight-dearcreatives.jpg" alt="Dear Creatives" style="border:none;" /></a></div>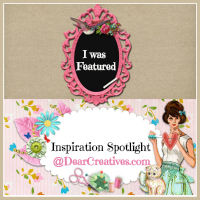 <div align="center"><a href="https://www.dearcreatives.com/"rel=nofollow" title="Dear Creatives"><img src="https://www.dearcreatives.com/wp-content/uploads/2013/01/Button-Inspiration-Spotlight-I-was-featured-2013-DearCreatives.com_.jpg" alt="Dear Creatives" style="border:none;" /></a></div>
Enter Your Blog Posts Here;
Enter Your Social Here;