You might remember when I shared the free photography webinars. I'm not sure if any of you decided to go to any of them but, when it comes to learning I believe E courses and eBooks are great ways to learn from home. I've taken a bunch of courses and then practiced from those photography tips.
Being really good at something is not an overnight process but, learning is key to the process. As is practicing and implementing those key learning-s. As promised I said I'd share what all comes in the photography bundle that is available for purchase one time of year. Let me share what is being taught by professionals to help you improve on your photography skills.
Photography Tips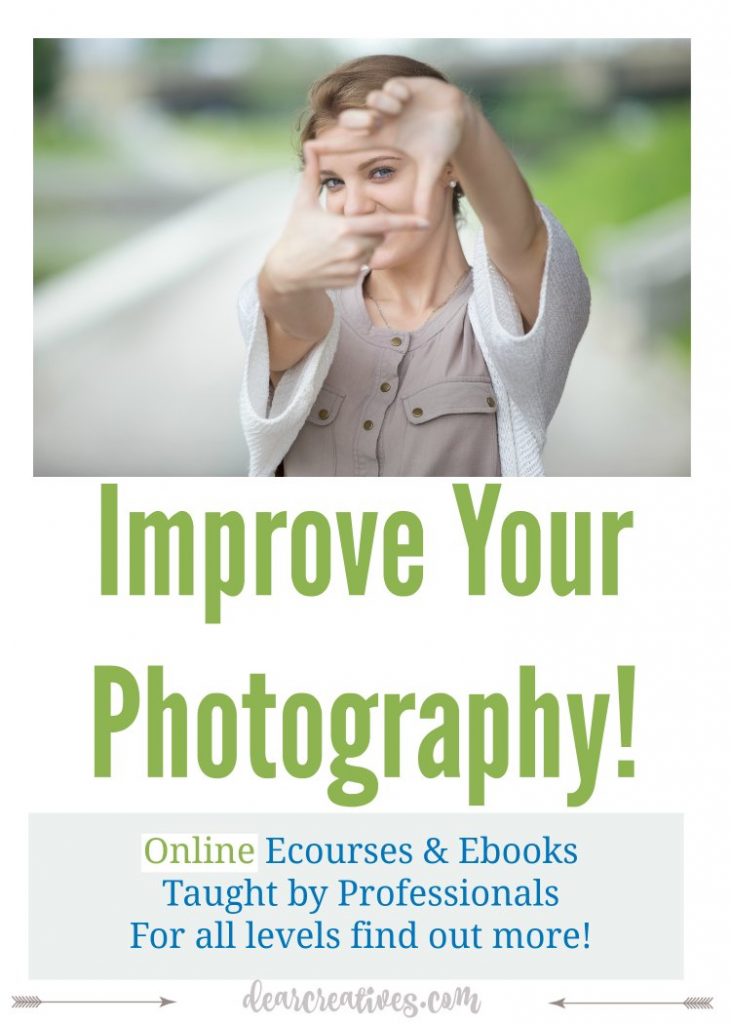 What would you say if I told you 32 world class photographers were joining forces and practically giving away 41 of their most essential teaching resources, to help aspiring photographers like you pursue your dreams? That's exactly what's happening right now with the Ultimate Photography Bundle!
I'm serious when I say that expert photography instructors just see the list below. But, you don't have to be a pro already to learn from these photography courses. There are plenty of basics covered. Starting with the camera essentials, editing and even family photography.
The entire package is worth $4,100, but right now it's only $147 to pick up your own copy of the bundle. But you have to act fast—at a price like this, they can only offer it for six days! Go get yours HERE. Now, if your looking for a deeper look at what is in this photography bundle you can see the breakdown below. Or head over via the link above or at the end of the post.
What is in the Photography Bundle? What photography tips will I learn?
The Photography Bundle Includes:
Camera Essentials
iPhone Photo Academy by Emil Pakarklis ($97.00) Featured eCourse
Master Your DSLR by David Molnar ($297.00) Featured eCourse
Mastering Photography by Andrew Gibson ($12.00)
Mastering Lenses by Andrew Gibson ($14.00)
Editing
Master Editing in Lightroom eCourse by David Molnar ($297.00) Featured eCourse
Photoshop 101: From Zero to Sixty in One Hour by David Molnar ($197.00) Featured eCourse
The Cole's Classroom Lightroom Presets Bundle by Cole's Classroom ($227.00) Featured Collection
2 Lil Owls Texture Bundle by Denise Love ($170.00)
Kodachrome Presets by Gavin Gough ($20.00)
MB Glitter Overlays by Morgan Burks ($39.00)
Family Photography
The Photo Fix by Kyle Shultz ($199.00) Featured eCourse
Family Session With Family Posing Guide Combo by Angie Monson ($129.00)
Quick Tip Photo Cards: Printable Cheat Sheets for Moms by Meg Calton ($8.00)
The Key to Natural Posing Workshop by Katie Evans ($97.00)
The Posing Playbook…For Kids Who Don't Do Posing by Tamara Lackey ($89.00)
Inspiration & Style
See U Lite by Jeremy Cowart ($179.00) Featured eCourse
Photograph the Everyday: Understanding Light & Composition by Courtney Slazinik ($199.00) Featured eCourse
Mastering Composition by Andrew Gibson ($14.00)
Recreating Golden Hour: Using Flash to Mimic the Sun by SLR Lounge ($39.00)
Teen Photographer Magazine by Megan Roberts ($11.94)
Landscape Photography
Milky Way Mastery by Joshua Dunlop ($147.00) Featured eCourse
Cityscape Photography: The Comprehensive Guide by Richard Schneider ($59.00)
The Black & White Landscape by Andrew Gibson ($14.00)
The Black & White Landscape Companion by Andrew Gibson ($14.00)
Niche Photography
Shot in the Dark: Your Guide to Low Light Food Photography by Trisha Hughes ($12.00)
Take Better Blog Photos: Become a Better Blogger with Better Photos in About 8 Weeks by Holly McCaig ($39.00)
The Candid Portrait by Andrew Gibson ($14.00)
Travel Photographer's Handbook by Gavin Gough ($25.00)
I'm super excited about the Niche Photography courses! Along with the first three categories. All these add up to a great package in itself. No matter where you are in your photography just add up which eCourses and eBooks are right for you and make your dream a reality with this great one time a year pricing and offer. Yes, it's only offered once.
The Business of Photography
6 Weeks To 6 Figures Business Course! by Zach & Jody Gray ($599.00) Featured eCourse
The KJ Marketing Jumpstart by Katelyn James ($179.00) Featured eCourse
5-Piece Photography Business & Client Forms by Sallyann Ralph ($20.00)
Boutique Studio Email Templates by Jeff & Erin Youngren ($49.00)
Get Booked by Amy Fraughton ($49.00)
Going Pro: Recipe for Success by Digital Photography School ($49.99)
How to Sell: The Complete Online System Workflow by WordSmith for Photographers ($175.00)
Luxury Marketing Magazine Template by Melissa Love ($39.00)
Peripheral Vision: How To Create Multiple Streams Of Income For Photographers by Melissa Bolton ($17.00)
Photographers Welcome Packet by Heidi Haden ($45.00)
Photography Marketing Boards Bundle | Modern Lettering by Birdesign ($18.00)
Photo Overlays | Booking by Birdesign ($16.00)
Plan It by TheLawTog® ($199.00)
What type of photography tips are you looking for? Did you do the math to see if this bundle is right for you?
This photography bundle as described above will be available 2-22 through 2-27. Then you have to wait until next year. If you want to improve on your photography this is the time to invest in yourself.
I promise to share some of my before / after photos as I'm learning more this year! If you'd like to see what my photography looked like before taking online course check out this post (I'm cringing!) vs. what you see now on the blog. We all have to start somewhere right. Take what ever level your at and keep improving.
Don't forget to subscribe for all our posts.
What photography tips in this photography bundle are you most interested in?