I recently had the chance to go to PetSmart to purchase supplies to set up our cat Jade and rescue kitten who we named Monroe to have everything they needed as we were going out of town for a few days during Thanksgiving. I thought I would share how thankful we are to have our cats and how much joy they bring to us! Along with my shopping experience to grab much-needed cat litter and cat food now that we have a cat and a kitten.
Sammie for the longest time wanted a cat, but I wanted her to be old enough to be able to not only care for it but also to give her pet the love and attention it would need. So just after her 9th birthday, we decided to let her get one. She picked out a Siamese which is known to be loyal to one person. (she only pays attention to me until Sammie is home from school) After seeing how much fun and love Jade brought us I thought we were done with our pet additions.
That is until we went to a local farmers market we kept seeing how many animals needed homes. We also found out black kittens are often overlooked not being adopted due to all the colorful kittens needing rescue due to superstitions that black cats are said to have. We did not adopt that day. I told her that we would think about it before moving forward.
Disclosure: I am a member of the Collective Bias™ Social Fabric® Community. This content has been compensated as part of a social shopper insights study for Collective Bias™ #CBias #SocialFabric All opinions are 100% my own and based on my own experience with this product from #PetSmart.
Rescue a Cat or Dog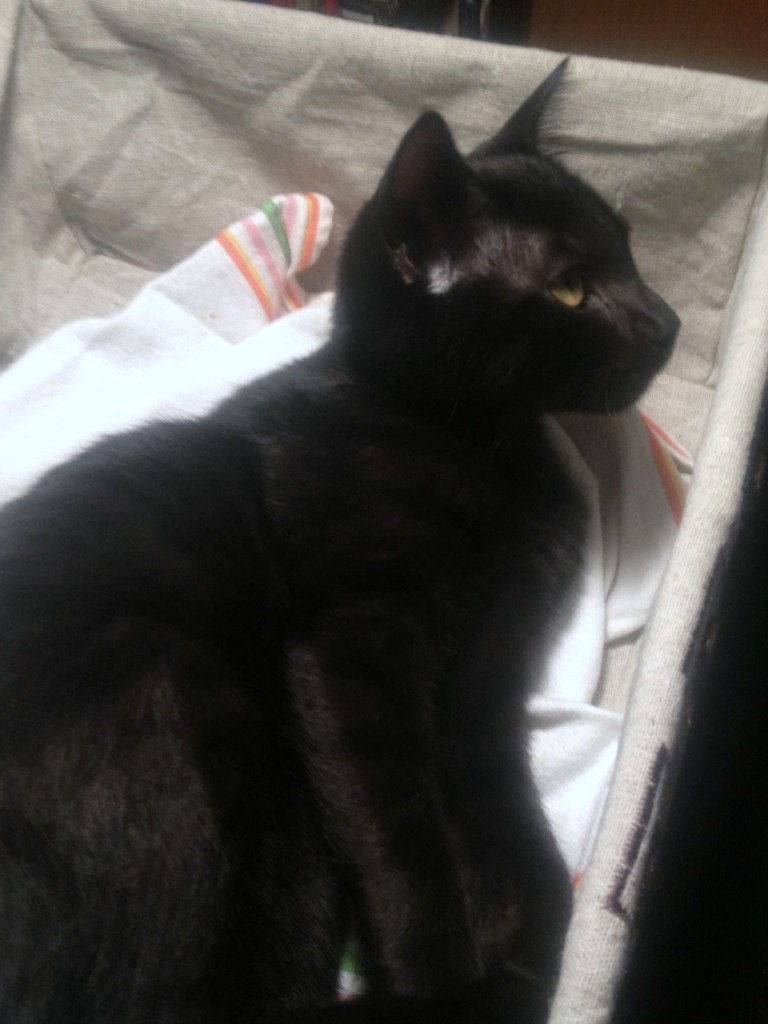 Monroe Our Rescue Kitten
When I was in Las Vegas for the conference I got a call from her excited she spotted at the same farmers market a little black kitten needing a home! She texted me a photo of the cutest kitten with a blue bow. He looked a little sick with a cold (common for shelter kittens) and I said it is up to your dad. We found out he would have a free vet check, two weeks to see if he fit in & get past his cold. She succeeded in convincing her dad so we never looked back.
Where are places to resuce animals nearby Paso Robles?
Adopt A Pet
If you are interested in adopting cats or dogs and you live in the San Luis Obispo area you can check Woods Humane Society (North County) (South County) Shelters.
Shopping at PetSmart
Now, of course, we want to keep them in good health, give them plenty of exercises and provide them with the best food, toys & litter. PetSmart recently did that for us. I wish our local store was closer, as from the time we entered the store to leaving we were met with friendly welcomes, smiles, and service. The selection was unbeatable! I even saw dog owners with their dogs welcomed right into the store and they had service centers available. We didn't realize what a great selection of pets supplies PetSmart offers.
I knew we would find what we were looking for after seeing the selections. We shopped for wet cat food, then ended up deciding on Meow Mix wet cat food
(due to size offerings) plus I had read great reviews about Ever Clean Cat Litter
so we chose Multi-Cat by Ever Clean
, (since we have two cats) eliminating odors, and which is premium scented. You can view our entire shop here; in my Google+ album. Sammie left talking about wanting a hermit crab or beta fish. PetSmart also carries many pets to adopt from snakes, birds, fish, hermit crabs, lizards & the traditional pets. But, let me share a little bit more about our experience.
What is good wet food for kittens or cats?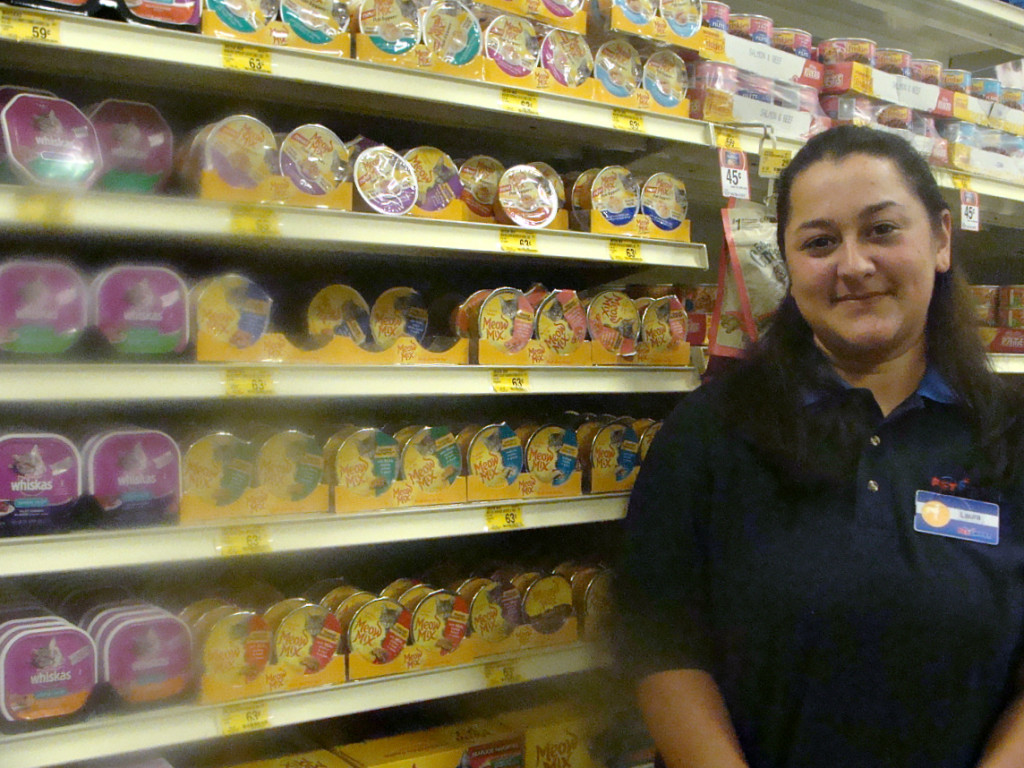 Laura our helpful PetSmart Employee
One of the store employees spotted me looking around, then asked if I needed help, turns out I did. I passed up what I was looking for since I don't always shop there. Laura was friendly and helpful. After we made our choice which ended up being the 12 pack of Meow Mix
since we have two cats plus, it offered ample variety. (the Meow Mix
comes in single-serve, 12 packs or 24 packs offering a large variety of flavors) I asked Laura if she wouldn't mind coming back over when I mentioned I was a blogger, I asked if I could take her photo. She was really nice, said she didn't mind at all.
At the checkout, I was asked if I was a member and since I wasn't was told of the benefits. I said sure I'd sign up. Although they were out at the moment, I was told I might be able to register online or next time I was in, so he apologized no applications were available at the moment. I know I will check again to sign up.
Meow Mix for Cats and Kittens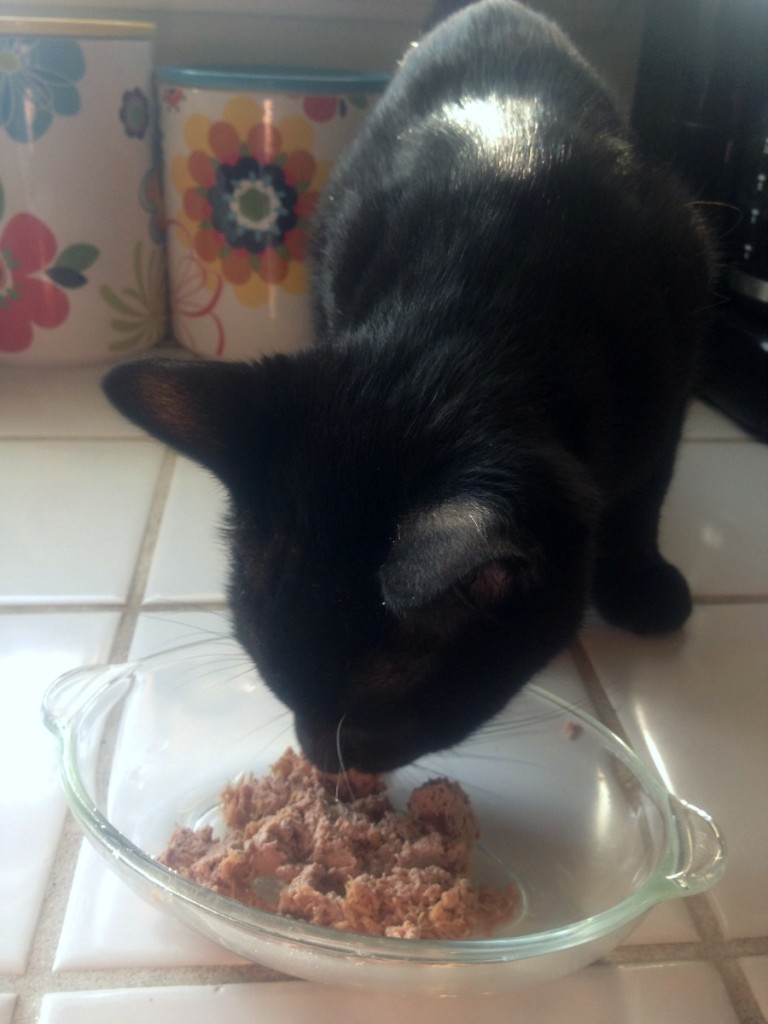 Monroe trying the Meow Mix wet cat food "real whitefish topped with flakes of tuna"
each pouch is 2.75oz. this is only a partial portion
I am happy to say our cat and kitty are loving their Meow Mix cat food
, along with Ever Clean litter
.
What's a good cat litter?
EVER CLEAN CAT LITTER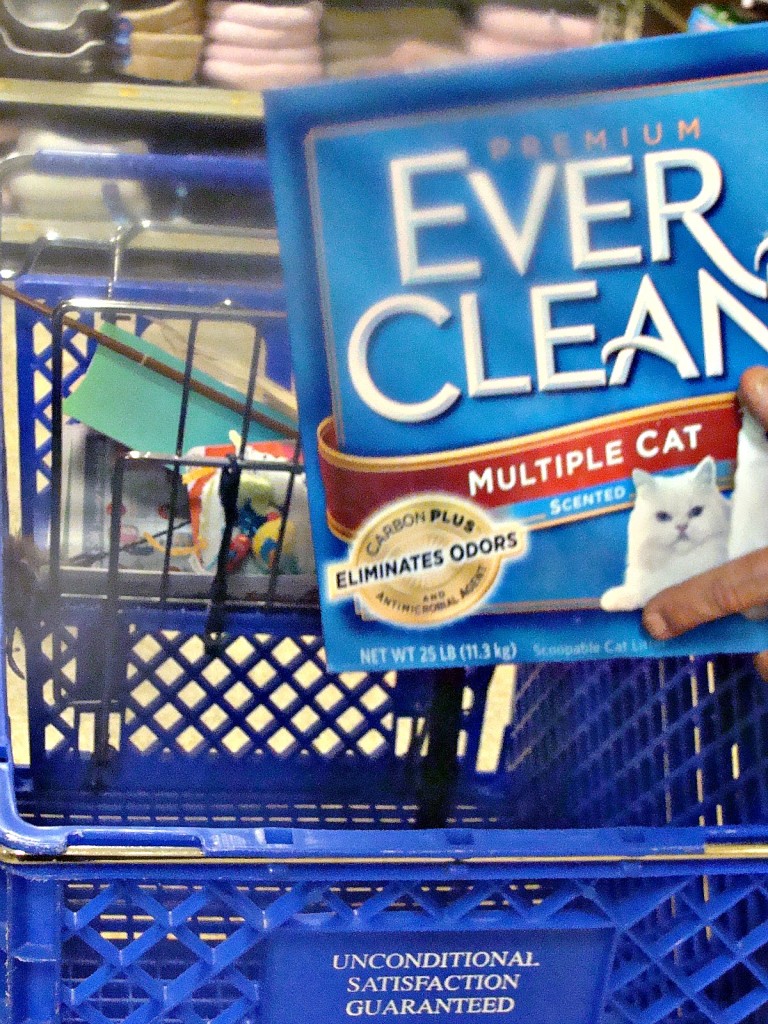 I am loving the choice we made for Ever Clean multi-cat litter
with the scented which eliminates odors and has carbon plus with an anti-bacterial agent. Our cat area, which is our laundry room never smelled so fresh. I refrained from showing a photo of cat litter. I think you know what it looks like.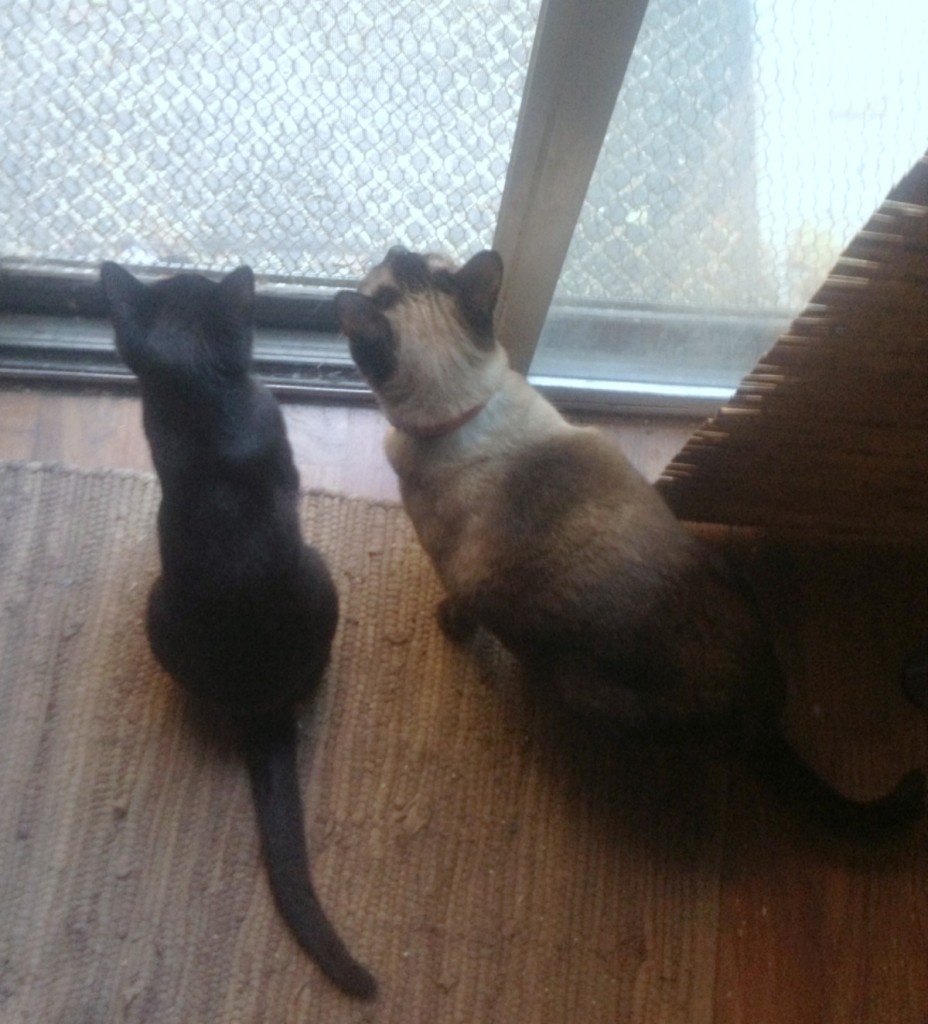 We love having two cats now, knowing they keep each other company when we are gone. Although PetSmart is not near our house we know we will visit them again thanks to their great customer service that we experienced, plus their large selection from pet care products, food choices for many animals, to adoption needs. PetSmart was perfect for our pet household needs as we also have a dog and birds too. Plus, it's right nearby Costco which is so convenient if you are shopping in SLO.
What kind of pets do you own?