Mexican Stuffed Peppers – This is an easy recipe that is also vegetarian and perfect for making as a dinner or side dish. Grab fresh bell peppers and get ready to put your own spin on this easy dinner idea. We love recipes that are flavorful, Mexican inspired and easy to make. Don't you?
If you are looking other dinner ideas for your meal plans see our recipe index.
Mexican Stuffed Peppers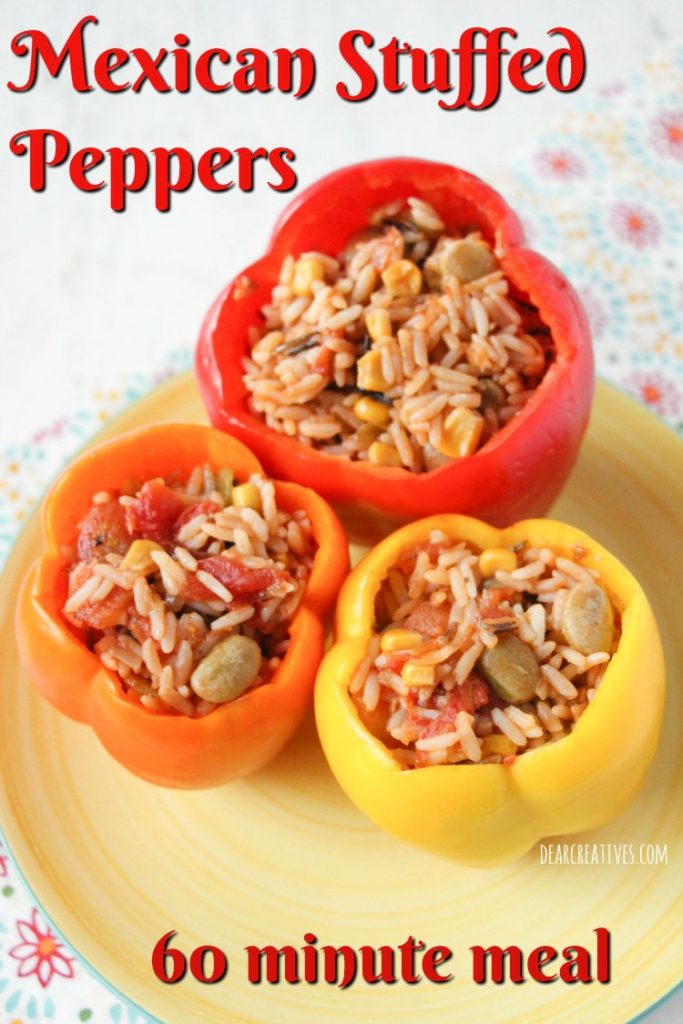 For today's recipe, you only need a few ingredients such as fresh, colorful bell peppers, onions, jalapeno peppers, black beans, rice, diced tomatoes… This is easily adaptable to include other beans such as broad beans, kidney beans, white beans or the addition of ground beef if you aren't vegetarian.
Ingredients
2 Tablespoon olive oil or butter
1 cup wild rice
2 cups broth (vegetable broth if vegetarian or chicken broth if not)
1 cup diced tomatoes with juice
1 cup fresh corn
1/2 cup beans, cooked (We used broad beans but black beans would be more authentic. I have used both and it's delicious either way.)
2-4 Tablespoons diced jalapeno peppers (we used canned)
4-5 peppers, whole
1/2 cup fresh cilantro
1 teaspoon cumin
Salt and Pepper, to taste
Garnishes for stuffed peppers
Sour cream
Salsa
Shredded cheese
Cilantro
How to make stuffed peppers
Place the olive oil in a frying pan or stockpot over medium heat.
Add the wild rice and toast until slightly golden, about 3 minutes.
Add the broth and cover, reducing the heat to low. Cook until the broth has almost been fully absorbed, about 15 minutes.
Stir in the tomatoes, corn, and beans. Cook until the broth is fully absorbed, about 5 additional minutes.
Meanwhile, cut the tops off of your whole peppers and remove the insides. (Discard)
Season the rice to taste with cilantro, cumin, salt, and pepper.
Add the diced jalapeno's, to taste, and stir well.
Taste one final time and adjust before scooping the rice-vegetable mixture into your peppers.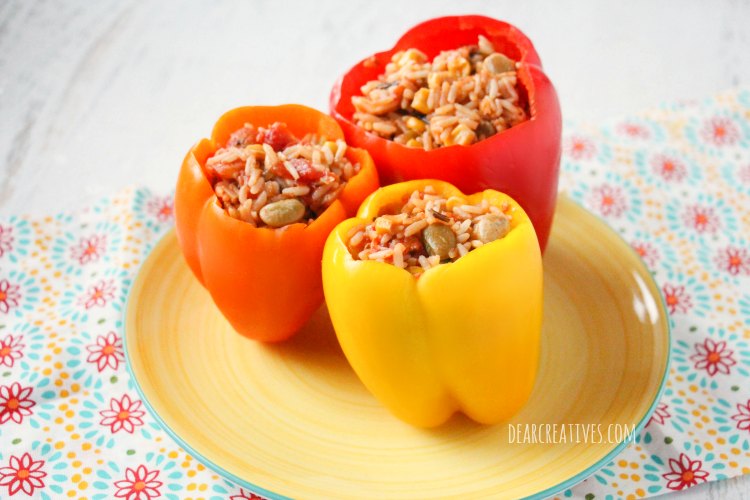 Optional cooking instructions
You can pre-cook your fresh peppers, with or without the rice at 350F for 15 minutes for a softer pepper flesh.
I like cooking stuffed bell peppers with the rice mixture. Start with a pre-sprayed pan with Pam or by using a tiny bit of the diced tomatoes /sauce in the bottom. Since the mixture is pre-cooked you really only need to get your bell peppers as tender as you'd enjoy them. Typically the cooking time is about 30 minutes of total time. But, as stated above you can pre-cook them 15 minutes to cut down the final cook time.
Double Recipe for more servings if needed depending on the size of your family and the ages of your kids this will serve 3-4. If doubling the recipe use a larger 9 x 13 baking dish
.
How often do you enjoy making stuffed peppers?
Looking for more dinner ideas to make?
Dinner Ideas and recipes to make