Dear Creatives, How did this week fly by? Already time to get your craft on & see what else is cooking up in your house! Be ready to share those posts all things Diy, tutorial, crafting or artsy. You name it! Come inspire us to get creative! Please again excuse the short post this week, yep still a bit under the weather & a plateful of to do's on my list. I hope to get to crafting or sewing this coming week if I can get caught up over the weekend with my list. I hope this has you finding the time to link-up or drop back by to link up prior to next Thurs! Now onto the party!
In The Spotlight
Now this is an easy & economical Easter Wreath that you might even enjoy making with the kids or having older kids make with you! Thanks to Noreen Doll for this diy. Noreen has been crafting since childhood. She has enjoyed seeing various crafts being reintroduced and seeing them done in new ways. Noreen loves the creativity crafters exhibit when they make something new from an old traditional method. Noreen says "Many people are becoming more frugal while still wanting to create crafts and gifts for others."
This looks like an easy & fun recipe to do with the kids. What kid doesn't like funfetti? Becky from Yourmodernfamily shared how easy it is! Becky gives you great tips for raising your kids, organizing your home and saving money. Becky was an elementary teacher, until our oldest son was born.
Look at this lovely recipe for Iced Coffee bars submitted by Kristen of BabyGiveAwaysGalore. Kristen is a mom of two beautiful boys, 2 years and 5 months old. Kristen's favorite hobbies are fishing, hunting, hiking, walking my two dogs, reading, blogging, entering giveaways, taking photos and watching my sons discover the world. I can't wait to try her recipe & hope you do too!
Diy Embroidery Hoop- Cork Board
I always love projects with embroidery hoops & if you are like me bits of papers or little reminder needs a place other than the desk. This idea is perfect as it isn't so big it will get cluttered. Perfect for phone messages or love notes…Thanks to Kim from WanderingLovely. Kim is an antique junkie. Homemaker for the long run. & lifetime gluten free eater.
You can all last weeks entries right here at Inspiration LinkUp #31 Now you know I love sharing your work even if you aren't featured today I have been & will continue to Pin & Tweet about your entries past the party time. I didn't get much crafting done myself but, I did a round up post of Easy Spring Crafts What will you be crafting or doing this weekend?
Now it's your turn to link-up & share a post of yours!
Button Up!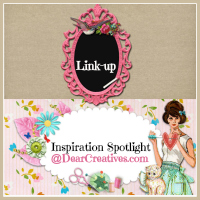 <div align="center"><a href="https://www.dearcreatives.com/" title="Dear Creatives"><img src="https://www.dearcreatives.com/wp-content/uploads/2013/01/Button-inspiration-spotlight-dearcreatives.jpg" alt="Dear Creatives" style="border:none;" /></a></div>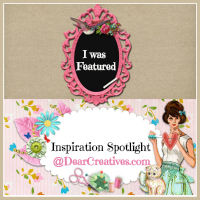 <div align="center"><a href="https://www.dearcreatives.com/" title="Dear Creatives"><img src="https://www.dearcreatives.com/wp-content/uploads/2013/01/Button-Inspiration-Spotlight-I-was-featured-2013-DearCreatives.com_.jpg" alt="Dear Creatives" style="border:none;" /></a></div>
Widget may take a moment to load:
Loading InLinkz …