Dear Creatives, Hope this finds you finding time to craft, cook, get creatives not to mention link-up this week! We had lots of lovely entries this past week. Some crafty, some cooking & of course holiday entries. Before long we will be turning the page of another calendar to a new month! That is if you even own a paper calendar these days. lol It is so nice to have Rebekah, from Accidently Wonderful who is my new weekly co-host if you haven't met her be sure to give her a visit when your done today. Seeing more people find the party is always wonderful, no pun intended, but having someone to chat via email about the party & help is a blessing. Well onto the party! Here are our picks from this past weeks link-up & who is in the Spotlight! Don't forget to join in anytime during the week & maybe next week it will be your turn to be in the Spotlight.
In the Spotlight
Burlap & Holly Christmas Wreath
This great diy tutorial was created by Teryn who writes Vintage Romance. Teryn is a stay at home mom of 1 little boy and 1 little girl. She has been blogging since 2008 when she got pregnant with her baby girl. She initially started it to record her journey as a pregnant lady but it has turned into so much more. She loves being able to share my projects and crazy ideas with others! Teryn says; In Nov 2010 they bought their first house and then it was on like donkey kong! I'm now known around the neighborhood as the painting girl. I'm always outside painting some kind of furniture or decor thing. I have ALWAYS been a crafty girl, making everything you can think of. My love for DIY blossomed as soon as we bought our home and I had to work on a budget to make this house a dream. Let me tell you, there is SO much work to be done!
This cute little diy is calling all pine cone lovers! Liz from Love Grows Wild. Liz is a big city girly-girl turned accidental country girl once she met my sweet husband & became a mother of two rough and tough little boys. She never pictured myself living in the middle of a corn field with her three boys, but she is living the dream she never knew she had. Liz loves to cook, craft, design, and discover what life is all about!
Danielle who writes Mostly Food & Crafts shared this cheesy spinach dip recipe. You can 't go wrong making this appetizer for any holiday gathering throughout the season! Danielle is a SAHM to two awesome kids & a wife to her amazing husband. She loves to find new recipes to tweak & try out on her family. Her kids are pretty good eaters so she has a lot of fun cooking for & with them. Danielle shares her adventures in cooking for her family. She also loves to craft when she can find the time – both alone & with her kids.
Sometimes there are projects that are so easy & cute you just have to make them. Imagine all the creative ways you could dress them up! Well these Snowmen are from Tiffany who writes the Moulton Gang. Tiffany a mother to 5 kiddos ages 4- 14. Tiffany home-schools mostly un-schooling / literature study style. She believes in real life learning and turning wherever we are into our school room. Tiffany says, "I love worship music, card-making, sewing, and DIY projects. I can come up with the craziest ideas. I'm totally head over heels in love with my genius man who loves me for me. I'm passionate about teaching others biblical motherhood. I'm being taught daily to lean on Jesus for everything and learn from His word. It's my hope and prayer you find something to encourage you here."Her blog was created to encourage, challenge, and motivate you to step away from "normal" parenting and enjoy raising your kids your way. Here is where she can share how we live and what we're learning. She hopes you find something that will do just that.
Thank you to all the bloggers who linked up this week either hostess's sites. If you weren't featured don't think we didn't notice your projects or you! As a matter of fact everyone can see all the links entered on the original post! & on the submit / link up page for late party goers. So be sure to go be inspired by all the entries Not to mention we can't wait to see what you have for us this week! Now it's your turn!
What are you creating this week?
Inspiration Spotlight
Button Up!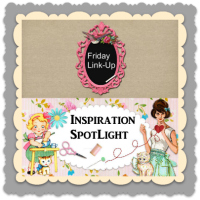 <div align="center"><a href="https://www.dearcreatives.com/" title="DearCreatives.com"><img src="https://www.dearcreatives.com/wp-content/uploads/2012/11/Inspiration-Spotlight-DearCreatives-200x.jpg" alt="DearCreatives.com" style="border:none;" /></a></div>
Your other hostess, just click the button below to visit & follow along: