Do you ever feel like you want to push yourself past your comfort zone? This spring I'm lining up a few new crafts and DIYs to try. For a long time I have been a fan of handmade soaps. I've tried plenty of really good ones from crafts shows to purchasing or sampling online shops. Yet, I've always wanted to try my hand at homemade soap making. I must admit I've been a little nervous but, I think you just have to be prepared to make homemade soaps safely.
The idea of gloves, goggles and caustic soda made me a bit nervous. But, now that I don't have little ones running around I'm more apt to try the art and craft of soap making. Have you ever tried soap making? I had the opportunity to review The Best Natural Homemade Soaps a book on a subject I've been considering trying it.
This book has 40 recipes for moisturizing olive-based soaps. I thought I'd share my book review with you today in case you too are considering getting your feet wet and start making homemade soaps.
The Best Natural Homemade Soaps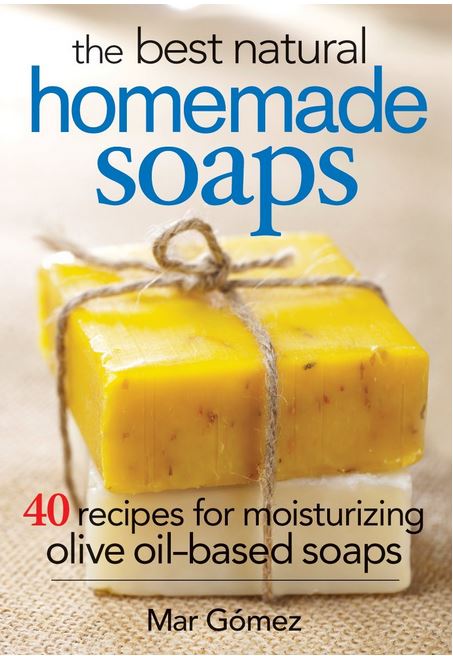 What's great about this book is it covers the basics of homemade soap crafts and then goes onto the recipes.
(* I do not recommend using this recipe with lye without being prepared and knowledgeable. Do not do a project like this with small children around. Reading a book like this that shows you how to create homemade soaps safely would be advised.)
The Best Natural Homemade Soaps
The articles in the book before the recipes include;
A little history of soap making
Preparation
Utensils
Location (where to make your soaps)
Essential Ingredients
Additives (such as using essential oils)
Soap Making Overview
Step by Step Instructions
Helpful Tips
Before I can even get started on this homemade soap DIY project I can see from the section utensils and the Step By Step that I'll need some basic equipment. Utensils such as a spoon, pot….for the project, molds, goggles, gloves, thermometer and so on just to get started. Then I'd have to gather the soap ingredients. Although the ingredient list isn't too long each recipe has different needs. (some include the same basic supplies though) I think once you had the basic supplies you can easily make batches of different soaps.
I did read another reviewer's opinion of a homemade soap recipe she tried. She thought the recipe was easy to follow and her homemade soap turned out good (review). After I make my own I'll update my thoughts on the recipes.
With each recipe is a color section sharing the benefits of the soap (such as dry skin), what the soap is for ie. face, body, sensitive skin. If the ingredients includes properties to help such as anti -aging ingredients such as Vitamin C. In the back of the book is a resource guide for purchasing supplies and the standard index.
The author is Mar Gomez who leads workshops on making natural products and has written several books. The book is published by Robert Rose.
If you'd like to see another recipe and want to consider buying the book you can visit here: The Best Natural Homemade Soaps
Have you ever made homemade soaps?