#Giveaway Time! #MyMemories Digital Scrapbooking Software
Dear Creatives, I have been wanting for the longest time to get into digital scrapbooking & when I had the opportunity to try My Memories Digital Scrapbooking Software I couldn't pass it up! I will share a few things I made, some of my findings along with how to enter the contest which is super easy!! Then you can go & enter the contest!

Sample Pages

You can click all the images I am sharing to enlarge.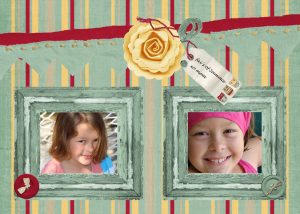 These are some of the pages I created with the software.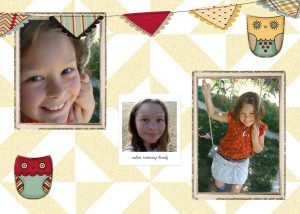 There is plenty of free digi's offered to get you started on pages! Such a bonus to using. I loved going into my photo files & revisiting images of Sammie I hadn't printed & making pages with them. I found you can share the files outside of the program by a simple clicking of share album along with choosing file size & it shows location that it will be in your files. What I haven't tried that the software offers are Movie, Dvd & Ipod ready. Not too mention you can add music! I am sure with playing around, pulling down menus & investigating that these options will all be things I use. I know I will take advantage of these features especially since Sammie's siblings, along with my family are not living in our home town & they love to know what is going on with us.
Of course adding little journal tid bits with the text feature is great! I love that you can change fonts, sizes, bold & rotate among other options with ease! & plenty of fonts to choose from!
I made this birthday invitation so quickly with the software. I wanted to share an example of other things you could possibly use the software for! Yes, not just templates. I am still downloading files & know I will be able to come up with one that will be just the right flavor for her! She is turning double digits in May so I will look at My Memories to find the perfect embellishments to suit her. It is great to have the option to create custom pages! My wheels are spinning as I am packing my bag with ideas to try.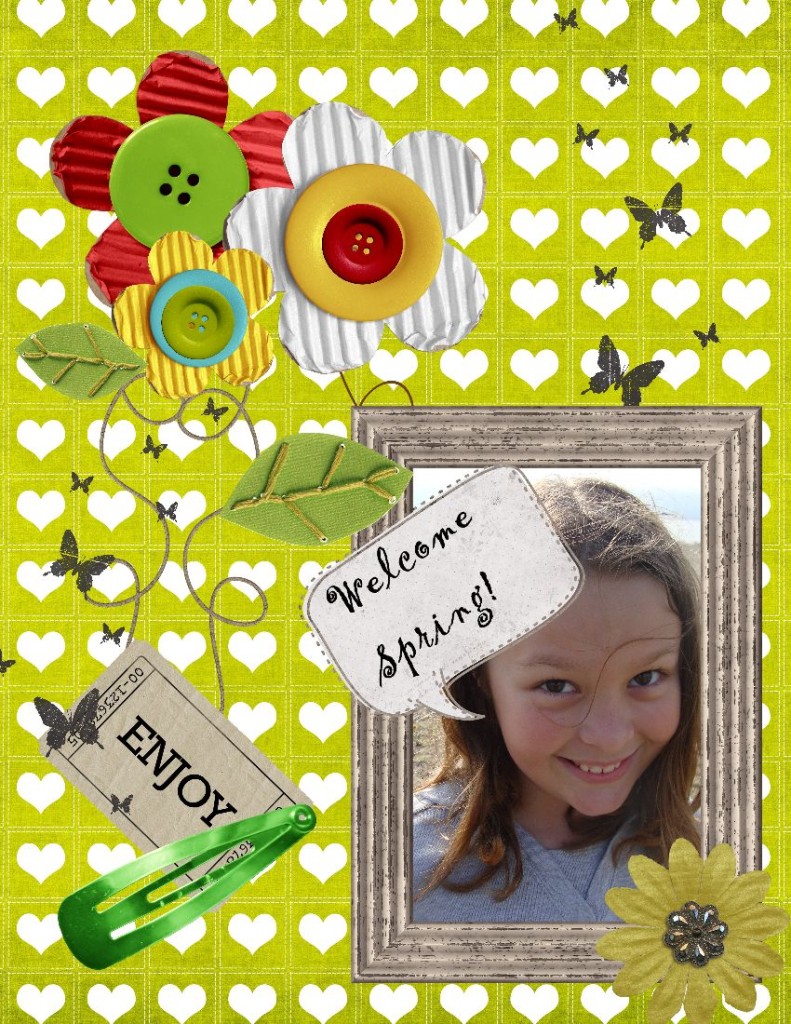 The software is easy to use. I learn hands on with trial & error, but if you search the help you can find answers very easily! At first I couldn't figure out how to open to use the backgrounds & embellishments, but it really was so easy & right in front of me. So let me share a few things to save you time if you win or purchase the My Memories Digital Scrapbooking Software.
Extra Tips:
From the control panel on the right side just pull down the item you wish to use ie: backgrounds or embellishments then to open the ones you have purchased or gotten free & pre saved into a folder you just chose Custom then open & chose what you wish to use.
To extract files for sharing outside the program you just select Share Album from the top of the program menu (or) from the right side menu on the Control Panel.
The control panel is the go to easy to use place & includes:
Background Papers
Photos
Text
Word Art Designs
Embellishments
Shapes
Calendars
Imprints
Videos & Multi-media
Music & Narration
Check Album
Share Album
I did have a bit of trouble with files in my computer that I downloaded, but I found that using the zipfiles (under General for downloading files) & placing them where I wanted was the best way for me with my computer. I don't know why, as I am not the tech expert, but you don't have to be a tech expert to get files downloaded to the My Memories folder & open to use it. ( the options include for windows / Mac / General as in Photoshop or other * like my computer.
If you are already familiar with Digital Scrapbooking this is going to be so easy for you & even if your not, it doesn't take a wiz to figure it out! Honestly I am hooked & look forward to learning more about the program along with sharing what I make!! Oh, one more thing I loved it connects directly to the store while in the program if you wish to get something else to use & takes you there with a click of the button.
I wish you the best of luck with your entry! Please Use RaffleCopter for the official entries!
Be sure to come back to see who wins & grab a special discount code if it wasn't you! Really nobody is a loser in this giveaway!

My Memories-http://www.mymemories.com/
Blog- http://blog.mymemories.com/
Facebook- http://www.facebook.com/pages/MyMemories/140359372717593
Twitter- http://twitter.com/#!/mymemoriessuite
If you would like I'd love to have you follow me! Use Rafflecopter for all entries to contest!!
What is your favorite digital paper pack or layout ?
Be sure to enter comment into Raffle copter
Disclosure: I did receive a copy of My Memories Digital Software to enable me to review the product. All opinions are 100% my own & this is my honest opinion of my experience with the product.