Do you all have a state fair that you love? Ours comes in July-August and is one of the bigger ones in the state. It's called the Mid State Fair. What's not to love about a date to the fair? Today I'm sharing fashions "outfit" perfect for a summer fair date. And who is headlining at our fair's concerts.
This year our Mid State Fair entertainertainment headliners are:
Fall Out Boys
Justin Moore with Joe Nichols
Fergie
Blake Sheldon with Caroline Kole
Tim McGraw with Brooke Edan
Hollywood Vampires
Don Henley
Duran Duran with Chic
Kenny Wayne Shepard & Johnny Lang
Brian Wilson
Besides this year's headliners line up at our local fair in Paso Robles, CA. there are free shows, rodeo shows, activities and contests! 4-H judging, carnival/fair rides and of course cotton candy! Foods, BBQ and much more.
Fashions
State Fair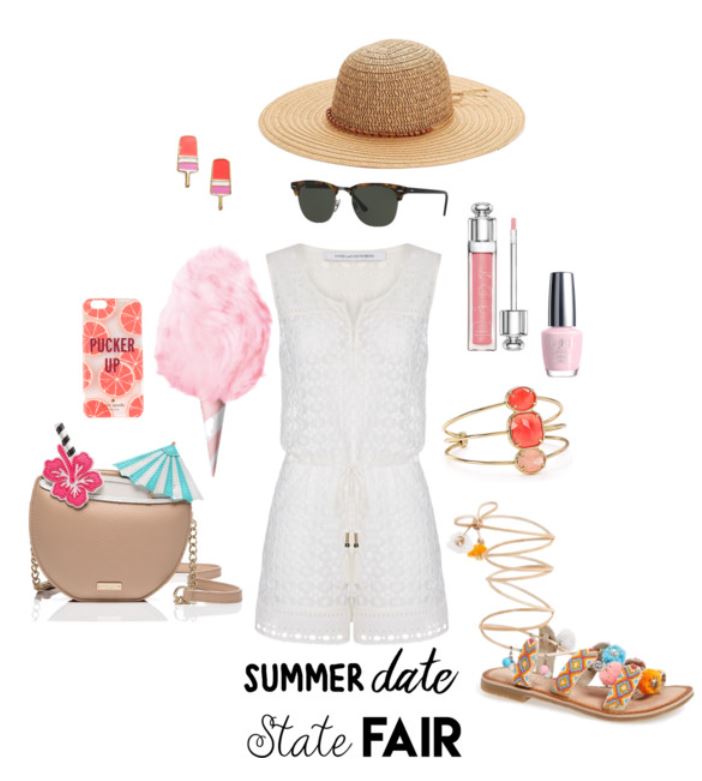 Let's break the outfit down. A fun romper, pair of flats and sunglasses are perfect for the day. Accessorize with fun, flirty jewelry and a cross body bag from Kate Spade.


You'll need lip gloss or lipstick to keep your lips hydrated. Sunscreen to protect your skin. Why not pretty up your nails with a little pink polish? Top everything off with a sun hat.
Fashions
Summer Date:
If it's your first time here it can get extremely hot during the daytime. And it can cool down rapidly at night. Late afternoons will often have a breeze and fog can roll in. If spending the entire day into the night bring a sweater, sweatshirt or jacket.
What is your favorite thing to wear to the fair? Or do at the fair?