Easy Ways To Decorate Your Home For Fall – Easy DIY Center Pieces
Today I'm sharing how easily you can decorate your home for fall. Plus, show you how to make these easy DIY center pieces. It's officially fall! Can I get a woot, woot. I have been ready for autumn since it left last year. To get inspired this year, I popped by my favorite local home store. I was looking for what's new, and grabbed a few home décor ideas.
Today I'm sharing some easy ways you can decorate your home, and how to switch it up for the next seasons too. Let's get started with these easy home décor ideas.
Easy DIY Center Pieces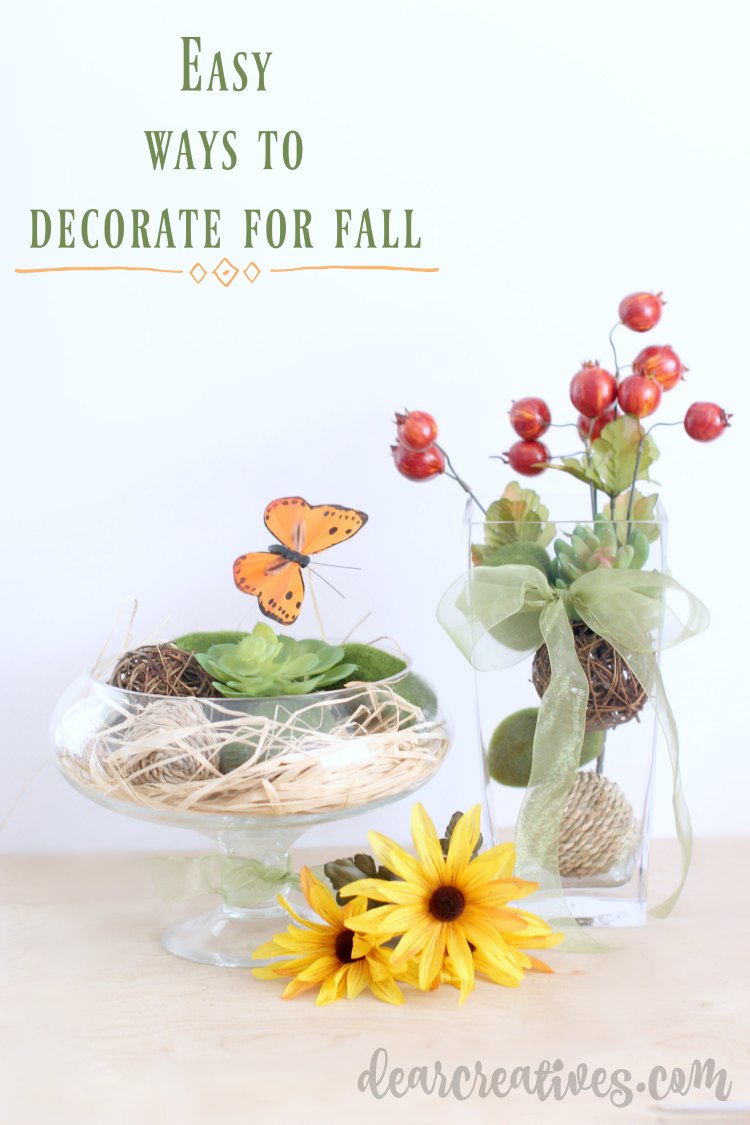 I grabbed a few supplies. (listed below) I purchased a few supplies to create a few new home décor decorations. This is super easy to do, so even if you think your not crafty, you can do this! I got your back girl. Seriously, you don't have to over complicate things.
Easy DIY Center Pieces
If you are making a table center piece you will want to pick a lower, shorter vase. This way your guests can see over your fall decorations. For your mantles, pianos, and side tables it's a bit more flexible. You can vary heights and, even use more than one vase.
I love using nature inspired decorations, and creating things that can move easily into the next season. Who is ready to get their DIY on? Let's see how to make an easy center piece, or two.
Supplies you need to create a table center piece

How to create an affordable table center piece
unpack your filler from the box
divide it into two sections
fill your vases
add your accents
wrap and tie a bow around your vase
optional, add extra touches such as a faux butterfly or bird
See how easy that was! For my lower vase I filled the bottom with raffia. This happened to be in my filler box. If your filler box doesn't have it you can find raffia here.
I took a photo with my cell phone of how it looks on top of my piano right now. But, it's not the best photo. I hope to update it soon. It's in a darker space just off the dining area, and I had to have lighting on to take the photo. I'm going to be moving the deer horns to my dining table but, I have to get tall skinny candles to go on them. I snagged them at Pier 1 on clearance a while back.
I added these wooden mushrooms, they also have mini wooden mushrooms , and felted mini pumpkins they are so adorable for woodland, fall or Thanksgiving arrangements. I added a 3 inch small pumpkin candle, large pumpkin candle to a cement candle holders I made.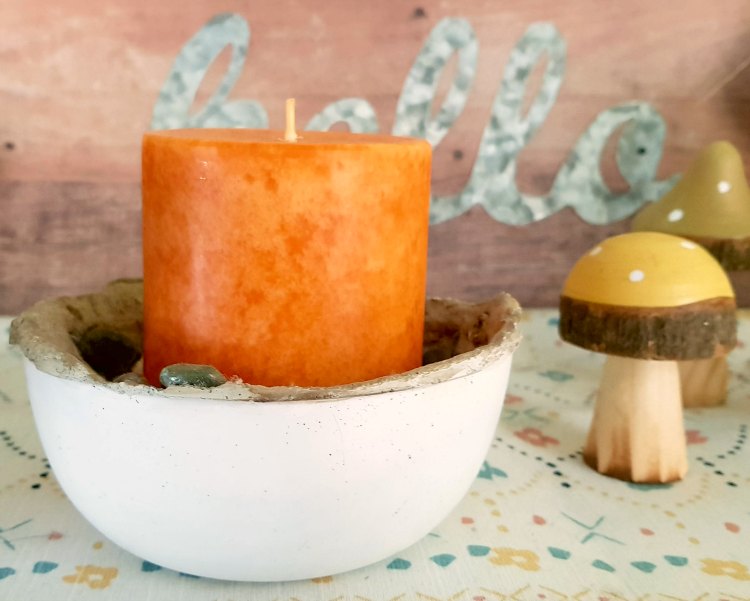 They smell so pretty! If you want to make one or two holders for your home décor here's the cement bowls – candle holders DIY. You can paint them any color you like on the outside. I used rocks, and sea shells in the inside.
When I was shopping I was crushing on this 5 votive candle holders with tray. It would make a great starting point for a centerpiece.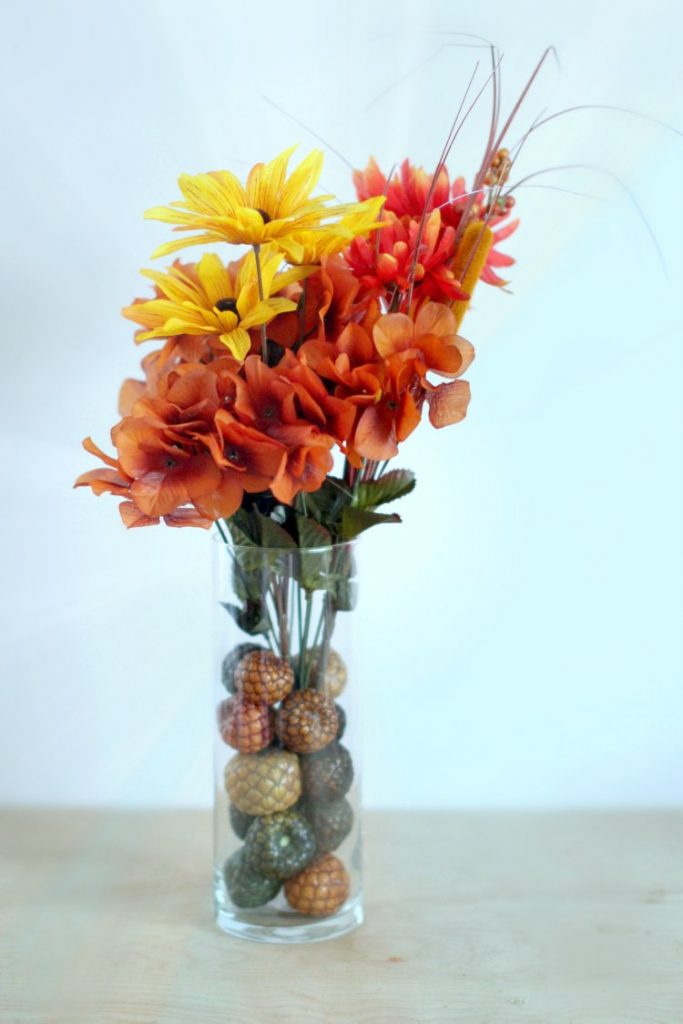 For this vase I used a box filler too. This package was filled with pretty autumn acorns. You might remember I used the rest of this filler as accents on this 1 hour fall wreath DIY. Do you enjoy decorating seasonal wreaths? See how to decorate grapevine wreaths.
How can you change your fall décor to the next season?
To change out fall accent pieces I take out any bowl filler from your bowls or vase. Then carefully add them into storage bags. They store nicely, and can be used year after year. I have a storage box for every season's decorations.
Next grab all your Christmas Floral Supplies; such as winter or holiday bowl fillers. (Or grab other fillers for different seasons.) You can also swap out your flowers by changing to the new season's colors.
The easiest way to change your fall décor for the next season is by swapping out your satin ribbons. Try making bows in more ornate ways by using wired ribbon for the holidays. You will also notice in the one arrangement I used a pomegranate spray with the moss filler, this arrangement can easily go through the holiday season. Or add a few holiday accents, to bling it a little more. By changing your colors and accent pieces, you change the look and feel of your home.

New here? Be sure to subscribe. I have more seasonal decorating tips coming!
Related Posts:
Do you enjoy easy ways to change your seasonal décor?