Today I put together a list of lovely chalky finish paint easy DIY improvement projects – DIY craft projects. I couldn't help myself after doing my own dresser to kitchen island painted project. If you missed it I'll have a link at the end of the post. I've been bitten by the painting bug and want to do a few more projects after seeing how easy it was to use the paints. I thought you might enjoy the inspiration also.
Chalky Finish Paint is perfect for up-cycled projects, DIY s, crafts, along furniture… Have you'd ever tried using it before? On a piece of furniture, basket, mirror, or another item in your home. If you go to yard sales and thrift shops you are sure to find a piece that could use some love and paint. Do you enjoy upcycling projects?
What I loved about using the chalky paints is there is no prep needed unless something is very damaged or has a dark stain. It goes on easy with a paintbrush, clean up with soap and water! Just add wax to finish and protect it.
DIY Craft Projects
Chalky Finish Paint Projects
Find out how to use chalky finish paint – Chalky Finish Mirror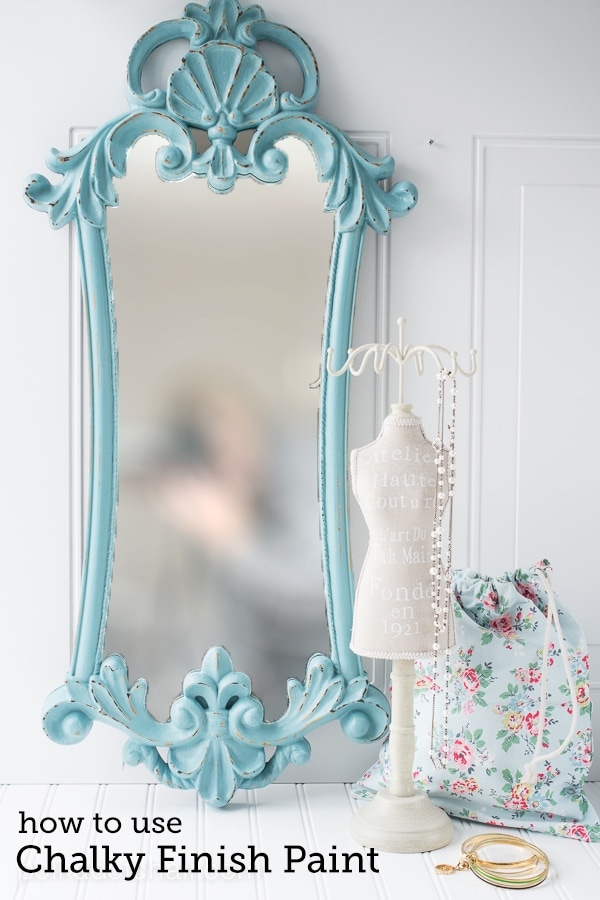 I have a mirror that is a plastic version of this but, after seeing this project by Melissa of Polkadotchair I have an idea to put a spin on fixing up mine. Yes, you can coat the paint right over plastic! I love the colors Melissa used on her mirror drop by her site to see the full tutorial.
DIY Hand Painted Sign
After seeing this post by Johnnie I know I'll be making a few signs for the walls of my kitchen since we are making improvements on it. I have taken layout and lettering before but, probably will use stencils, since it's been forever since I practiced!
Honestly, My dog would love it if we make him an old television to dog bed conversion. I just love the dog curtains too! Rex would feel like a king. I found this on Twitter from ValaHomeImprovements @ValaHomeImprove I couldn't find the tutorial but, if you click the image you can visit the image on Pinterest.
Image Transfer Craft Project
Image Transfer and Stained Wood DIY
I didn't realize the products they have for creating something with an image transfer. Yeah! Love this DIY from the FunkyJunk and the lightly stained creme wax. And of course if your looking for some fall inspired chalk paint projects I've rounded up a few of those too!
Fall Signs To Make
Fall DIY Crafts To Make With Chalk Paint and Chalk Markers
Of course, I have seen a bunch more I've enjoyed but, I'll have to say those for later. I've got some projects to get to! What types of projects have you been working on?
Have you painted with chalk paint?