I've been looking looking for some easy diy improvement fall classes to take. Today I thought I'd share a few things have caught my eye. Although I've been busy I'm always looking for ways to keep my crafting and diy skills up to date. I was looking for some easy weekend diy projects that I could do. I thought I would share my top three fall DIY classes that I found.
I've always wanted to try my hand at jewelry making but, more often that not I just haven't dove in, with the exception of a few simple projects. But, then when I was over at CreativeBug and found a teacher who had some fun, not too hard looking projects. Then I spotted and took the online canning tomato class, along with bookmarking this cute carved pumpkin diy class.
All these are online classes from CreativeBug;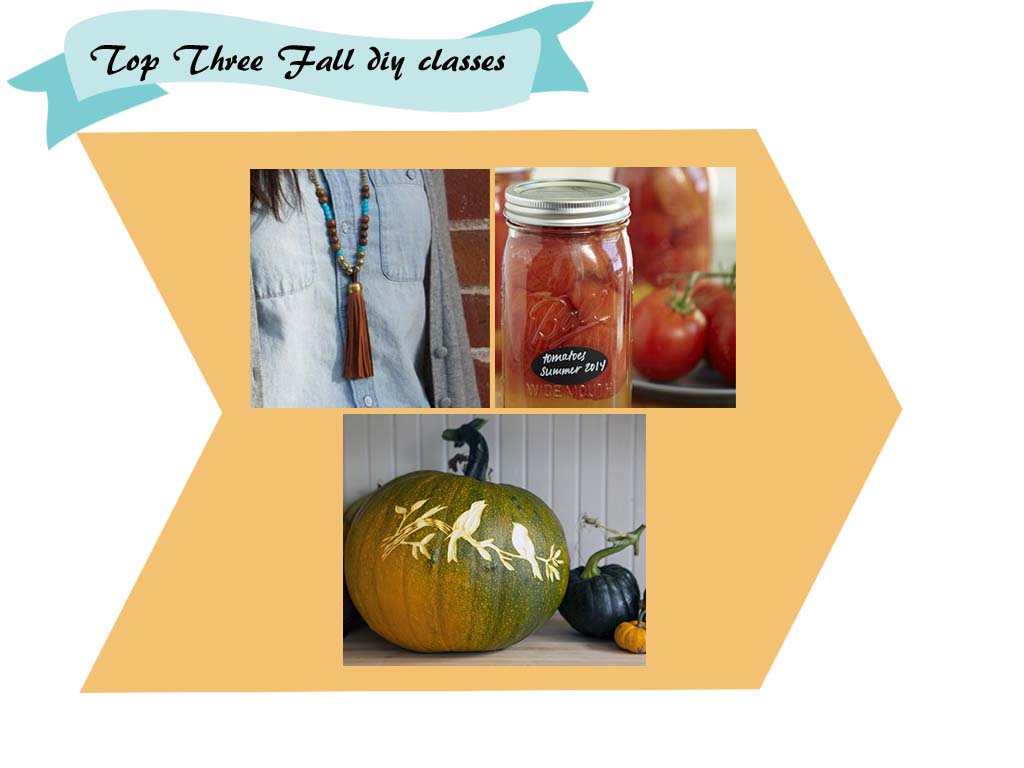 You may have read some of my previous posts about classes I've taken over there? Here's why I love these diy classes and why I love CreativeBug. First there are various purchase options from buying one class to purchasing a monthly or annual access to all classes. Honestly, they are just about the cost of two lattes. Just saying they are affordable! And the subscription access brings it down even more.
What I love about these online video classes is that you can take them all at your pace and time on CreativeBug and once you've purchased them they are yours to review at anytime!
I have canned tomatoes a long time ago but, haven't tackled it in years. Most recently I have been making and freezing jams. This was the perfect refresher class and I learned a few new tricks. If you are a beginner or just need a refresher you should check out this online canning tomato class.
But, Karen Solomon not only teaches this class she also teaches;
Who is Karen Solomon? Karen Solomon has been a well-published food writer for over a decade. In addition to the Asian Pickles series, she's also author of Jam It, Pickle It, Cure It and Can It, Bottle It, Smoke It (Ten Speed Press/Random House). Additionally, she's the author of The Cheap Bastard's Guide to San Francisco (Globe Pequot Press) and contributing author to Chow! San Francisco Bay Area: 300 Affordable Places for Great Meals & Good Deals (Sasquatch Press) and a former contributing editor to Zagat Survey: San Francisco Bay Area Restaurants.
This class is taught by Elkie Bergernon. Elke Bergeron is the founder of "by elke", a small handmade company that specializes in repurposed accessories & handbags. Elke currently lives in Boulder, Colorado after living many years in New York City working as a designer in the fashion industry. She teaches a total of 8 online classes at CreativeBug right now. From leather basics to Boho Cuffs and Clutches.
Now all I have to do is order some leather! or Faux leather then I can't wait to create a project and share it with you.
The carving class I spotted is perfect for fall and is called Halloween Pumpkin Carving;
Note: No drawing skills needed!!
This class is taught by Courtney Cerruti. Sometimes you want more than a toothy jack-o-lantern welcoming Halloween guests to your front porch or dining room table. Courtney shows you how to borrow techniques from printmaking to create fanciful carved designs – in addition to some quick, non-carving ideas. You'll have plenty of ideas for adding elegant silhouettes, glitter and geometric designs to your Halloween décor.
Courtney takes you through the steps and techniques making it. She gives you some great tips on what types of materials and tools will make you being successful with carving your design or free designs you've printed. Trust me I've tried with the store bought carving tools and failed every year. I'm excited to give this a try once we head to the pumpkin patch and grab our pumpkins! She makes it seem very doable with great results. No drawing skills needed!!
If you want to check out these or any other CreativeBug classes head on over to CreativeBug!
Have you taken any CreativeBug Classes before? If so which ones? What types of creative, diy online classes are you interested in?