Today we are in the kitchen getting ready for doing a little crockpot / slow cooking! Are you a crockpots / slow cooker fan?? Have you ever wondered if you should buy a crockpot or slow cooker? Today I'm sharing a few reasons I think you should! Plus tips for selecting or replacing crock pots and slow cookers to ensure your picking the right one for you.
Using crock-pot and slow cooker recipes is always something I love planning and using. It can free up your entire day to work, take care of the little ones or even head out to play, shop, head to your kids lessons or practices….and still get dinner on the table easily. As we head into fall I love making my cooking during the weekdays easier. I love the smells coming from the kitchen if I'm at home while the food is cooking.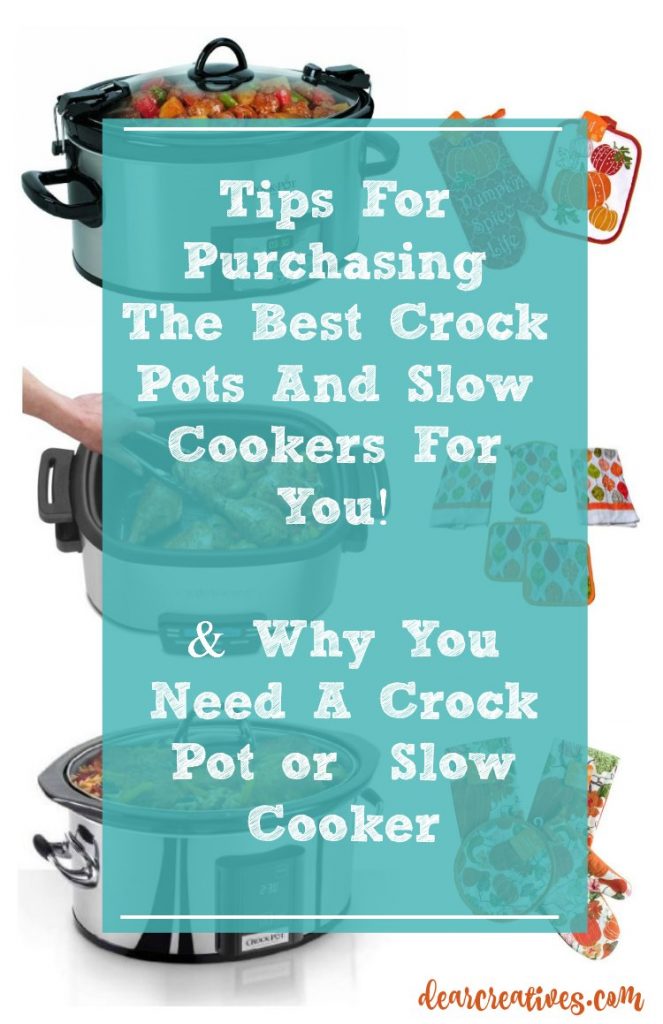 Crockpots And Slow Cookers
I've had my same slow cooker for at least five years or more. I don't even think they make that style any more and am ready for an up grade after researching what some of the newer models can do. I am considering adding another to my kitchen for fall / winter cooking. I'll keep my other until I no longer need it or it quits on me but, for the holidays having a big family I'd like to have two.
Last year my older daughter needed a new one. I helped her find one that would suit her family and do the things she needed it to. I researched prices, styles and types finding some great selections.
Below, is a list of tips if your considering purchasing a new crockpot or slow cooker. They come in many sizes, with varying features and options.
If there is ever a kitchen item you should invest in I really recommend trying a crockpot or slow cooker if you haven't cooked in them. Usually the recipes are pretty easy that you find that go into slow cooker recipes. Then when done, oh so yummy! The slow cooking gives the food time for flavors to meld.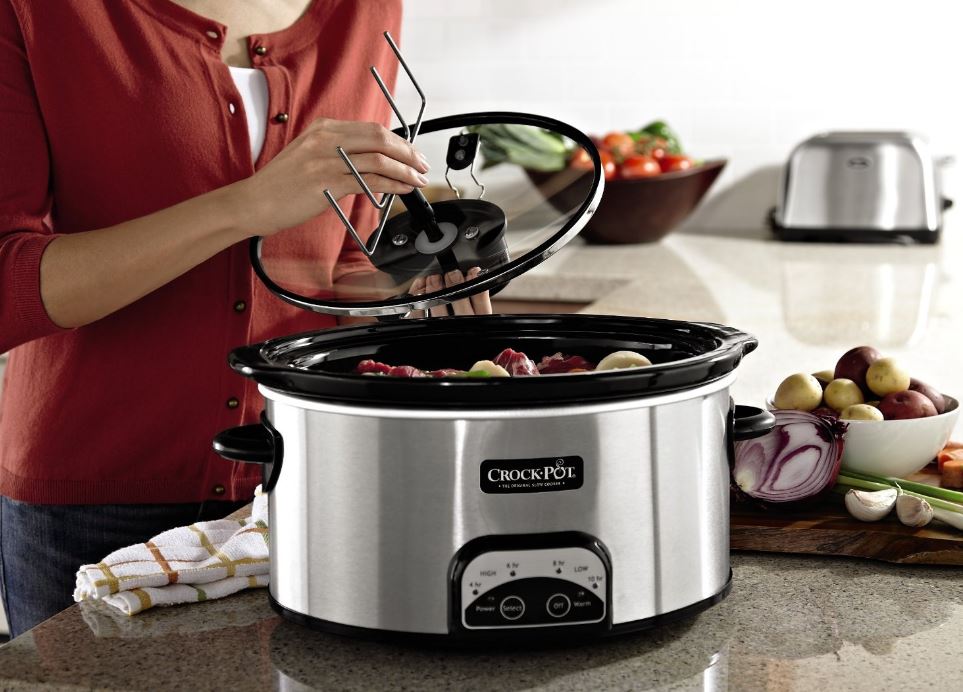 The Crock Pot Krissy decided that would be best for her gift was one that had automatic stirring. (Above is the one I purchased for her.) Although she's at home, she has 4 small children under the age of 9 and three under two years apart. She doesn't have time to get in the kitchen for long periods of time or for checking or stirring. She also wanted one that had a lock lid. Her family has a lot of church functions, pot lucks and other activities where they need to take their pre made meals. This Crock-Pot also has an optional Crock Pot travel bag. The Crock-Pot comes in two sizes 6 quart and 6.5 quart.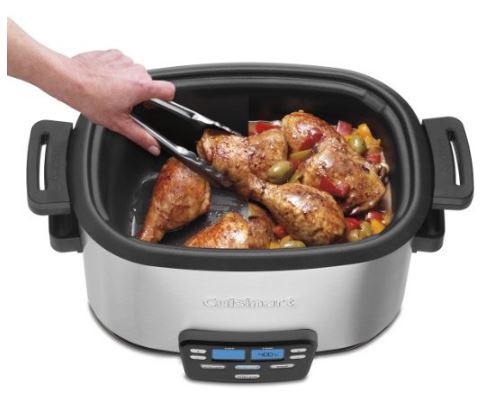 For me I love making recipes such as chicken dishes, roasts that I prefer to braise first. I've actually found the Cuisinart 3-1 crock pot that does this in one of it's settings. No getting an extra pot dirty any more! Another time saver. It also has racks for steaming fish or vegetables. What sold me on this model was the braising option. You can see it in action with a video of a recipe being cooked in this one by following the link below.*selection at Amazon
The Cuisinart 3-1 does all this and is available in 4, 6 and 7 quart size:
One touch switches modes when recipe calls for combination cooking

Extra-large blue backlit LCD display with easy-to-read time and temperature settings

Removable 6-quart nonstick aluminum cooking pot with teflon coating

Glass lid with cool-touch handle for clear view and comfortable handling

Dishwasher-safe removable parts for effortless cleanup, Steaming rack included, Limited 3-year warranty

Ships in Certified Frustration-Free Packaging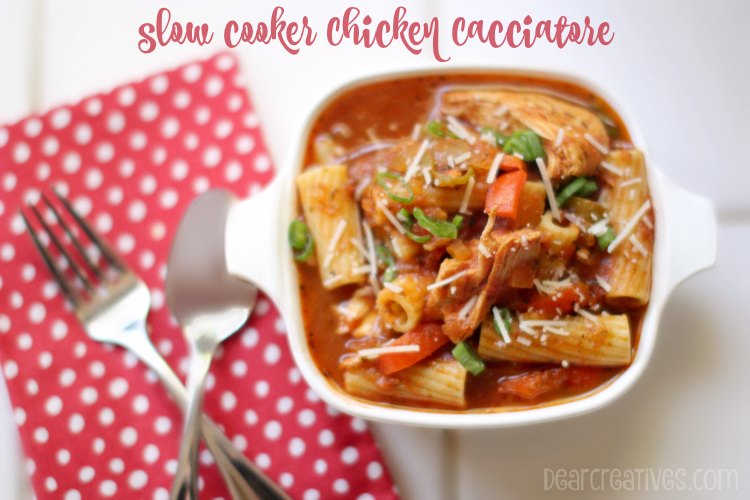 If you have followed along for a while you know how I love cooking in my slow cooker. Some of our favorite meals have been made in them. During the holidays we've used them to make and keep mashed potatoes hot for big family meals (like Thanksgiving) and you can even make hot beverages or desserts in the slow cooker.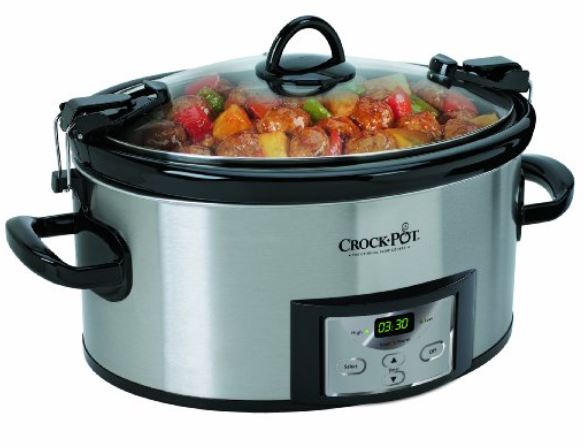 Reasons To Own Crockpots or Slow Cookers;
Convenience: If planned right you can do so many other things while your meal is cooking. With the right crockpots or slow cookers it will automatically switch to keep warm when done cooking. Hello, warm fully cooked meal when you get home. Why did I say planned right? Because most meals take between 2-4 hours, some up to 6-8 hours if on slow. It's important to meal plan and get dinner on early to ensure it's ready to eat at the time you like!
Versatile: You can use them for cooking stews, soups, meats such as chicken, beef, pork or fish. Lasagna, pastas, chili…. Besides dinners, think fall drinks like hot chocolate, apple cider. Desserts and how about using one for potpourri and make your house smell like fall!
Easy to Clean: You can purchase some with non stick pots and others just spray with non stick spray prior to cooking.
Flavorful Meals: Since the food is cooked slowly it gives meats, stews and other dishes a really flavorful taste when done. Flavors meld and meats get very tender!
Frees up cooking areas for large holiday meal cooking. Allowing other items to be cooked on the stove or in the oven.
Doesn't heat up your kitchen in summer hot weather season.
Now, if you've decided to purchase a Crock Pot or Slow Cooker. You'll need to keep these tips in mind when selecting one to suit you home – kitchen and that will meet your needs.
Things to consider when buying Crockpots or Slow Cookers;
Crockpots and slow cookers sizes usually range in size from 4, 6, and 7 quarts. But, there are some bigger and even the minis.
Shapes, round, oval, rectangle
Functions including ones that have automatic stirring. Others have a braising or steaming function.
Some come with dials vs programmable
Settings: There are all different kinds for each make/model. Make sure to get one with a warmer setting. When it's done cooking it will go to warm until ready to serve. Or auto shut off functions. (those are my preference) Which are great for cooking while your gone.
There are some that come with lids that lock for heading to friends or families for pot luck dinners…
Some inserts are dishwasher safe others are not
You might think you don't have room in your kitchen. But, I say find room they are worth owning. I store mine in the cabinet and pull it out when needed, my counter space is limited, although I have an average size kitchen. When I lived in a cottage style house my kitchen was so small. I stored mine in the garage and brought it in to use.
Crock pots and slow cookers come in many sizes including round 3 quart Crock-Pot, rice cooker / slow cooker combo and minis like the Little Dipper. I have a mini just for melting chocolate for candy making.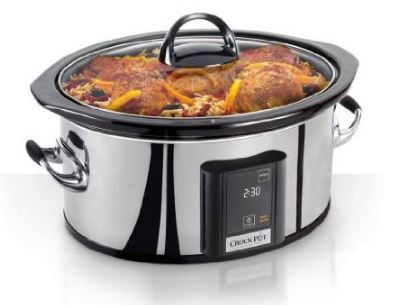 Our favorite crockpots – slow cooker recipes;
Crockpot Chicken Tacos

We also use this recipe for chicken burritos and enchiladas. The chicken is so tender and easily makes any of the recipes.
You can see them all in our recipe index
Just getting started cooking with your new crock pot or slow cooker? Besides our recipes you'll find I've dedicated a whole Pinterest board to Crock-Pot's and Slow Cooker recipes. I'm working my way through them! Or adapting some of those recipes. Make sure to subscribe to keep up to date with all our posts and never miss out!
Do you have a Crockpot or Slow Cooker? What's your favorite recipe for them??
A few other things we are loving for fall in the kitchen. All our selections are on Amazon