Are you a crafter? If you have ever wanted to own a Cricut die cutting machine now is the time to grab one with this big Cricut sale! Grab Cricut discounts and savings on all the Cricut machines and their supplies.
I have listed some of our Cricut crafts at the end of this post, if you haven't seen all the things they can make.
Cricut Sale!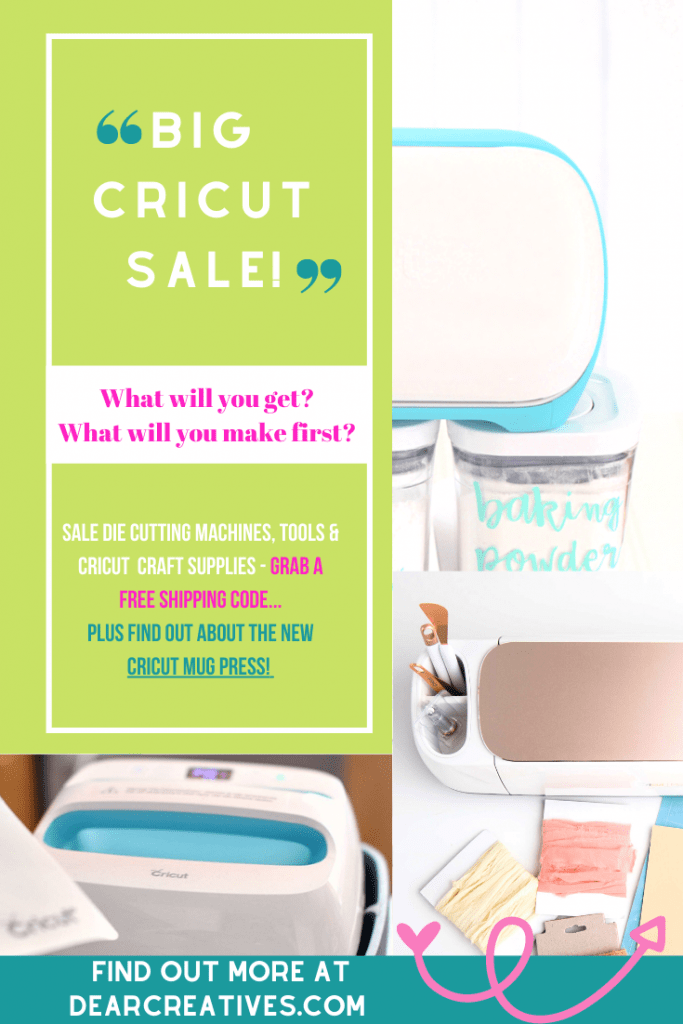 You can also see the projects on Cricut. Scroll down to the bottom of this page to see all the ideas of things you can make with them!
Cricut Mug Press
They have bundles for the Cricut Maker, Cricut Air Explore, and Cricut Joy! Plus, did you see the new announcement for the Cricut Mug Press? Just when you thought you had all their crafting tools!
The Cricut Mug Press debuts tomorrow or head-over to decide if this is another craft tool you want! I am excited for the Cricut Mug Press, the latest in the lineup of Cricut Machines.
Meet the latest Cricut Machine! This one makes designs on mugs!

Mug Press™ + Everything Materials Bundle
Why do I want a Cricut Mug Press? I am dying to make quality mugs for myself, for Dear Creatives, and my daughter's business… Why wouldn't you want one? It makes it so easy to create decorated mugs that will last for years.
They do have premade designs you can use. Plus, there already are many tutorials online and more straight from their site, Facebook page and via crafters.
Cricut Machine Bundles on Sale + More!
Cricut Maker Bundle Sale

Maker® + Essentials Bundle, Champagne
from:
Cricut

Joy™ + Smart Vinyl Bundle
I have always been a Cricut Crafter and have enjoyed using my machine to make banners, cards, iron-on t-shirts and onesies. Decals and labels…
You know I finally got my Cricut Joy a while back. Here is my first project with it! DIY Pantry Labels.
I have made more crafts and projects with it but, haven't had the time to share them. But, stay tuned fun projects (subscribe to our posts) will be in the works with all my Cricut machines! ( PS – I'm working on a page to house all my Cricut craft projects. I'll let you know when it up and live!) Any, how onto the sale and other Cricut news!
If you love crafting all types of crafts like this I recommend the Cricut Maker. But, if you are more of a paper-crafter, card maker, banner for birthdays, the Cricut Joy may be right up your alley! Plus, the Cricut Joy is perfect for labeling and is very space-saving as it's small!
You can compare the die-cutting machines right here (on the right side of the page)! To see which is the best for your crafting style.
Explore Air 2 Bundle Sale

Explore Air™ 2, Mint + Everything Bundle
This was the third machine I ever owned and I still love and use it. I am always updating my machines. Did you know there is a trade in program too?
Cricut Sale and Cricut Discounts
I love using sales like this to pick up supplies I need in bulk, such as iron-on materials and vinyl, infusible inks, tools… This time I may consider picking up infusible ink as I am (probably) getting the Mug Maker! (It's on my birthday gift list, I may get it as a gift as my birthday since, it is right around the corner!)
I think you are going to love this sale!
Do you need supplies or are you considering a new Cricut machine??
When is the Cricut Sale?
Starting today through 3/16 The above offers are valid plus, this free shipping code through 3/31!
Cricut.com is offering Free Economy Shipping on orders $99+ with code SHIPMAR or MARSHIP through 3/31. This free shipping code/offer might not be able to be combined, I am not sure. But, give it a try for all of your purchases on sale or not if over $99. Even, more savings! (Don't forget to take the code with you and Pin this page if shopping later.
Ready, Set, go shop for what you need from Cricut!
New here? Be sure to Subscribe.
Pin it for Later
Cricut Projects to make?
Other places to Shop for Cricut