Dear Creatives, Happy Monday to you! It's going to be a busy week here for me. Today I wanted to share my time out for Earth Day with you. Sammie & I created the butterfly feeder along with a butterfly house I talked about making. We weeded our small herb garden, along with planting & pruning a few things. We planted a new thyme, basil & rosemary plants. I took a few photographs to share with you, then after the photos is a video tutorial with the steps showing what we did. I hope you enjoy it.
Here is Sammie out working on the butterfly house we made together & our just weeded herb garden full of sage, chives, strawberries, oregano & more.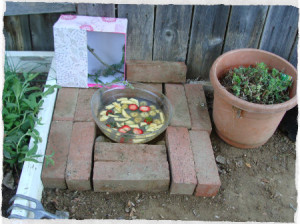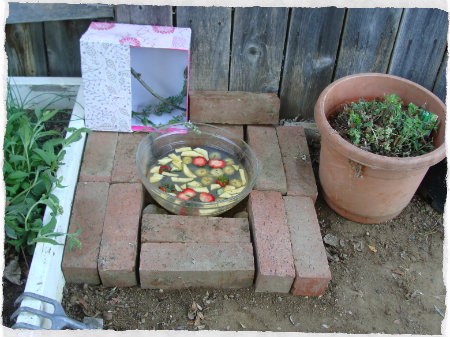 Butterfly feeders are great for attracting butterflies. The butterfly houses help protect them from bad weather.
Next is a video tutorial I created for you on how to create them for your garden .
Note: I didn't purchase the software I used to make the video, so this free version will take you off site & then you'll have to come back. I was testing it out to see how I like it before I commit to purchasing. More about that later! & see not under video before going! I think you will enjoy the tutorial, by the way its not long!
If you share: do not alter & link back to site 😉 Thank you!
This video collage customized with Smilebox
Don't forget to

link-up

if you have some green crafts, tips or ideas to share!
 Enter the

giveaway

before your done today!
Check out the

Beyond Earth Day Tips

!
Do let me know how you like the tutorial so I will know if you enjoy viewing them this way & if you do I will make some again with the software & consider purchasing it.
What did you do for Earth Day or this past weekend?