Today this is what I am loving & must admit I am having Winter Diy Crushes! I have a whole list of projects coming, but am waiting for some of my supplies to arrive & ones I have created have to be edited. The one thing that is hard about living in a rural area is not being by where you can get your supplies easily. Of course I hit up the craft store when I was visiting up north & in the city but, thinking we'd be back again prior to leaving didn't get supplies, "sigh." Today just a short round up of projects I am loving & you might like to think about making too. Along with where to purchase some woodland supplies & fabrics for your woodland crushes! I happen to be dreaming of a diy woodland Christmas! Do you have a theme yet for your decor?
Photo Credits: Alice Patterson Photography The Sweetest Occasion: Diy Gold Leaf Pine Cone Garland
There isn't anything I love using more than nature in my winter & holiday decor. Of course adding my favorite gold, silver & glitter is just icing on the cake! Design + styling by Cyd Converse for The Sweetest Occasion.
When it comes to winter you just can't get enough reading under a cozy blanket as far as we are concerned. If you are like us you just might enjoy this free Woodland Printable from Ellinee.com Who wouldn't love these marking the pages on the books your reading? Sometimes there is nothing like holding a book & turning pages add in the cute woodland bookmarks & smile.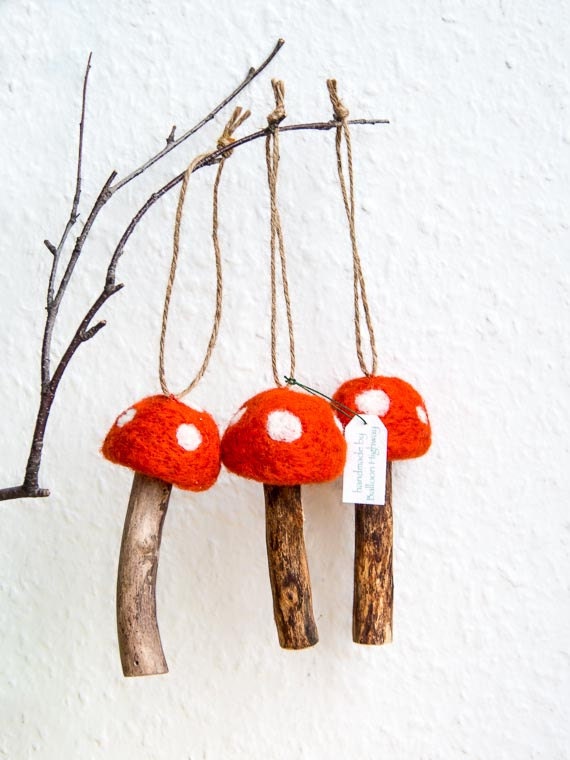 I must admit I have never tried felting. Have you? These are felted woodland mushrooms I found on Etsy created by Anca whose shop is called BalloonHighway I am just swooning over them. You'll find them in a host of colors & she even has felted acorns. Can't you just see these on a Christmas tree or a little winter vignette?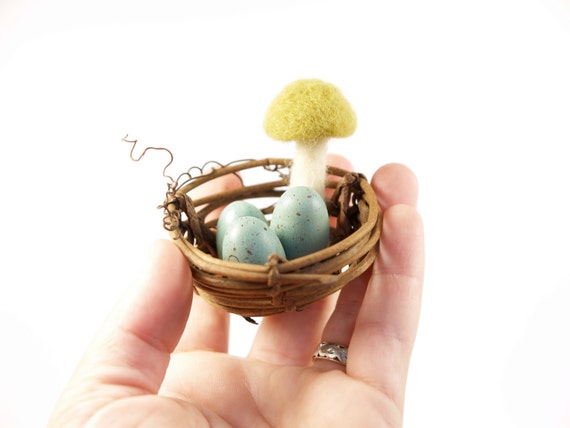 Whimsical Woodland Nest Ornament
Another thing I love is whimsy in winter & holiday decor. You can find this & other whimsical woodland items at Fairyfolk on Etsy. All these winter woodland ideas has me swooning for a woodland holiday this year!
Today's Woodland Post is being brought to you by Fabric.com You can find supplies, woodland fabrics, yarns, templates & so much more for your holiday crafting & sewing! Whether it's woodland or something else!

Fiskars Shape Template Woodland
Embellish scrapbooks, cards or paper crafts, make fabric appliqués, make custom stencil patterns and design accents for clay projects. Clear shape templates make it easy to crop images and align shapes perfectly. A built-in grid pattern makes layout simple and quick. Use shape templates with Fiskars Ultra Shape Xpress Shape Cutter too for paper crafting projects. Shapes can also be traced on any material and cut with scissors or craft knife. Stencil measures 12" X 12".
I just love this Woodland Print called Woodland Tails Animal Cross Cream by RJR Fashion Fabrics. Which also comes in a green that is pretty too & of course there are pages of other woodland materials. Two other favorites just click images to see larger on Fabrics.com:
Woodland Critters Shelf Stripe Beige by Spectrix
& Woodland Pals Tossed Deer Nature by Kaufman. I would love to line a basket with it or create a cuff on a burlap Christmas stocking. What would you make with any of these fabrics?
What kind of holidays are you crafting up?
You may enjoy these posts: