I've been working on a project. It's a full make over / re-purpose of a dresser into a kitchen island. We started our kitchen remodel but, I knew I didn't want an island in just one spot, having to walk around it, having it smaller than I need for projects and since we aren't gutting to rebuild the kitchen entirely we thought this would be an easy diy improvement project and solution. I bake, craft, sew and we do everything in between. I wanted a space where we could work and where we could have more counter space. Today I thought I'd share a sneak peek of what's coming up.
Our kitchen just lacks counter space but, we aren't replacing cabinets or counters right now. Maybe later. I had a dresser in the garage and it was sitting there for years! I've been pinning projects, spinning ideas for this make over for sometime. I'd also like some help picking out the kitchen stools. I've priced them all over the place but, these are the ones that fit our budget and looked nice enough to love, work and live with.
The Planning for our Easy DIY Improvement Project: The Dresser to Kitchen Cart/Island;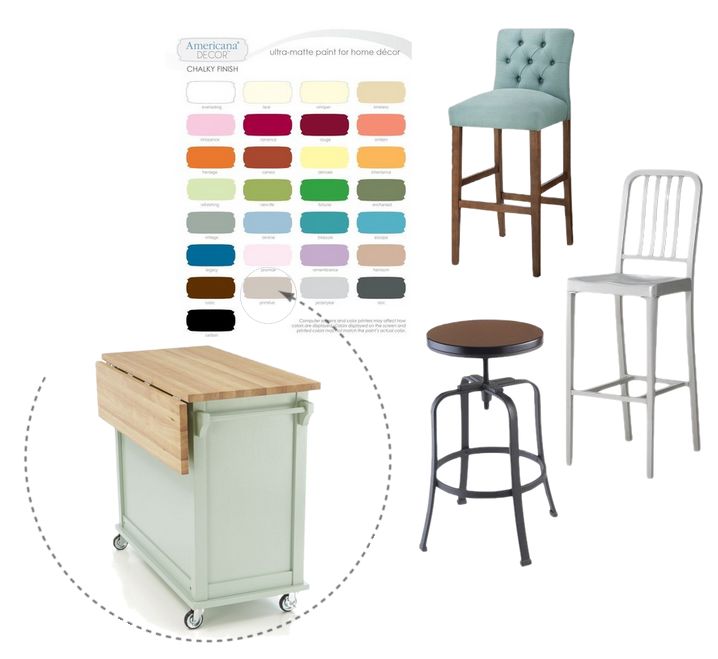 Now, mind you my kitchen island /cart is more rectangle than tall but, we are giving it enough height by adding a shelf under the cabinet and wheels to almost match our kitchen counter height. We are adding a fold down area where we can have the stools for sitting like this Pottery Barn kitchen island, while still utilizing space saving when it's down. I've been painting the dresser conversion with a chalk paint color that is between a cream and grey, called primitive. (circled in the color chart) The top fold down will be carbon, which is a black color. It's just so pretty! I can't wait to share it with you.
I am hoping to find a piece of marble, granite or something similar about 2′ x 3′ to center on top of the middle counter spot. I'd use this for rolling dough and baking projects. Since these projects wouldn't be good on a painted surface.
My top picks for kitchen stools are these three favorites that I came across in an affordable price range from Target
I love the idea of cushioned seating like the tufted I know this would be amazing to sit at. I think the blue color is very similar to the cabinet color we are thinking of painting our kitchen cabinets. But, we have cats and I can see them pawing up the fabric.
Then I love the grey chair stool. It has the back and you know this would clean up easy. I could almost make or find chair pads that could be swapped out when damaged. I know they have it in a 30″ too.
What I loved about the industrial stool is the height changes which is great if you have someone shorter or a child. The price ranges for these are really reasonable to what I've researched. I mean I saw stools over $400. each!!! What? And they weren't lined with gold, lol.
If you are working on updating your home Target is having a great sale: Save up to 25% during the Fall Home Refresh Sale, valid 9/7-9/13
Any way, that's my work in progress plan. Stay tuned! Be sure to subscribe or follow along on Facebook (be sure to click get notifications) so you don't miss out on the big reveal and the two diy posts on how we completed the project! And of course you can see my remodel ideas board or all of my boards on Pinterest for more ideas.
What chair would you pick if it was your kitchen? Or do you have any other great places I should look for them?
Have you done a dresser to kitchen island /cart conversion?