Do you enjoy making wreaths? You know we have made all types of grapevine wreaths but, we are sharing how to make a Burlap Christmas Wreath and have a tutorial/how to make your own DIY Burlap Christmas Wreath.
This is an easy wreath to make for the Christmas season. The Christmas wreath is made with a two-colored burlap ribbon, wired frame, and decorated with ornaments, poinsettias, pine cones, and ribbons for the holiday wreath accents. But, you can make it with one color burlap ribbon for the wreath if you prefer.
If this isn't the Christmas craft you are looking for see all our Christmas Craft Ideas or Grapevine Wreath Ideas for more wreaths to make!
DIY Burlap Christmas Wreath
Affiliate links may be included in the post. By clicking the links for qualifying purchases we earn a small commission. This is at no additional cost to you.
This DIY Burlap Wreath can be made with one color or two colors. It's up to you. To make it festive pick out decorations and ribbons to add to the Burlap Christmas wreath!
It won't take you long once you see how easy it is to loop the burlap fabric in and out through the frame! Once it's done, it's ready to hang in your home! Or give to someone as a gift.
A Christmas wreath can be stored and used for years.
Burlap Christmas Wreath
Supplies
Tools You Will Need
Helpful How-To Videos for getting started with How To Make Burlap Wreaths
Are you ready to make a Burlap Wreath for Christmas? Let's make this wreath project!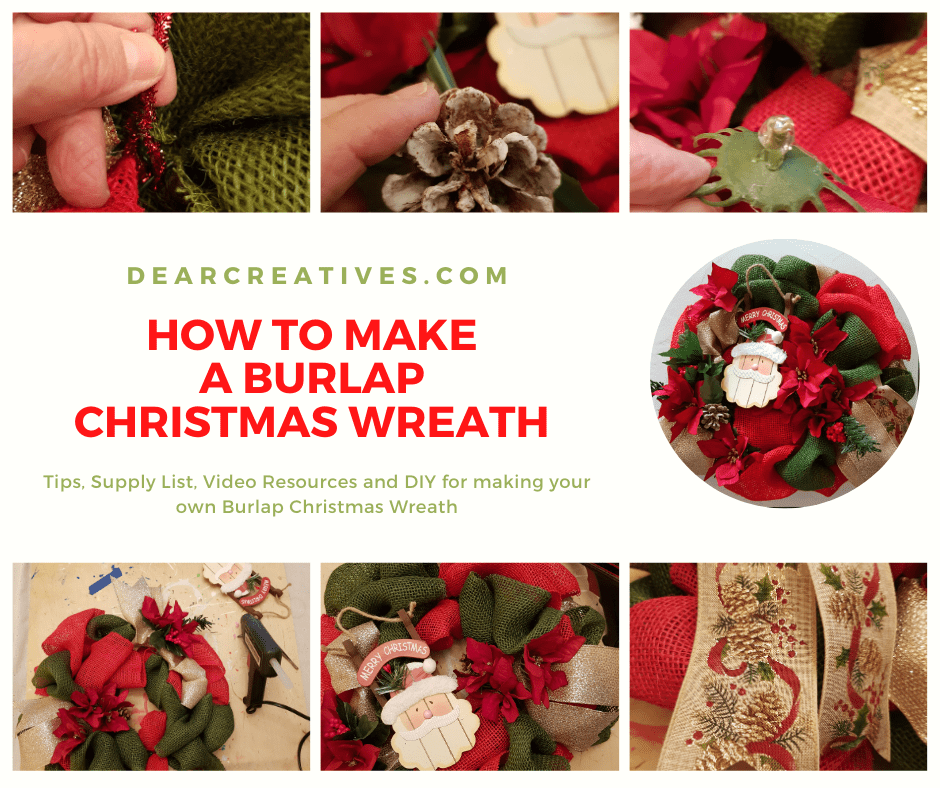 How To Make A Burlap Christmas Wreath
Instructions
Get out all your supplies. Set your frame on a work table or covered table for working on.
You can make a wired loop and secure it to the top/back for hanging the wreath or do that at the end on the back of your wire wreath.
Begin with one colored burlap and begin looping fabric in and out of the wired frame as demonstrated in this videos (HOW TO MAKE A TWO COLORED DIY BURLAP WREATH) or use this technique but you will need to also get extra burlap and twist ties. (DIY Burlap Wreath) I used the first technique.
After you finish making your wreath, secure the ends, and fluff your fabric loops. This makes the "bubble design" and your wreath look fluffy.
Then you are ready to add your decorations and ribbons to the top and into the burlap.
Decide where you would like your decorations and begin securing them carefully with your hot glue gun. (Use tweezers or Finger Protectors like this)
Cut your ribbons with dovetail ends, make bows if you like, and glue them onto the burlap wreath!
When you are happy with the decorations stop, step back, and fill any holes.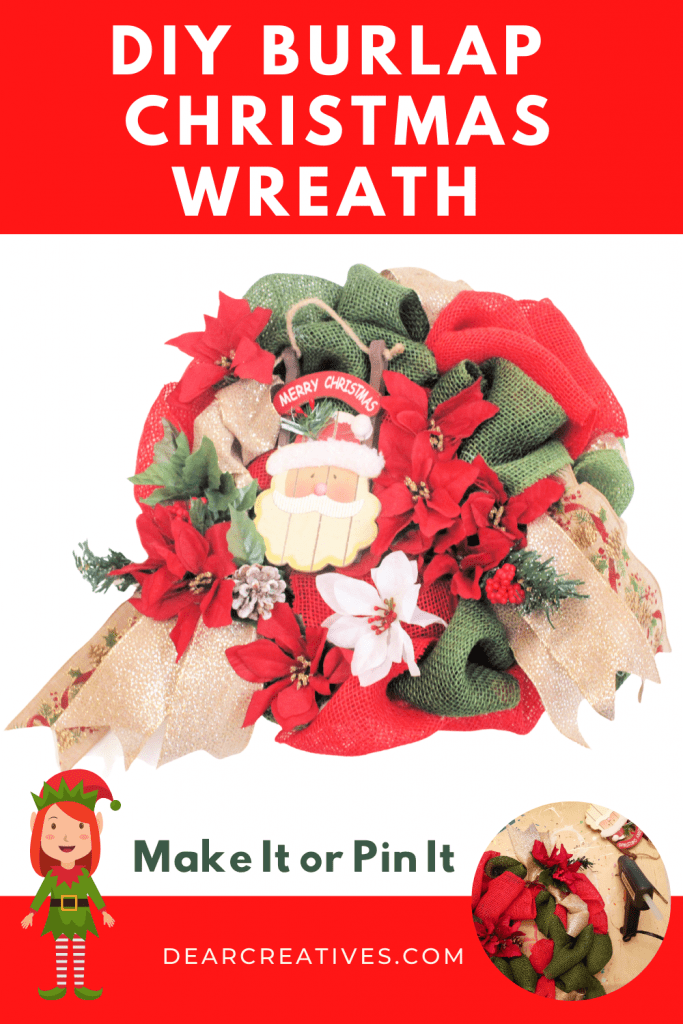 Now your wreath is ready to hang! Pick a spot in your home or entryway to hang it. Stay tuned I have another holiday wreath coming up soon!
Store your wreath for next year by using a Christmas Wreath Storage Bag. They come in different sizes, prices, and are worth owning.
Happy Crafting and Wreath Making!
New here? Be sure to Subscribe.
Pin it for Later
Christmas Wreaths To Make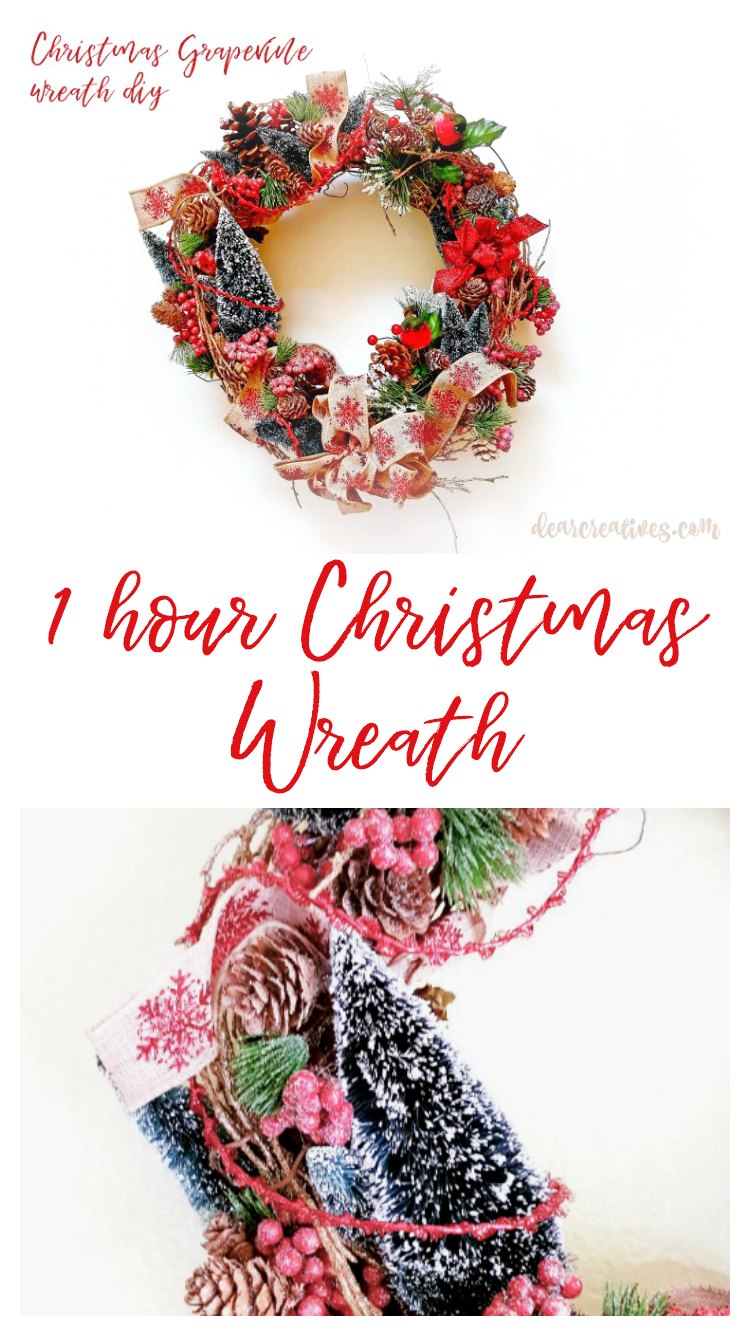 This is an easy DIY Christmas wreath that can be completed in about an hour. There is a video to share a bit of the process, along with helpful links for creating a wired bow. We hope you enjoy making your own Christmas wreath or Burlap Christmas Wreath!