Shredded Chicken Nachos can be an easy weeknight dinner, party food, game day food, or appetizer. It's easy to layer chips on a sheet pan and add shredded chicken, shredded cheese, sliced black olives, cherry tomatoes, minced green onion, and pour salsa over the layered chips. Top with garnishes like guacamole and sour cream.
Additional toppings and garnishes are listed below to make it suit your taste. Make chicken nachos with leftover chicken, shredded chicken, barbecue chicken, or rotisserie chicken. Who is ready to make chicken nachos? Let's get cooking!
Affiliate links may be included in the post. By clicking the links for qualifying purchases we earn a small commission. This is at no additional cost to you.
Shredded Chicken Nachos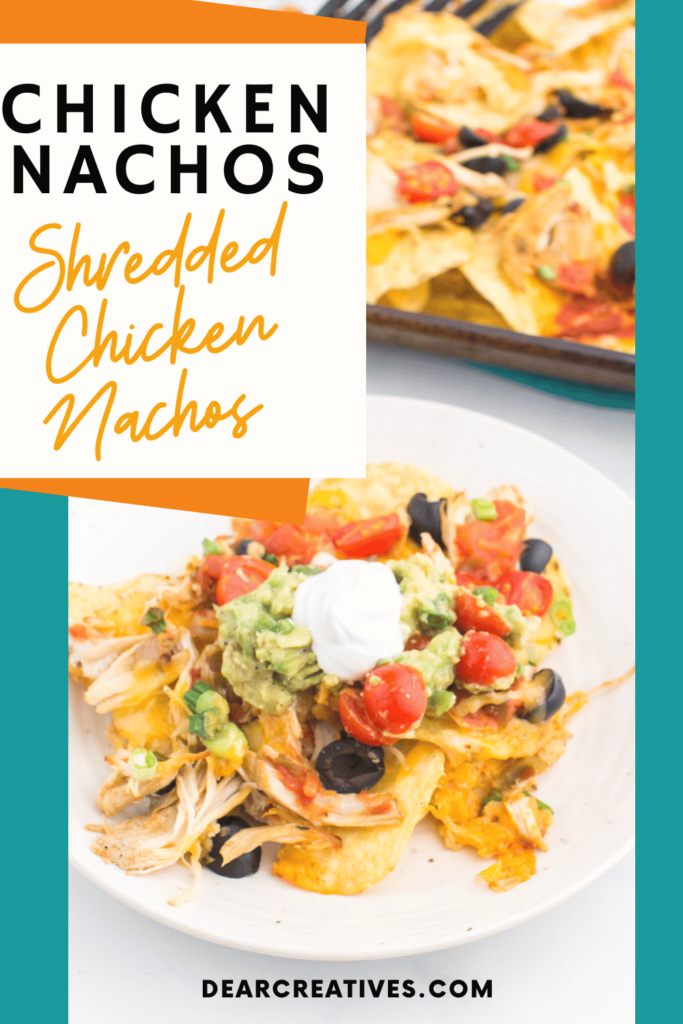 You might remember our recipe for restaurant-style nachos. Well, this recipe is just as tasty! On this night I used leftover Instant Pot Chicken that I shredded. You can use this recipe for Instant Chicken Tacos I cooked tacos this day but you can use it for nachos too. To make the nachos you can use whatever pre-cooked chicken you have on hand.
If you rather make nachos with beef you might like our beef nachos recipe. We cooked the beef in the Instant Pot. Get the recipe here beef barbacoa recipe.
I never met anyone who didn't love a good recipe for nachos made with chicken. The key is using fresh ingredients, and topping them with ingredients you enjoy eating. Next, top the chicken nachos with delicious homemade guacamole and a dollop of sour cream. Or your favorite store-bought guacamole.
Shredded Chicken Nachos
Chicken Nachos Recipe
Ingredients
Toppings For Garnishing
Easily add the items to your Target shopping carts to do a pickup order… Easily adapt the toppings to your liking! Or double the recipe for more servings. Want to make them super cheesy? Add more cheese! Want less cheese use less. In a hurry make them? Scroll down to the instructions or printable recipe.
How To Make Chicken Nachos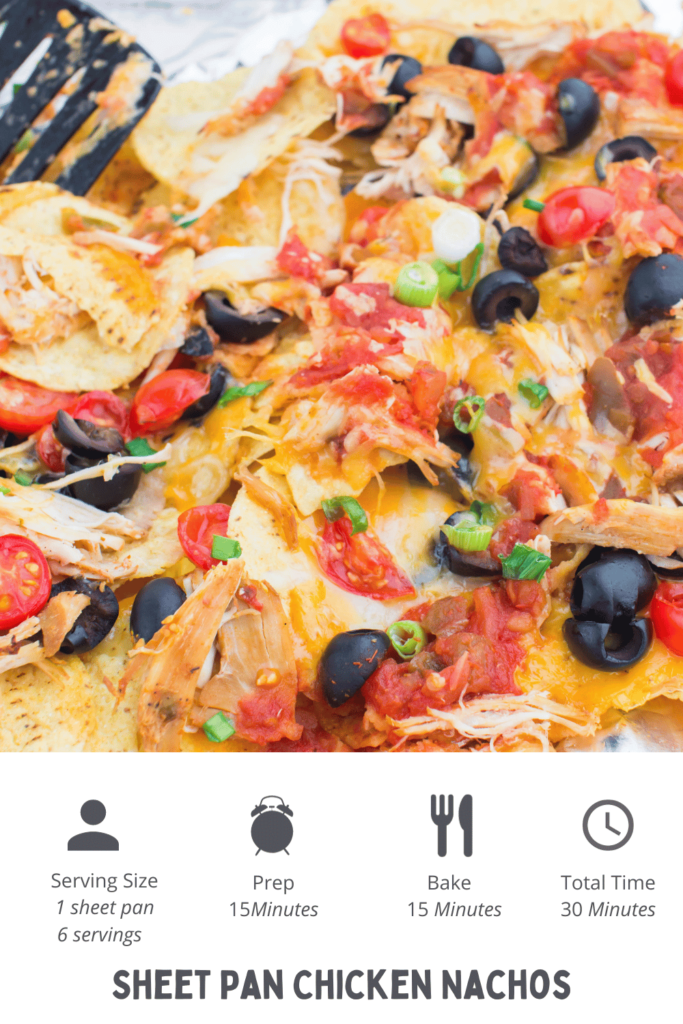 Instructions
Pre-heat the oven to 350F
Line your sheet pan with aluminum foil.
This makes for easy clean-up.
Layer the chips on the prepped sheet pan.
Shred your cheese, shred or cut up the pre-cooked chicken, slice the tomatoes in half, slice the black olives, and mince the green onions.
Notes: shredding the cheese melts better than using pre-shredded cheese! Sprinkle the cheese generously over the nachos, so it gets melty.
Next, layer the ingredients onto the chips. Repeat layering the chips and toppings. Do this until the chips are fully covered with the toppings.
For the final layer add salsa.
Bake in the oven at 350F for about 15-20 minutes.
Serve and enjoy!
Serve and enjoy! Add toppings such as sour cream, guacamole, green onions, and jalapenos to garnish the nachos.
New here? Be sure to Subscribe. Grab our bonus printable recipe binder and cooking resources. Plus, never miss a post with our newsletter!
Don't forget to Pin it for Later
Toppings for Nachos
Chicken nachos are delicious and add variety. Customize the toppings to suit your taste. Here are some tasty toppings you can add to your chicken nachos:
Shredded Chicken: Start with cooked and shredded chicken. You can use rotisserie chicken, grilled chicken, or seasoned and baked chicken.
Cheese: Use a combination of shredded cheeses like cheddar, Monterey Jack, or a Mexican cheese blend.
Black Beans: Canned black beans or refried beans add protein and texture to your nachos. You can use beans and omit the chicken if you are vegetarian.
Sliced Olives: Black or green olives can add a salty and briny flavor to your nachos.
Red Onions: Thinly sliced red onions can provide a sharp, slightly sweet crunch.
Tomatoes: Diced tomatoes add a juicy, fresh element to your nachos. Roma tomatoes work well.
Corn: Corn kernels, either fresh or grilled, can add a sweet and slightly smoky flavor.
Pickled Red Onions: These add a tangy, sweet, and vibrant twist to your nachos.
Green Onions: Sliced green onions add a mild onion flavor and a pop of color.
Sliced Peppers: Bell peppers or even hotter peppers like serrano or habanero can be added for extra spice and flavor.
Cotija Cheese: Crumbled cotija cheese adds a salty, tangy flavor.
Garnishes And Topping For Nachos (After They Are Baked)
These toppings typically are not baked on the nachos. They are used to top the nachos after baking them.
Avocado: Use cut-up, sliced, or diced avocado instead of guacamole.Salsa: Salsa adds a burst of flavor and freshness. You can use mild or spicy salsa, and you can even experiment with different varieties like pico de gallo or mango salsa.
Guacamole: Creamy and rich, guacamole is a great addition. You can make your own or use store-bought guacamole.
Sour Cream: A dollop of sour cream adds creaminess and a cooling contrast to the spicier ingredients.
Queso: Warm, creamy queso sauce can be drizzled over the top.
Jalapeños: Sliced or pickled jalapeños provide a spicy kick. Adjust the amount to your preferred level of heat (jalapenos can be baked as a topping).
Hot Sauce: Offer hot sauce on the side for those who like an extra kick.
Cilantro: Chopped fresh cilantro adds a burst of herbal freshness.
Lime Wedges: Lime wedges add a tangy citrus element. Squeeze fresh lime juice over the nachos.
Feel free to mix and match these toppings to create the perfect combination of flavors and textures for your chicken nachos. Enjoy your delicious nachos!
Print The Recipe
Pin It For Later