Packing for travel checklist – Use this printable template, and write in the items you need to take on a trip. It's a one-page printable travel checklist (in PDF and PNG formats).
Plus, we have a new printable travel bundle filled with helpful travel printables! Are you packing for a trip or a vacation soon? Despite gas prices; We are planning a few vacations, and trips for summer. Plus, I'm moving Sammie back to college at the end of the summer.
Affiliate links may be included in the post. By clicking the links for qualifying purchases we earn a small commission. This is at no additional cost to you.
Packing For Travel Checklist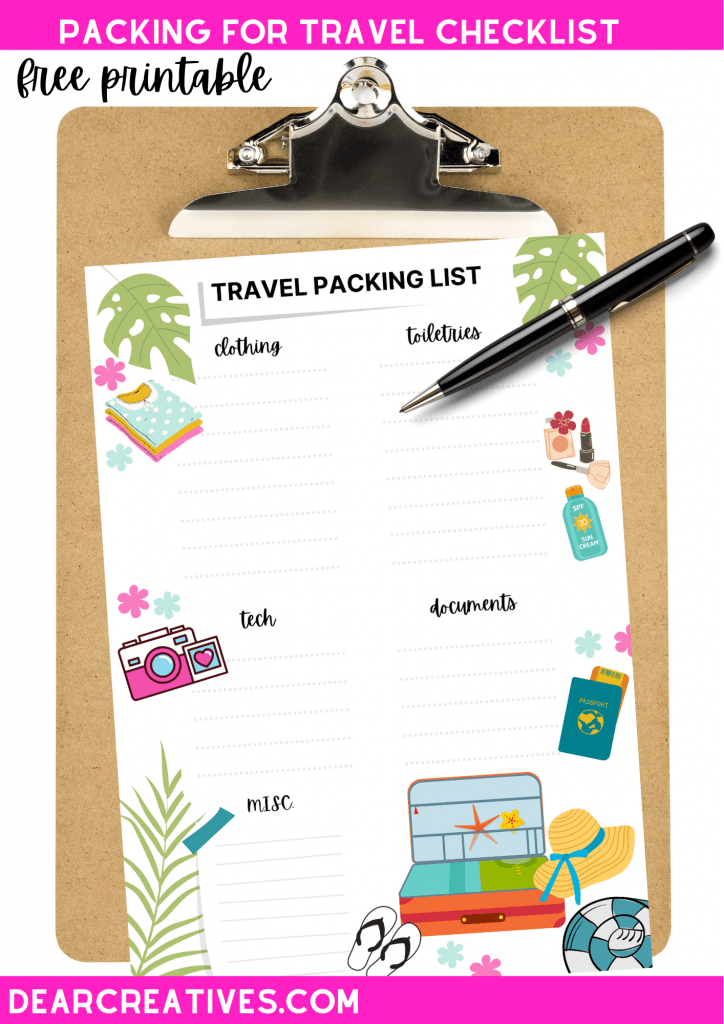 Having a checklist like this is handy! Be ready for road trips or vacations where you take your carry-on.
Use this cute travel printable for a travel packing list for carry-on, travel packing list (light), overnight packing list, road trip packing list, or as a travel packing list for ladies.
Print The Travel Checklist
Here's what you need
Tips For Printing The Printable
This has been designed to fit standard letter paper size. 8.5 x 11 inches. You can select advanced printing options – fit to size and high quality or best print.
Right-click and save the png file (image above) to your computer. Or download the PDF file below and print the file.
Travel Checklist Printable Bundle
Just for my readers! If you love these grab the travel packing checklist bundle! It includes these and different styled packing travel checklist and checklist template. Plus a bonus travel itinerary planner. Use This Limited Time Code DCtravel for a discount!
Thanks for checking it out and subscribe here and to the shop for more designs and printable bundles that are coming! I'll have a new free printable in the Reader Exclusive Library soon too. Be sure to subscribe to gain access.
New here? Be sure to Subscribe.
Pin it for Later
Enjoy This Set of Travel Planner Printables too!
Travel Planner Printable
You will love this too! Grab our travel planner here! This 5-page travel planner includes a two-page travel checklist, travel bucket list, travel details, and travel activities in the printable PDF travel planner. Plus, it includes cover pages.
Related Posts
Helpful Travel Accessories