You know the other week when we shared beauty news of the New One Direction Makeup from #markwins well, we had the chance to try the newest larger limited edition kits that won't fit in your stockings. There is one kit with each band member on the cover! What's great about these as they are priced perfect for creating a holiday makeup look or gifting someone who loves makeup! Let me show you why we loved these kits!!
When I showed the kits to Sammie she was super excited for several reasons. One she went with friends over the summer to see One Direction in Pasadena, CA. Two she knows her bestie is CRAZY for One Direction and cries at the sound or sight of Naill. Which makes this the perfect gift for her! Shh, don't tell her! Three Sammie is just getting into makeup and trying new looks. She is totally into lip gloss and lipsticks right now but, loves the entire pretty holiday kit and eye shadows that come in the kit.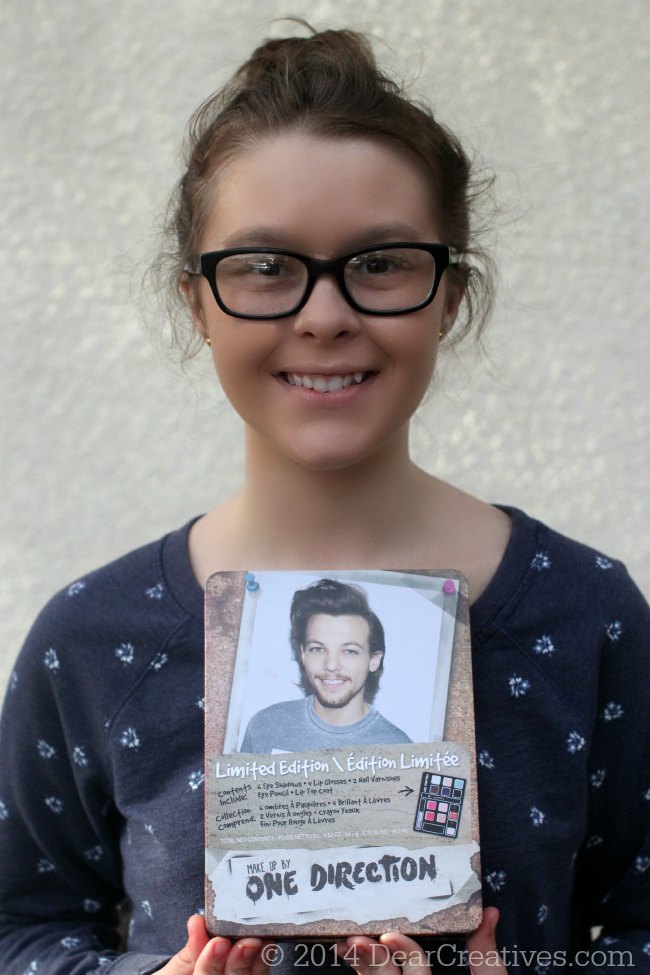 Here's Sammie in her before shot with the new Limited Edition Holiday Kit from One Direction!
5 Limited Edition One Direction Tins are available now, (1 for each band member).
What we loved about these eye shadows is that they are easy to put on, (it doesn't take much) blend and look so pretty! The lips here are before adding the lip gloss top coat. See the completed look below.
Eye Shadows in the #1DMakeup Kit:
Nobody Compares- Metallic silver
Tell Me A Lie- Metallic nude pink
Same Mistakes- Metallic mint
I Would- Smokey brown shimmer
Summer Love- Smokey purple haze
Everything About You- Smokey black shimmer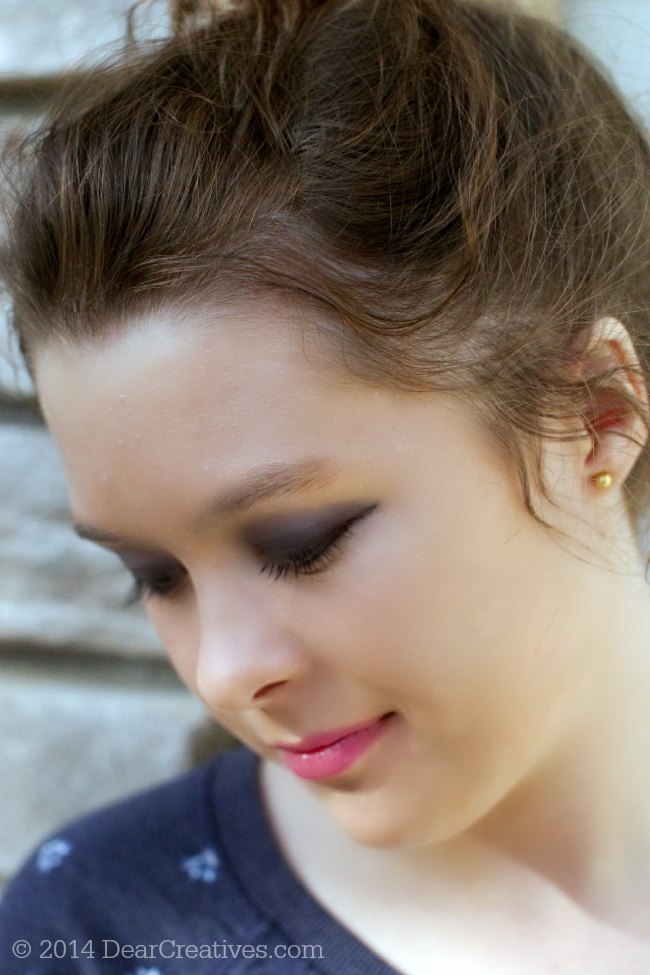 For this completed makeup look we used the Purple Haze and Metallic Silver eye shadows. The I want eye pencil, The Loved You First Bubble Gum Pink and finished with the Lip Gloss Top Coat. Hello! What's a holiday look without a little pretty gloss top coat to finish it off? And not included in the kit a coat of mascara.
It also comes with an Eye Pencil:
I Want- True matte black
4 Pretty Lip Glosses come in the kit:
Loved You First- Bubble gum pink
One Thing- Frosted pink ice
Irresistible- Shimmered pearl
Heart Attack- Creamy rose shine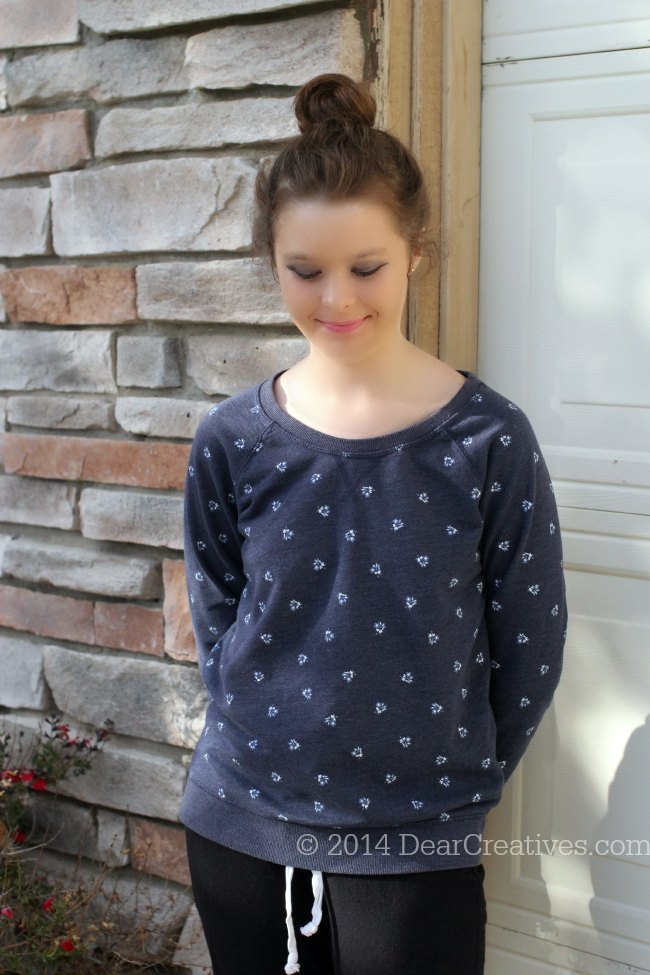 Lip Gloss Top coat, yes please Silver glitter sparkle to complete the look. Now, just to get this girl some new holiday clothes!
Finish it off with Lip Gloss Top Coat:
Over Again- Silver glitter sparkle
Get or give yourself a mani with these pretty colors. We love, love love the quality of the nail varnishes! *reviewed on other post linked at bottom!
Nail Varnish:
Stole My Heart- Magenta pink shimmer
Alive- Multi-coloured glitter flakes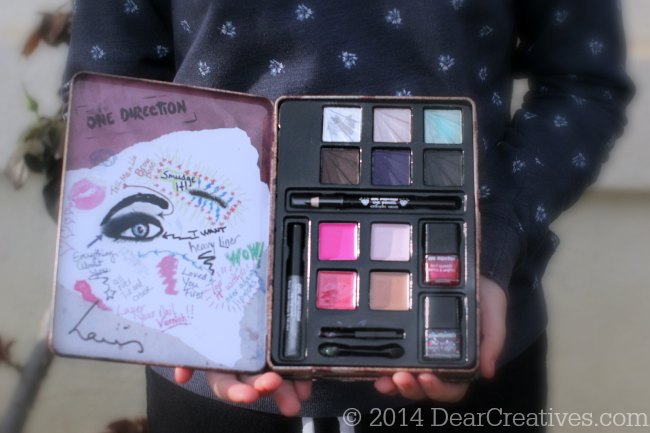 We aren't about breaking the bank during the holidays but, we are all about quality and that is just what you'll get with these kits. Affordable quality makeup. Not to mention a little message inside under the tray! Hello Beautiful. We know exactly who to give this kit to and are getting her bestie one from Target! But, we listed all the stores you can find #1DMakeup at! We hope you enjoy these kits as much as we do!
This product review is brought to you by Brand Backer and #Markwins. These are our 100% honest opinions, text and images. We hope you and your receivers enjoy the One Direction Limited Edition Holiday Kits as much as we do!
These new sets are available in stores;
Sears USA
Kmart
Target
Walmart Canada
Be sure to enter the One Direction Giveaway for your chance to win a kit for yourself!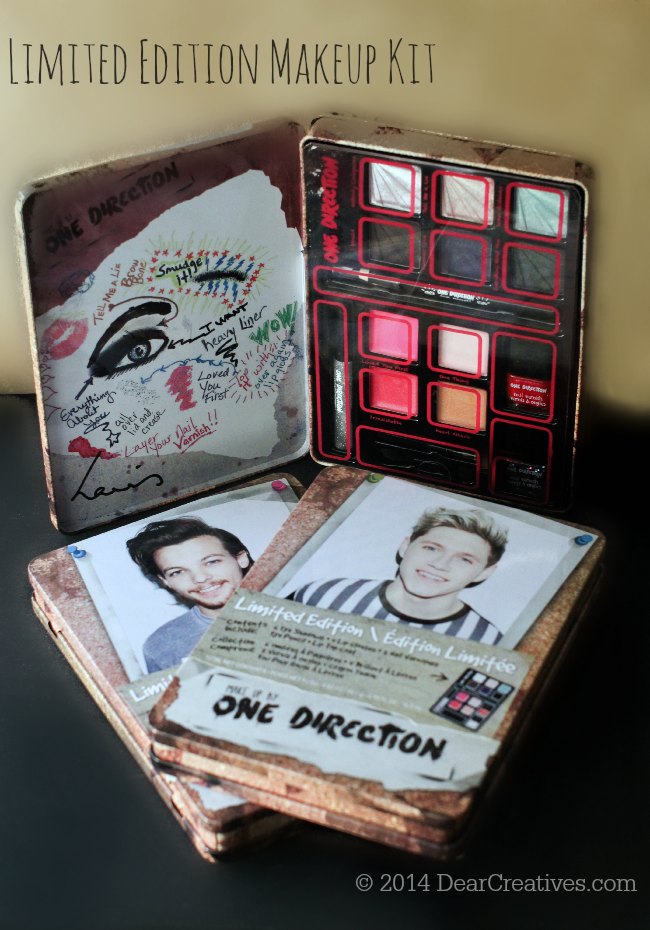 Related posts you may enjoy:
Have you tried any of the One Direction Makeup Kits yet? Who would you give a makeup kit to?