Dear Creatives, I sure hope you had a lovely weekend. Today I am going to share a recipe that is so easy! & perfect for the upcoming busy yard sale days, picnic season or just make ahead for when your busy! This recipe reminds me of my grandma & Sunday dinner's with her. I created a coleslaw recipe from adapting two FoodNetwork recipes. I don't usually make coleslaw but, thought this is the perfect late spring soon to be summer recipe.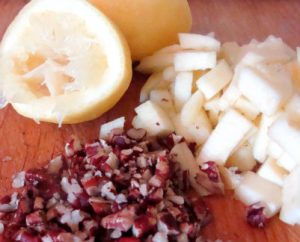 Fresh & easy to make!
Why not just use the recipe? Well I am from the school if you don't have all the ingredients on hand adapt it if you can & if it works add it to the recipe box. But, if you do have all the items great make it, then if you enjoy it add it to the recipe box. We managed our yard sale Sat. & although we didn't make a bundle (not our intention) We cleaned out several key problem areas & donated to Good Will to help someone less fortunate. Now I am wanting to clean some more & delve into some more closet areas, well maybe just not yet!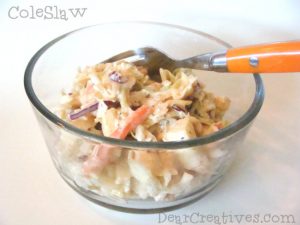 Yesterday was rather warm here & the Mr. took the kiddo to the pool. I decided to stay back, catch up on a few things & prepare an early dinner so we can work in our little garden when it cools in the evening. We are on water rationing already! So we need to give the plants a good soak in the evening to get to the roots, as it'll be a few days until we do it again. Now, you know how our weekend flew by! I promise a craft post this week perfect for mother's day giving or just for yourself or anytime gift giving. And possibly another recipe + toss in this & that.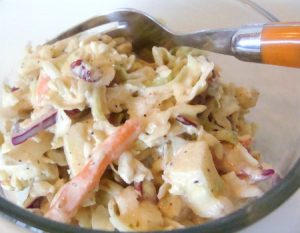 This coleslaw recipe is so easy! & you can even cheat to make it go by quicker. (Dear Sandra Lee, thank you for sharing some of your homemade secrets; Semi- homemade! ) I have to admit I didn't chop all the slaw. I used a deli organic 3 color coleslaw package 1lb. (don't tell anyone! & if you choose that route I won't tell either! lol) Serves about 5 if you have kids maybe a few more if they are younger. Here goes I hope you try it & enjoy it! Plus I linked to the two recipes I used for inspiration & a few more. Any way around it your going to take a recipe to your recipe box! Here is the recipe:
[amd-zlrecipe-recipe:8]
ColeSlaw with Pecans and Spicy Dressing
Savoy, Lime and Cilantro ColeSlaw & then I found these recipes which I'd love to try since I have been making quite a few Mexican recipes.
Cilatro Lime Mayonnaise ( dressing only Cook's Note: This sauce is good with any seafood or fish, especially salmon.) I'll be trying this to go with our Talapia (fish) dinner & I'll share the results.
Summers here get so hot! There is always a salad in the mix! Hope your Monday is off to a good start & stay tuned for a new giveaway coming soon! Be sure to subscribe or follow along so you don't miss out. PS. If you are looking for teacher gifts I have a few ideas under projects & freebies & don't forget to support your local school, you can find it & free sign up for free by clicking sign up now!
What is your favorite make ahead of time salad?