Dear Creatives, I had the chance to review Kidobi . Kidobi is an online video content provider for children ages 2 – 6 that removes parents guesswork by automatically generating customized video playlists, completely personalized to fit children's learning needs and developmental stage. Since all the videos are pre-screened by educators and child development experts, parents are reassured of the age-appropriate, educational value.

Kidobi Curriculum:
Language arts
Mathematics
Science
Social Development
Emotional Development
Imagination & Creativity
After you sign up for Kiobi (see how easy below) you can use it on either their website or on iPad. There are parental controls on both. But, older kids can move to the next video going forward with a click. They will only be seeing your preset preference choices. The quality of the videos are really good & the animation for are clear, colorful. The music is fun & with the selections I picked full of learning. I picked presets like singing & letters, singing & letter sounds, art & crafts which showed a very interesting drawing video, for animals there was one visit to the humane society. All age appropriate & educational. All videos vary depending on preferences. Some are animated & some are real people or children talking. If you open the screen shot in a new window you will see how you navigate a search for videos. The avatar I picked was an owl & nickname snow. ( I could of been more creative) There are save, clear, edit, queue, share, options. You can even block different videos if you don't like one.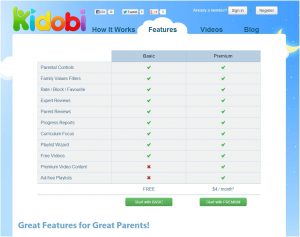 Kidobi is easy to sign up & use.
To use Kidobi you sign up at their website & it is the same to use the app. too except with the added step of downloading it from iTunes for free. I suggest if you are interested, but on the fence you should try it for free & then upgrade to the ad free version & premium video content approx. $4. mo if this is something your kids would enjoy.
Here's how easy it is:
1 go to website
2 sign up for free or pick subscription plan
3 set child nickname, pick an avatar & your preferences for their learning
4 grab email verify code & go sign in to use
5 grab app at iTunes for free & access it with your new sign in & email after verified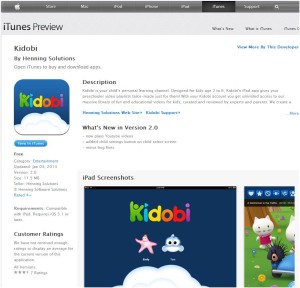 Children will naturally spend time on activities that are of interest to them. Teaching to those interests is a great way to harness the power of each child's natural curiosity and passion for a specific subject. This program is perfect for down time learning, learning while traveling or sitting next to your child & doing a sing along.
At the top of either your computer or the iPad app is access to parent controls hidden but, accessed with a touch. You can exit on the website to search out additional videos. You can change your preferences at any time. When searching there are parent ratings, what age the content is geared toward & descriptions near the videos.
Kidobi is also available as an iPad and Android app and can be found online at www.kidobi.com.
Disclosure: I received this Kidobi review opportunity from Childsplyr ChildsPlayCommunications I did receive a 3 month subscription along with other items. Receiving these did not influence my opinion. The findings & things I have shared are my honest opinions. I hope you have the same experience with the website & app with your children or grandchildren.