Do you want a cute way to store your sewing notions? Make a mason jar pin cushion for keeping your sewing essentials close at hand. From the first time I saw them on Pinterest, I knew I had to make a few. I just never found the tutorial to create my own. So, I decided to make my own pincushion. Today I am going to show you how to make a pincushion.
Looking for things to make? See all our mason jar crafts
Mason Jar Pin Cushion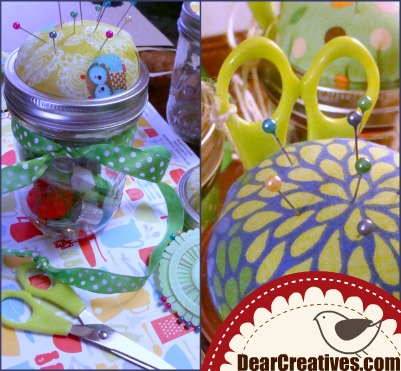 The image above is what your sewing jar – mason jar pin cushion will look like when complete. I hope to update the image soon, as I still have my pincushion. I made this mason jar idea way back when I first started my site and didn't have a good camera at the time.
How to Make a Pincushion
Supplies
How to make a mason jar pincushion
(pincushion with sewing kit)
You can click on the image to see the image full size showing all the steps.
Pincushion Tutorial
Measure your fabric larger than your lid plus, add several extra inches to the circumference.
Cut out your fabric after marking a large circle (use pinking shears or fabric scissors)
Add a mini sewing kit to the inside of your jar
Add Polyfil to the top of your lid
Cover it with the fabric
Pull the jar-ring over the lid pushing it into place
Flip lid upside down and hot glue fabric so the Polyfil doesn't show
Create a cute bottom cover by using a paper punch with scallops (or) round design paper punch
I used scrapbook cardstock paper of different types (cardboard paper) for step 8
Place the punched cardstock paper over the glued fabric, add glue and glue cardstock it into place
Press firmly
Add the lid to the mason jar with the sewing supplies added into it
I added ribbon around the outside of the jar tied to a pair of small sewing scissors
Then I add pretty sewing pins with round ball heads inserted into the pincushion
DIY Sewing Kit
Need a video tutorial? This is just like my tutorial except I used Polyfil batting and then added the cute cover for the bottom of the jar lid.
Here's a video tutorial for more ways to create pincushions with mason jars. The last two do have hand sewing. Mine is a no-sew technique using a hot glue gun.
DIY Mason Jar Pin Cushion (like mine but, with a cut circle from wool felt to cover the jar where you hot glued it down on the lid vs. cardstock or cardboard paper)
Another pincushion idea is; Tea Cup Pin Cushions to Make
Have you made a pin cushion in a jar yet? This sewing kit in a jar is super easy to make. You can store other items inside such as sewing buttons
, bobbins with thread
, or collectibles.
I hope you get a chance to try making one! I made a bunch for Christmas and gave them to my family. Everyone needs to own a sewing kit
and pincushion
. Before I made these I kept my pins on my magnetic pincushion
. But, I love having everything I need in one spot. Making it easy to grab for quick mending projects or sewing projects.
I wanted to tell you I finally made a new Facebook fan page
Do you think this is something that you would make?
Related Posts