Instant Pot Beef Stew is delicious and an easy way to cook beef stew. Just like grandmas recipe for beef stew it has beef stew meat, carrots, russet potatoes, onion, garlic… Only, you don't have to cook it for hours on end to get tender beef.
Looking for something else to cook? See all our Instant Pot Recipes.
Cooking the beef stew in the Instant Pot will give you the same results as a slow-cooked beef stew. Its meat is tender, the broth amazing. It's the perfect dinner for cold days in winter or spring. I especially like a stew made with beef on rainy days. Do you?
Instant Pot Beef Stew
When was the last time you had stew for dinner?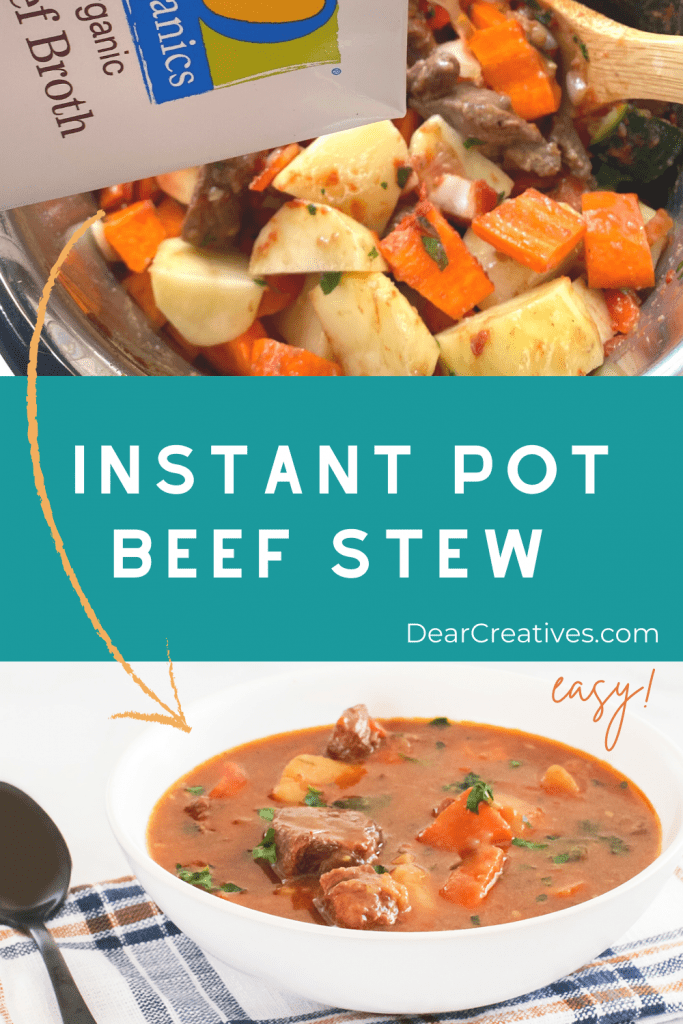 It doesn't have to be winter or cold out to make beef stew! Enjoy this recipe anytime or for Sunday suppers and family dinners. With a few simple steps you can make beef stew in the Instant Pot. If you prefer to use a slow cooker try this crockpot beef stew.
Or use this recipe for beef stew by dredging the beef and sauteing the vegetables on the stove-top. Finish the recipe in a slow cooker, or crockpot. Cook on low for 4 hours.
Or use a soup pot and make the stew on the stovetop. Follow the same instructions. Cover the pot. Stir the stew occasionally while it cooks. Continue cooking until the beef is tender and fully cooked. And vegetables are tender. Note: Add more liquid or broth if needed.
Affiliate links may be included in the post. By clicking the links for qualifying purchases we earn a small commission. This is at no additional cost to you.
Instant Pot Beef Stew Recipe
Ingredients
2 lb. Beef Stew Meat (purchased packaged, cut-up in cubes)
3 tablespoons of Flour
1/4 Teaspoon of Salt (or adjust to your liking)
1/2 Teaspoon of Pepper
1 Teaspoon of

garlic powder

Olive Oil
2 Tablespoons of butter
1/2 of a large White Onion
3 Cloves of Garlic
1- 32 ounce beef broth (see notes) Or 2-8 ounce cans of beef broth
2 Tablespoons of

Worcestershire Sauce

1 Tablespoon of Soy Sauce
2 Tablespoons of Tomato Paste
4 large Carrots
5-6 Russet Potatoes
1 Red Bell Pepper
2 Zucchini (optional)
3 Tablespoons fresh Parsley (Plus some for garnishing)
Instructions
Dredge the cut-up beef in the flour, with salt and pepper. Do this in a separate bowl or in a large zip lock bag.
Wash, peel and cut-up all the vegetables, chop the onion, mince the garlic, and finely chop the parsley.
Put the Instant Pot on the Saute setting. Add 1 tablespoon of olive oil and 2 tablespoons of butter to the Instant Pot, add the dredged beef and brown it. Make sure to stir it often for even browning.
When the beef is browned – add the onions, garlic, red bell peppers, and parsley. Saute them until the onions are softened and translucent.
Add the Worcestershire Sauce,Tomatoe paste, and beef broth.
Next, add all the cut-up vegetables into the pot and cancel saute.
Then add the lid securely, put the valve onto sealing.
Set the Instant Pot to Stew Mode for 35 minutes. Allow the pressure to release naturally (when it's done the pin will drop).
After the Instant Pot is done releasing pressure, open the lid. Make adjustments to salt, pepper to your liking.
Thicken the beef stew with a slurry; flour/water mixture or cornstarch/water mixture by adding to the cooked stew and reclosing lid for an additional 5 minutes.
Ladle the stew to a bowl and garnish with fresh chopped parsely.
Enjoy eating the beef stew with a side of bread for dipping. Includes a video on how to make beef stew below. See the printable recipe card below.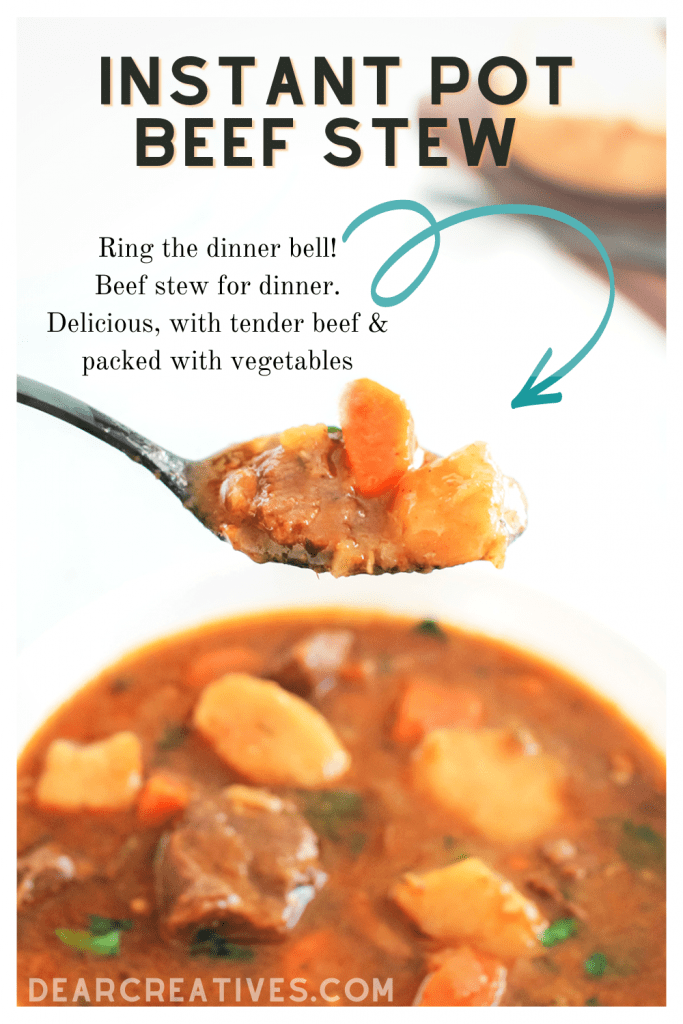 Recipe Notes
Recipe Notes: When adding the beef broth ensure all the contents and the broth do not go past the max fill line of the Instant Pot. If you don't have flour you can use cornstarch to thicken the stew (above I linked to how to make a slurry). Having tubes of tomato paste on hand is handy for recipes that don't use a whole can of tomato paste.
New here? Be sure to Subscribe. Grab our bonus printable recipe binder and cooking resources. Plus, never miss a post with our newsletter!
Don't forget to Pin it for Later
Printable Instant Pot Beef Stew Recipe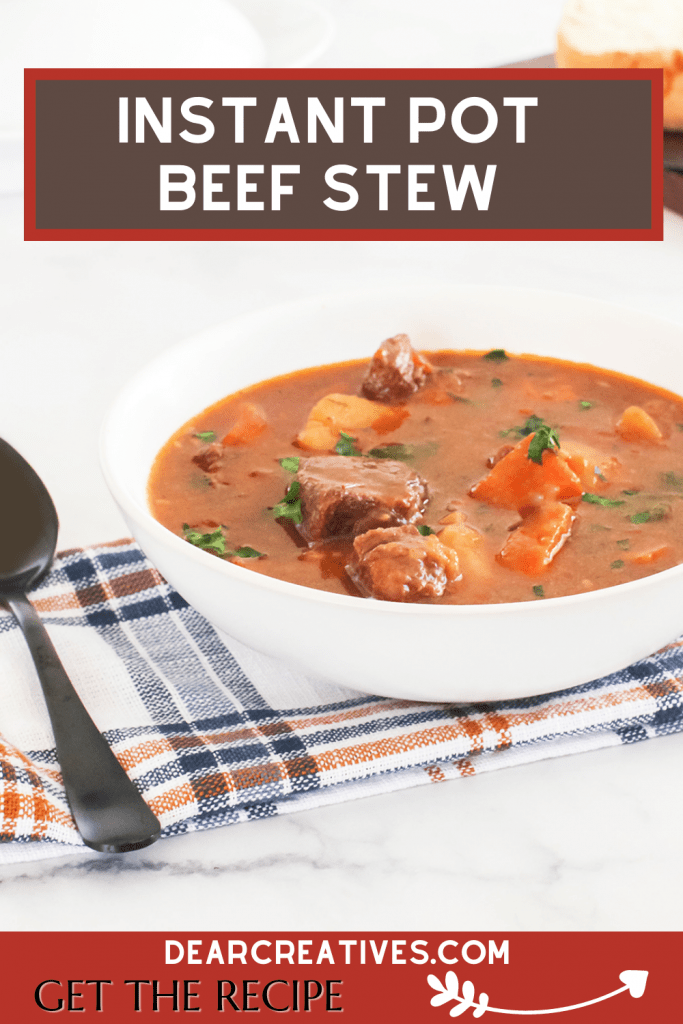 If you aren't making the recipe now don't forget to pin it for later!