Dear Creatives, Another round up of lovely crafts, diy decor & recipes. I am so happy to have you each week & hope you can make it back as often as you can. If I missed visiting this week let me know & I'll be sure to drop by the beginning of next week! But, I think I managed to visit everyone. It is always great to see what you are working on & be inspired by your creativity! With that said lets get onto the party!!
Please be sure to read about party email reminders at the end of the features! Or sign up right on the side bar at mailing list sign-up where connect is. ( link-up reminder option will be in the popup when you enter your email address)
In the Spotlight this week:
Lisa from CreateInspire submitted this re-purpose you need to see the before it is crazy what a little paint, wax, hardware & love can do! Lisa loves working with her hands–gardening, painting, scrap-booking, wood working….creating. A very wise man said creating is one of the deepest yearnings of the human soul–LOVE that!! There is just something about transforming old into new, and she is happiest when she is doing just that.
George Washington's Cherry Birthday Cake
Who doesn't like trying new cake recipes? Especially those that are easy, baked in a 9 x 13 pan you can serve up yummy to the last bite! This was submitted by Sharon the host of the Around the Table Blog and the author of the book, Around the Table. On her site she shares recipes, meals as ministry, family time & travels.
Peanut Butter & Jelly Game Diy
This entry by Connie is a tutorial for a children's game ages 3-8 years. Now we are a family who loves games & starting kids out with games teaches them all kinds of skills, besides having fun that is. You just might like to make one for your kiddo's or grand-kids. Connie is a wife, mother of 5 children (his and mine), grandmother to 9 and counting! Connie has learned to make do and use what she has. Connie loves to live a practical and frugal life. Writing about her experiences, sharing good things, and throw in a funny or insightful life story now and then.
I wanted you to have a way for you to receive an email reminder if you'd like one! I created a new sign up just for a simple weekly postcard reminder. For me I like reminders as I already calender so many things. & if you decide you don't want a reminder later on you can just unsubscribe with a simple click. There are three options, one is for the link-up email reminder! Just visit this link to sign up! There is an option to receive only link-up reminder!! Subscribe to our newsletter

There are many ways to be in the Spotlight & I love continuing to share your content now & in the future, here's just a few shared this past week:
Pinned this week: #22 LakeGirlPaints featured Pin, #58 Snow White Cake, #48 Healthy Pasta
Tweeted This week: # 52 Market Sign, #61 St. Patrick's Day Coffee Cup Sleeve, #29 Vintage Linens & Linen Closet Re-do
To See these & more visit last week's link-up right here for when your done entering:Inspiration Spotlight #28
I love sharing all your inspiration, seeing what you have to offer & sharing it to inspire others! If you'd like follow me on Pinterest & don't forget to subscribe . Oh, I have a favor for all you lovelies if you can write a review at Alexa that would be amazing! & if you haven't maybe you'd considering liking my FaceBook Fan Page as I started it just a while back! Thanks everyone & have a great weekend ahead!! Can't wait to see what you have been up to!
Now it's your turn to join the party!! It may take a moment for the linky to load.
Button Up!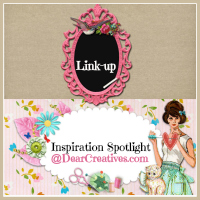 <div align="center"><a href="https://www.dearcreatives.com/" title="Dear Creatives"><img src="https://www.dearcreatives.com/wp-content/uploads/2013/01/Button-inspiration-spotlight-dearcreatives.jpg" alt="Dear Creatives" style="border:none;" /></a></div>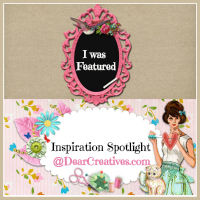 <div align="center"><a href="https://www.dearcreatives.com/" title="Dear Creatives"><img src="https://www.dearcreatives.com/wp-content/uploads/2013/01/Button-Inspiration-Spotlight-I-was-featured-2013-DearCreatives.com_.jpg" alt="Dear Creatives" style="border:none;" /></a></div>
Widget may take a moment to load:
Loading InLinkz …