Today I am sharing my green smoothie recipe. I have been obsessed with green smoothies, it all started with trips to my local juice bar. Now, I've been playing with flavors and combinations of fruits and vegetables. Making spinach smoothies, smoothies with apples and adding ginger for that extra bit of healthiness.
If you love green smoothies I think you will enjoy making this recipe and sip, sip, sipping your freshly blended healthy drink. Looking for a different recipe? Try any of our smoothie recipes.
Green Smoothie
For this smoothie packed with healthy greens, apples, and ginger you can make it as thick as you want, or thin like a juice. Having a good blender
is super helpful at making the ingredients easy to drink and well blended. The flavors are bright, the spinach counteracts the tartness of the apples and the other ingredients help balance the flavors.
This spinach smoothie will serve 2-3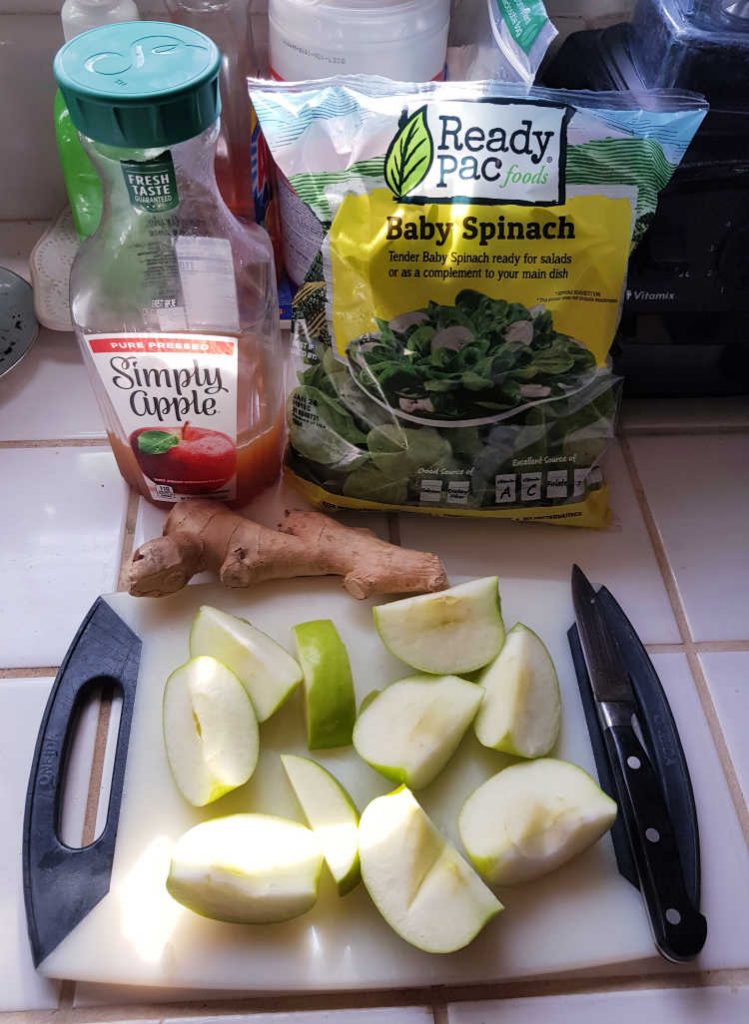 Ingredients
If you like your smoothies sweeter, you can add a little bit of organic honey. You can make adjustments to make this thinner, leave out ice water. Thicker use all the ingredients. In the video, you can see the variations you can make. Swap out juice for almond milk. Add a bit more ice and spinach. Add chia seeds.
How to make a green smoothie
Directions
Wash your fruit and veggies.

Core your apples. (If you have a blender like a Vitamix blender you don't need to peel the apples.)
Peel and cut a small chunk of ginger (1-2 inches)
Add juice to the blender
Add all the apple pieces, ginger, spinach, and Greek yogurt into the blender.

Add the ice water.
Lid and blend.
Start on low, then move to high.
Stop, pulse and finish blending until smooth.

Pour into two extra-large glasses and serve with straws. Or serve 3 regular sized 12-16 ounce size glasses.

Enjoy a big green smoothie with apples in it!
Green smoothies are perfect for breakfast smoothies, snacks, lunch or late afternoon pick me ups. If you make spinach smoothies before or after your work-outs you can add vanilla protein powder.
What are the benefits of ginger root?
Ginger Root Benefits
Improve Digestion
Easing Colds and Flu
Reducing Inflammation
Relieving Nausea
And other health issues
Find the rest of the benefits of Ginger Root (here)
Printable Green Smoothie Recipe
Who says, " it's not easy being green"? Kermit the Frog. Well, I'm here to tell you it is easy to be green. Now, grab your greens, happy blending, and sipping!