Are you ready to make a Felt Christmas Tree for the kids? To be honest, I didn't make mine when my kids were little. Raising four little ones close in age. Now, with Pinterest inspiration and having older kids, I had the time. For this craft project, we think you will enjoy making your own Christmas Tree from felt for your kids or grandkids to use for the holidays and Christmas season.
I had gotten a call from my daughter Krissy asking me to make one of the Felt Christmas Tree for her little ones. (Her kids all small and close in age) How could I say no?! So the research, planning, ordering of fabric and then crafting the felt Christmas tree began. If you are looking for other ideas to make for the holidays check out all our Christmas Craft Ideas.
Today I am sharing how our Christmas craft project turned out with how easy it really is! These images were all taken before I had a camera for blogging. Don't let that stop you from grabbing tips to help you make your own holiday gift for them to play with.
Felt Christmas Tree DIY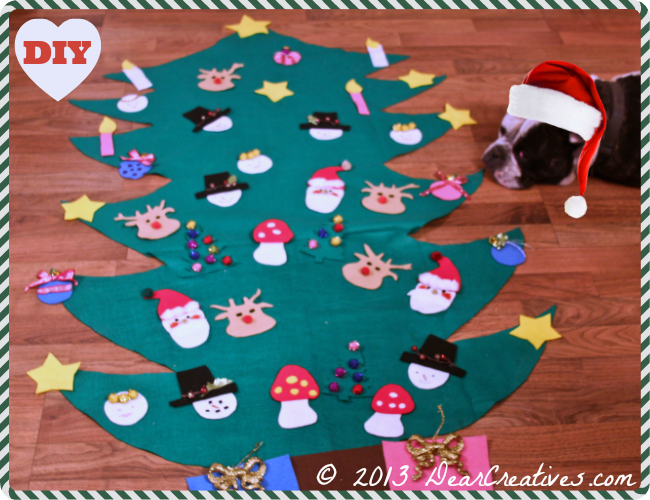 First off there are all types of felt – 100% Wool Felt
which is high quality felt. For this project, you don't need the best. It's going to be handled a lot by little hands! Not like a pretty ornament hanging on a tree, that will rarely be touched.
I'll share my felt supply list at the bottom of the post for you. Which will make it a bit easier for picking up your supplies. This felt had a nice thickness and great quality for the price. Cost breakdown below. Disclosure: Affiliate links included in the post, at no cost to you.
How To Make A Felt Christmas Tree With Ornaments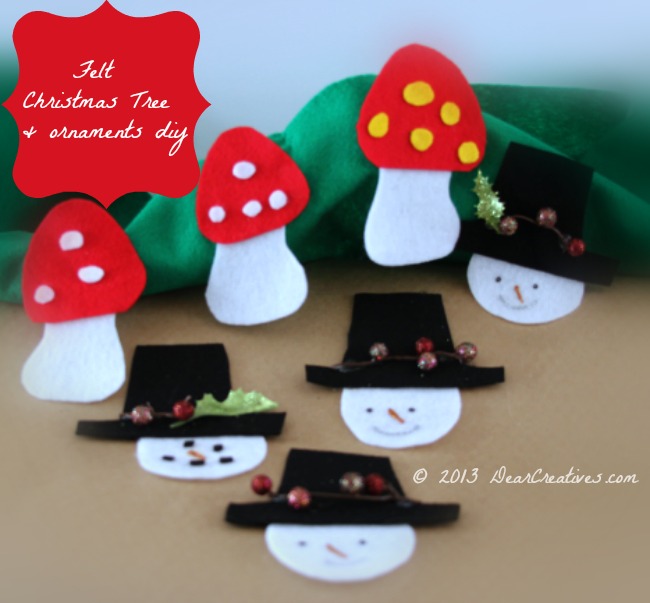 DIY Felt Christmas Tree Project
Supplies
This felt craft is budget-friendly especially if you are making it as a gift for more than one child! And if you craft already you may have a lot of the supplies already. Not to mention they will get so much creative playtime with this when you have your project done you are really getting a bang for your dollar. You can probably do this project in several hours time once you have your supplies. Enlist a helper to cut and it'll be quicker.
How To Make Felt Ornaments for a Felt Christmas Tree?
Cut out simple designs to create the ornaments for the felt Christmas tree
Angel Face in Felt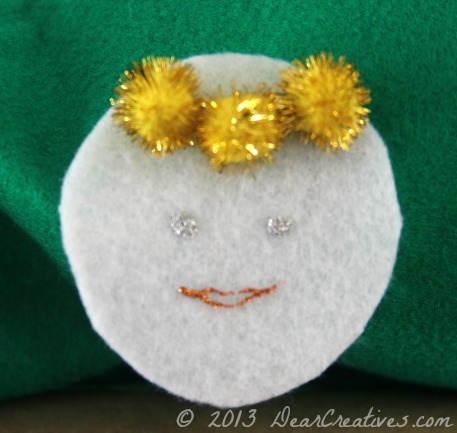 To give strength to the felt pieces when adhering them I choose to use the hot glue gun. It never fails I always burn my fingertips when using it! That is why I have a dedicated pair of craft tweezers for pushing down felt or fabrics when gluing with the glue gun.
If you are new to crafting keep your fabric scissors in top shape by not using them on paper! Ever!! You can find and free cut ornaments designs using your Cricut
or copy a design and cut them out.
Make Simple Felt Designs for cutting out your ornaments
For many of these, I drew a simple design and made a template. Or sign up for free to Cricut Design Space and print designs.
Cutting one and then just holding it up against the next piece of felt and cutting another.
If you are going to make many you can cut a template from cardboard from a cereal box or poster board paper or my preferred way is using tracing paper or pattern paper.
Santa Claus Felt OrnamentDesign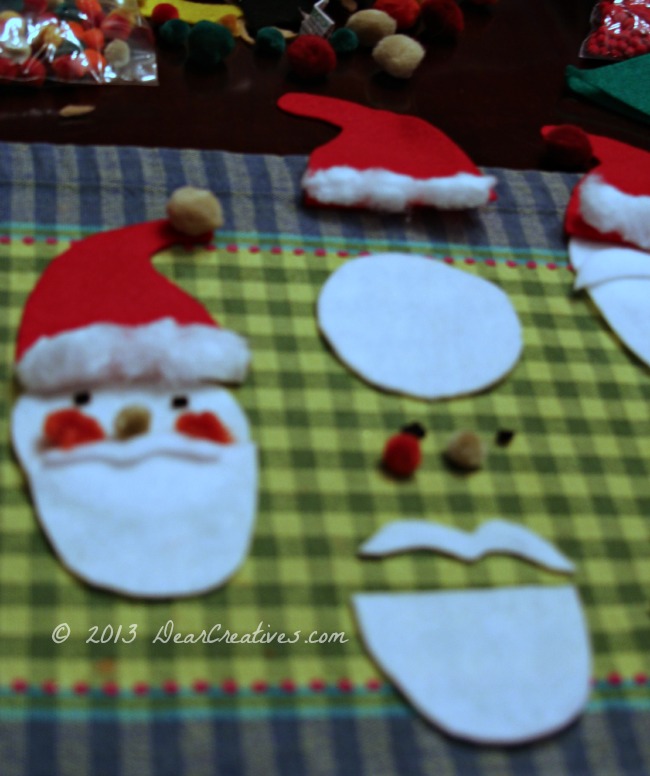 I started with a basic Christmas tree shape cutting the felt. My piece wasn't big enough for the size tree my daughter envisioned so I sewed two pieces of 36 x 36 inch felt together. If you want a larger size you can always just order 72 x 72 inch, which you can find (here)
When I was looking they were out of stock until a date I didn't want to wait for since I was mailing this to them. I wasn't worried about the seam as they will be covering it with ribbon or ornaments as they play with it! I didn't make a template but, you could from taped together newspapers if you really wanted to. Then take a felt pen and draw your tree outline and cut. I just cut free form.
Mushroom Felt Design
Then I decided on what ornaments I wanted to start with. Made a list and started to cut them out. some with templates some without. I am hoping to send more ornaments such as woodland creatures, cat, dog, birds, nests, gnomes adding to the ornaments as time goes.
I have seen people make bells, hearts, strings of lights candy canes, bows and more. You can grab more ideas from Pinterest Searches here's a page with more ideas on Pinterest for felt Christmas trees
. You could even make a winter snowman and do the project over the holiday break for the kids.
Deer Felt Face Design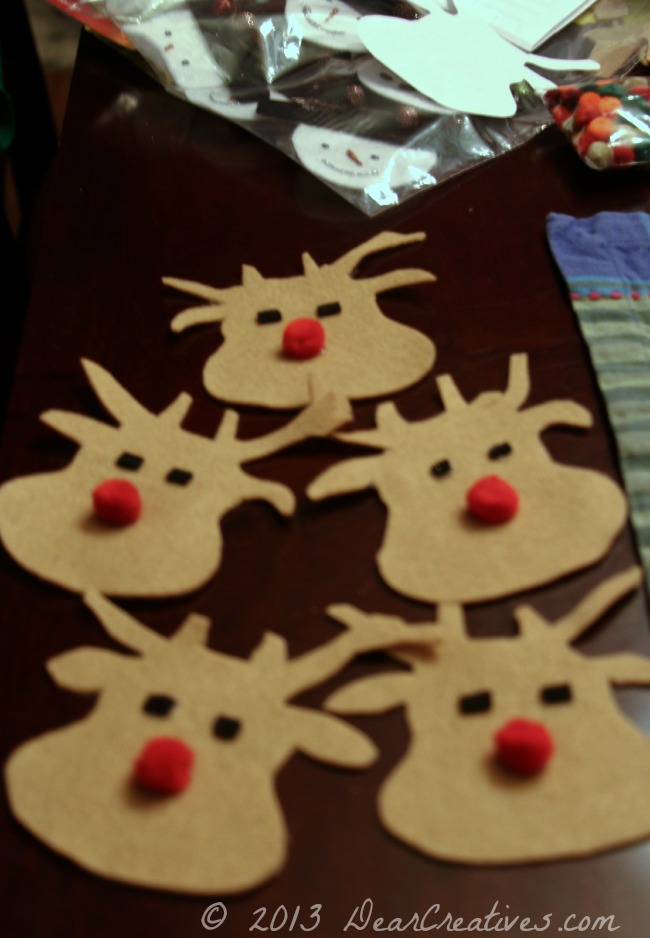 You can also make the Felt Christmas Tree and purchase kit for felt ornaments.
They have great supplies for all kinds of crafts and sewing projects! And great prices! You can see for yourself by visiting Fabric.com…Up to 70% off Retail
Felt Fabric Supplies for Making A Felt Christmas Tree
If you want to make a 3″ tree one 36 x 36-inch green felt will be enough. If you want to make a larger one you can purchase a piece 72 x 72 inches and cut to size. The green felt I used was:

Rainbow Classic Felt 36 x 36″ Craft Felt Cut Pirate Green
Felt Fabric Supplies for making ornaments
I purchased one each, blue, yellow, pink and two each cashmere (fawn color), walnut brown, white, black, and red. But, I think it's safe to say I would have made more if I had at least 3 each of the white, black and red felt pieces.
Rainbow Classic Felt 9" x 12" Cut Craft Felt Candy Pink
Friendly Felt 9″ x 12″ Craft Cut Red
Rainbow Classicfelt 9 x12" Craft Felt Cut White
Rainbow Classicfelt 9 x12" Craft Felt Cut Black
Rainbow Classicfelt 9 x12" Craft Felt Cut Cashmere
Rainbow Classicfelt 9 x12" Craft Felt Cut Yellow
Rainbow Classicfelt 9 x12" Craft Felt Cut Crystal Blue
Rainbow Classicfelt 9 x12" Craft Felt Cut Walnut Brown
I did end up putting some Velcro
on the backs of the ornaments the ribbed section only. I used a peel and stick and didn't sew it on. You can scruff up the backs a bit they will hold but, I thought for a better hold I'd just add the Velcro. I have heard of people using a little bit of spray adhesive
but, since this is for kids I opted out of that.
For adhering the tree to the wall use Command Strips
! That won't damage the paint or woodwork. Sorry about the quality of these images. I was sending it off and took them at night, but you get the idea. I'll get a better photo of the finished tree and update when I visit them!
I hope you are able to make your little ones this craft project. It was easy to do and I can't wait to make another. Now they want me to make a felt snowman
next! And a felt nativity ornaments
.
Happy Holiday Crafting!