I worked on some sewing today but, didn't have time to take photos to share yet, but stay tuned. I must say I am really enjoying that I pulled out the sewing machine. I think she missed me too, humming along perfectly & quietly keeping up with what I am making. It's like an old friend once you master a few skills, do a few projects it just grows on you. But, since I didn't have my post ready how about sharing some exciting news! It's that time of the year again – time for the Craftsy Summer Sale! Running 7/17 – 7/21, a different selection of classes will be on sale up to 75% off each day. Classes will be priced as low as $9.99! Check back each day to see which new classes are on sale! Some are even free!
I hope your as excited as I am. Months ago I picked up Jam & Marmalade The Blue Chair Way, Shoot It (photography for products) Disclosure: Yes, I am an affiliate. I do get a small commission for sharing but, I also use the site & love what they offer.The great news is as soon as I find out about Craftsy's news & sales I can share it with you!
Craftsy Sweet Summer Sale 7/17-7/21 Oh, maybe I should of posted this yesterday, but I was so busy sewing I missed getting the word out!
If you are looking for summer classes for the kids, classes for yourself or even to gift a creative friend or family member head on over & take advantage of the sale. I know I am going to see if I can pick up a class at up to 75% off just to have a few to take when Sammie goes back to school. & there are plenty of free classes being added all the time too!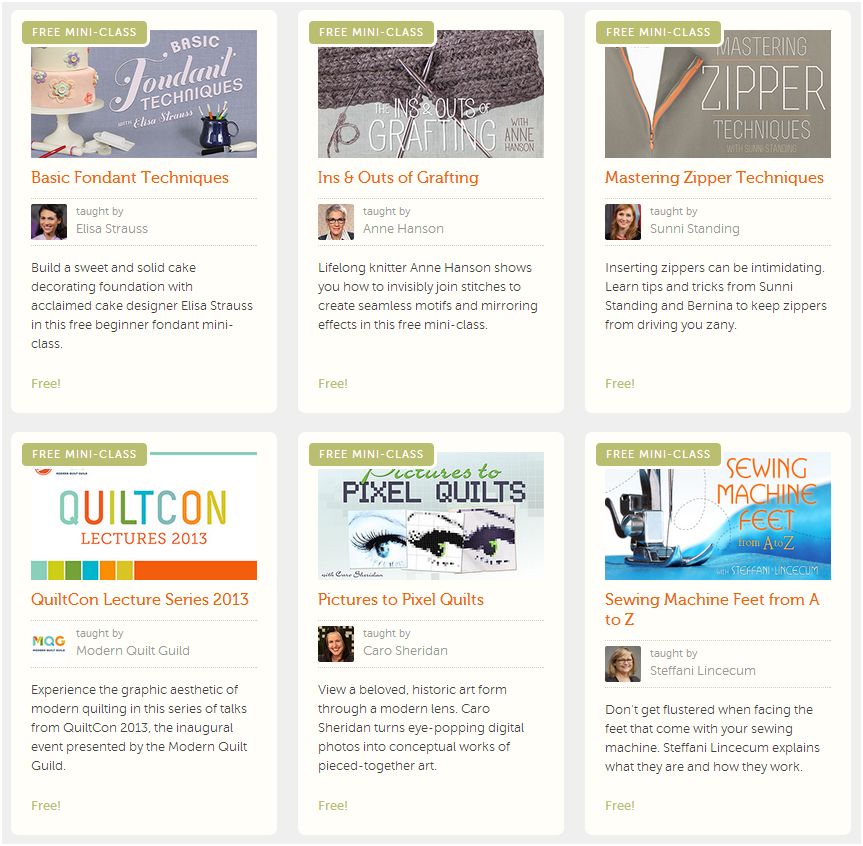 When I hopped over there I was so excited to see a class I've been eyeing on sale: Online Fabric Patterning with Wax Resist Class the ancient art of batik with a modern spin is on sale! & I love the latest class I picked up their last sale Tara Rebman- Quilt-As-You-Go: Patchwork Bags ( kind of has a modern twist) Super excited to start it & then share with you what I make. Honestly I couldn't pick these up full price. I know it does add up taking classes that's why I love Craftsy's big sales!
How often do you treat yourself to something? So whether you want to learn to sew a certain project like the quilt as you go bags or quilt block a month. You are sure to find something either on sale, a mini class or free offering. That's what I love about Craftsy.
Craftsy Sweet Summer Sale 7/17-7/21
Hope you find a class you'll love! & Don't forget they offer a 100% guarantee.
What have you been wanting to learn? Crafting or Sewing? Cake Decorating? …….