Cherry Cocktails Drink Recipe. Try to make any of the cherry cocktail and mocktails recipes. These are easy to make drink recipes. The drinks can be made two ways, one being with alcohol and the other without. Plus find a few other of our cherry drinks to make.
I have to admit I only indulge on occasion. It's nice to have options to serve both ways. Especially when you are gathering in groups or have kids. I hope you enjoy this drink with cherries.
Before I get into the drink recipe I have a funny story to tell you. My mom used to love maraschino cherries. We had them in our home all the time. When she would host our family celebrations they have always included her cocktails and our Shirley Temples.
Cherry Cocktails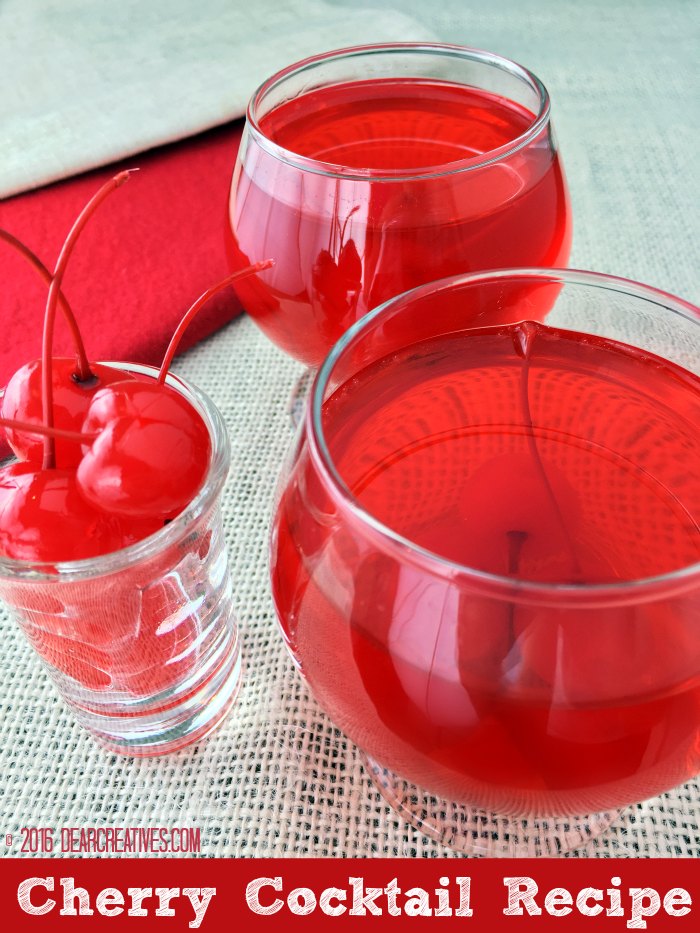 She had this fun trick she did with the cherry stems. She could tie them into a knot inside her mouth. Have you ever tried? For the life of me, I could never figure out how she did it. My mom loved her cocktails but, only had drinks on occasion.
But, she revealed in the fact that she had this bet worthy skill of tying cherry stems! She won many a bet when people would think she couldn't do this! I think it's one of those things you either can do or can't. Kind of like being able to curl your tongue. I can't do that either. Can you do either?
Drink Recipes
Cherry Cocktail Recipe
Total: 5 minutes
Servings: 2 Servings
Cherry Cocktail
Cherry Cocktail perfect for a party gathering or just for two. Can be made with and without alcohol.
Ingredients
•4 De-Stemmed Maraschino Cherries

•1 tbsp. Cherry Juice

from canned cherries

•1 tsp. Fresh Lemon Juice

•½ cup Grenadine

•2 oz. Whiskey

•1 cup Sparkling Water

•Stemmed Maraschino Cherries

garnish
Instructions
1.In a shaker, mash de-stemmed cherries with muddler.

2.Add cherry juice, freshly squeezed lemon juice, grenadine, whiskey, and sparkling water to shaker. Add ice cubes. Shake.

3.Pour into glass through strainer. Garnish with stemmed cherries.
Recipe Notes
Can be made without alcohol. Or make Shirley Temples for a cherry flavored non alcohol option.
How to Make Cherry Cocktails
Instructions

Ingredients for Cherry Cocktails
Add these items if making Shirley Temples or Italian Sodas for the kids
Optional Whip Cream for Shirley Temples
Tools you might need for mixing cocktails
5 piece cocktail shaker mixing set

What type of cherry is used for maraschino?
Originally they were mascara cherries from Croatia. *reference – visit to find out more about them.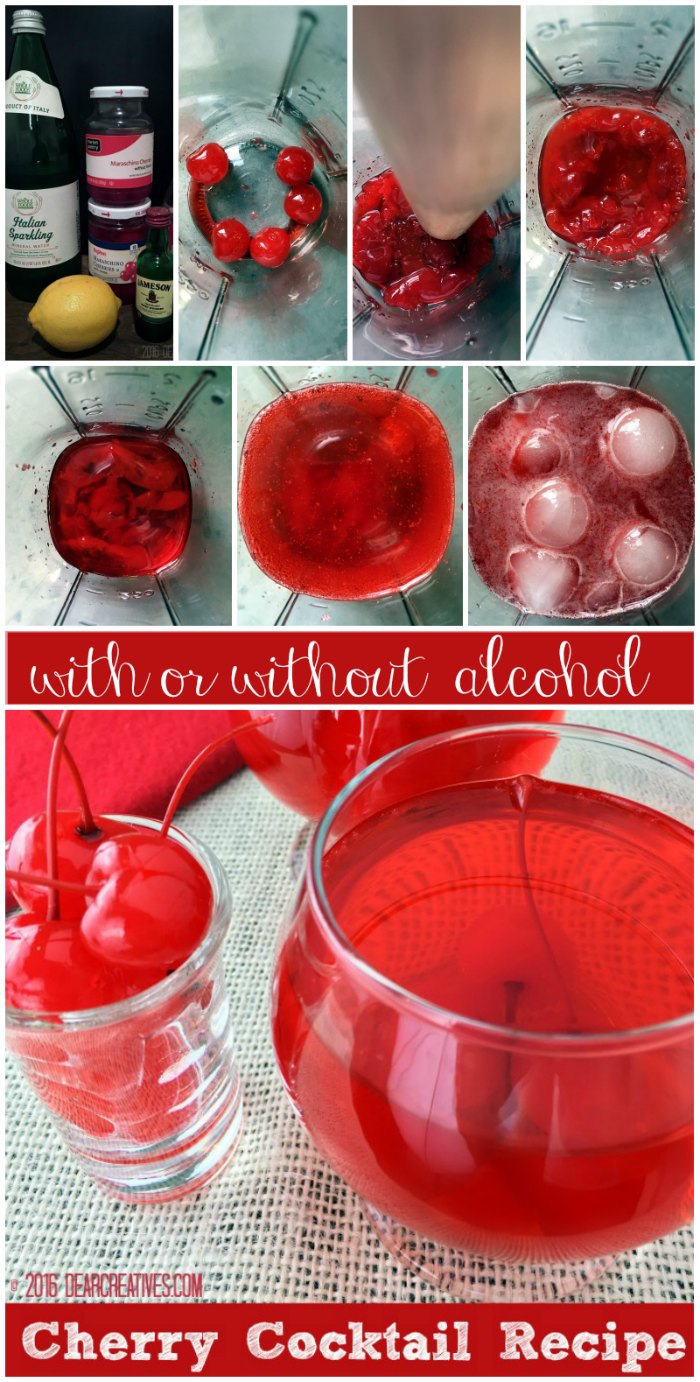 Instructions
In a shaker, mash de-stemmed cherries with a muddler.
Add cherry juice
freshly squeezed lemon juice
grenadine
whiskey and sparkling water to shaker.
Add ice cubes.
Shake.
Pour into a glass through a strainer.
Garnish with stemmed cherries.
Non-Alcohol Cherry Cocktail Drinks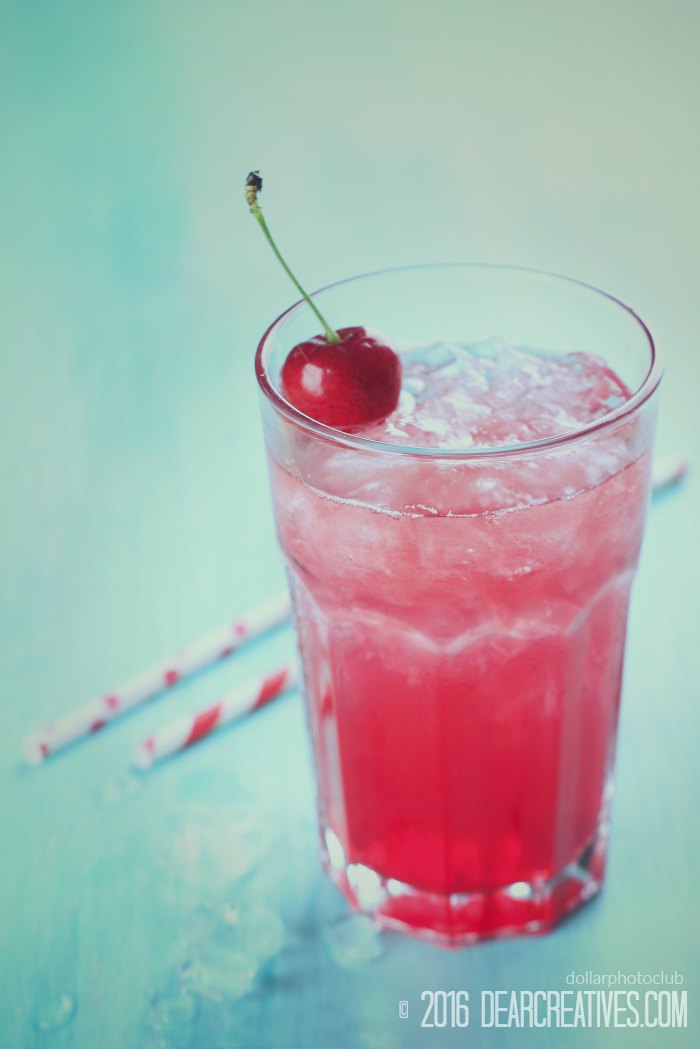 What's a Shirley Temple? It's an easy mocktail that consists of only two ingredients, with an optional topping of whip cream. Another version of a cherry mocktail is the Italian Soda here is how you make both.
How To Make A Shirley Temple
A Shirley Temple is an ounce of grenadine to 8 ounces 7 up or other lemon-lime soda. We love adding whip cream to the top with a cherry! Additionally, you could just use some of the cherry juice from the maraschino cherry jar with 7 up that is my hack for when you are out of grenadine.
How To Make A Cherry Italian Soda
The Italian sodas are very similar to a Shirley Temple they only take Cherry Torani Syrup plus sparkling water, optionally add a little cream to the mixture. Top with whip cream and a cherry if you like. Any way you mix these up you are sure to love them!
What are your favorite drink recipes? Cocktail or mocktail?
More fun with Drink recipes and mixology