Ladies, it's been a while since I shared our picks for outfit ideas. I have so many fashions to show you. (yay fashionistas) But, today is all about picking one outfit of the day to kick off your fall with! Are you looking for something easy to wear or a styled outfit? I am going to show you where to get a jump on styling your fall outfits. I styled this outfit for under $50. You can too! Our first pick, something cozy.
Yep, I am jumping into fall with a cozy outfit that has STYLE. Why? Well, if you are like me and sent your kiddos back to school then it's time to take care of YOU. This is just the beginning for picking outfits that you will be wearing all season long. Now, my first outfit pick isn't for those school meetings or things you want to dress up a bit for. Nope!
It's a casual outfit for putting on when you are just heading out to drop the kids off at school, running errands and just chilling with your COFFEE in the mornings! Raise your coffee mugs up, ladies! Because it's time to reclaim your mornings and take care of you again. Put aside the summer fun, kids messing up your house, endless prepping of food, and never getting anything done but, caring for and watching the KIDS.
Outfit of the Day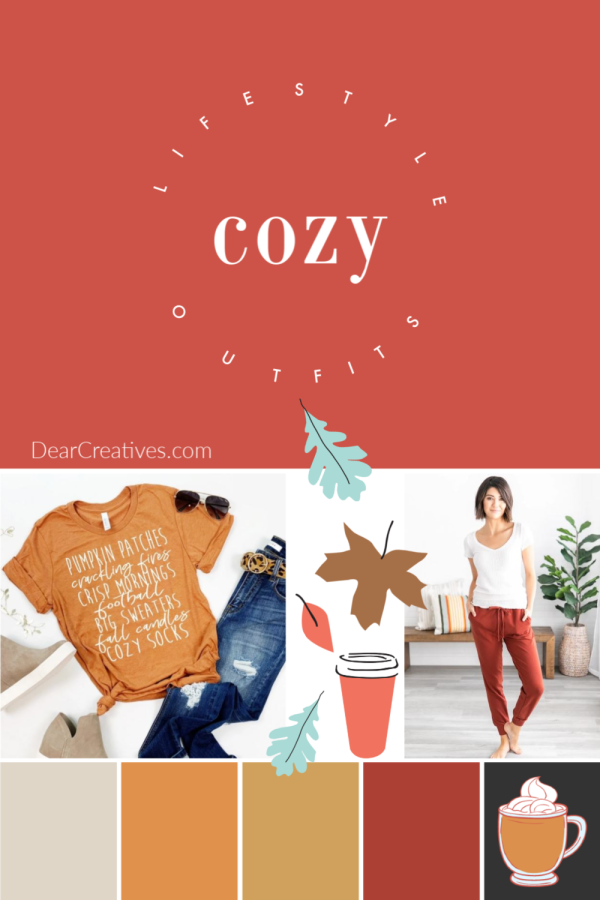 Even if you are heading to work (I use to be that working mom) you can wear this outfit on the weekends. What do my days look like? When I send off my daughter to school typically I do my typical morning routine, shower, dress and get working on the computer. Then later craft, cook, and clean. (uhh, clean) Why do I get dressed? I could work in my pj's all day long. But, you never know when you get a call they are sick, or they need you to bring or you get that knock on the door…
Plus, I like to work at home in a casual outfit that I can feel comfy in. Yet, if I do need to dress it up a bit, I swap out my lounge pants for nice jeans and toss on a sweater. Sometimes swapping out shoes depending on what's up. I spotted sooo many great deals but, here's our look of the day!
Cozy outfit
*Affiliate links are in this post, at no cost to you. What does this mean? I may earn a small commission if there are qualifying purchases. Just above this post is our full site disclosure.
Cozy Drawstring Joggers – Not only are they cozy they are stylish! Um, they be like, Yeezy stylish and in

soo many colors and sizes

. Ships for only $18.99!
Autumn Season Tops like this T-Shirt With All The Autumn Sayings, pumpkin patches, crisp mornings, crackling fires, football, warm sweaters, fall candles, cozy socks… and they ship for only $17.98

Slip-on shoes like these cozy shoes, Muk Luks that ship for only $9.99! If you just want to get them to school in a hurry. It's slide, slide slip-ity, slide. Slides are d-bomb for getting on and off. These are so cozy.
What's the total? Normally $130.98 for all this, right now this entire cozy outfit ships for only $46.96! Ladies, this outfit rolls straight to you with shipping for a total just under $50! Now it's time for you to put together an entire outfit for under $50 bucks. Or look for more stylish outfits to wear by heading on over to find your look of the day at Jane.com
Fall Outfit Under $50
Price: $13.99
Cozy Drawstring Joggers / Free Shipping
Price: $18.99
Mamas I promise if you are still chasing toddlers around. They will get older, (like the snap of a finger) and you will gain your freedom again. Well, at some point. I'll be celebrating next year when I send my youngest off to college. Or crying and running after her like in this movie, Life of the Party. This mama has game!
I wonder if Sammie will let me enroll in college with her? Yes, I might be this mom! (minus the partying). See me shrugging my shoulders? Well, if I can't go back to college maybe I can just grab the look of the day and say, "I styled this!" Holding her and her friends as a captive audience.
Maybe, I am feeling a little nostalgic, looking back to my college days. Hmm, wonder if I need a makeover too? Well, I'll save that for another day and share all the beauty tips I've been holding onto since we've had a busy summer.
What is #OOTD?
Outfit of The Day
I have one full year until I am an empty nester. Depending on the college she gets into and decides to go to. But, until then I'll just be wearing cute mom outfits, heading to her tennis games and hoping she thinks I still have a bit of style. Cozy or otherwise! Or maybe she will be giving me that makeover. HA!