Dear Creatives, I have been smitten with vintage caravans (trailers) that I have seen around the web for some time now. I decided to start working on some prototypes for pins of vintage caravans- trailers. I might have mentioned that Sammie & I pulled out the Sculpey clay & were making things. Maybe these aren't quite perfected yet & I think they are cuter in person than in these photos, but I thought I would share my vintage caravan pins anyway. Along with my unfinished ones needing second coats of paint, varnish & pin added on back. They attach like a broach with a pin clasp on the back.
Above are some of the unfinished ones. There are a few steps to making these clay pins. You shape roll them, shape them, cut them & add little details. Bake them in the oven & cool them. You paint them on the fronts & backs 2x then varnish seal them. Then you glue the pin clasp on the back. Easy Peasy? Well that depends on your patience & perfection level. But, I am rolling along with my prototype.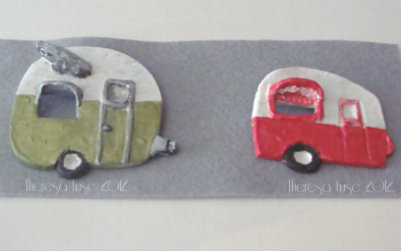 These are some of the first batch ones completed & I think some of them are still cute. What do you think? You can see when they get the sealer coats they are shiny. I just might add some lace curtains at some of the open windows. I can't wait to work on my next batch!
Yes, I will be selling these although not in the shop yet, but see one you like just email me. Want a custom one with special colors just ask. Different sizes available. I'll let you know when these little vintage broaches are wheeled into the shop!! & all the details will be listed too!
You might find me in search of a vintage caravan to buy one day or at least some more inspiration for some more vintage caravan pins that I'll be making. I am sure before the summers out a round up of vintage caravan love…….
What is inspiring your crafts? Have you worked with polymer clay?
Just in case you'd like to try some clay crafts yourself or with the kids one of the best places to grab some is right here from Dick Blick who carries it in many sizes & colors: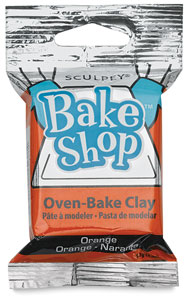 Sculpey Bake Shop Oven-Bake Clay
Kids love to make and bake clay people, animals, ornaments, and more — and Bake Shop oven-bake clay makes it more fun than ever. Soft and easy to use, Bake Shop comes in 12 great colors. Bake Shop clay is non-toxic, lead-free, phthalate-free, and made with AP-approved materials . Note — Recommended baking time is 15 min per quarter inch of thickness at 275° F (135° C).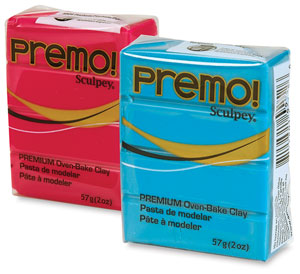 Premo! Sculpey
These are just two samples of the many sizes & types of polymer clay. I am using the Original Sculpey for my prototypes but, here is another product choice I could possibly try later on.
Premo! Sculpey is firmer than Sculpey III, and extremely durable when baked! From the makers of other Sculpey clays, it's a premium line of polymer clay. Designed especially to satisfy the needs of the artist, Premo! comes in a palette of vibrant colors modeled after those of oil paints. Beautiful used as is, they can also be mixed with other polymer clays, powders, or pigments for custom effects. Perfect for everything from sculpture, bead making, unique wearable art, and molds, to rubber stamping and home décor, Premo! is ready-to-use straight from the package. Smooth and pliable, it's easy to knead, yet stays firm enough for detailed work without crumbling. Oven baking hardens your creations, yet they remain flexible and durable, harder to break than those made with other clays.