Are you looking for an easy side dish to make? Try making this Scalloped Potatoes Recipe. It's easy to make, delicious, and tastes just like grandma's scalloped potatoes.
A classic side dish that can be used to accompany dinner or use it for a side dish for the holidays.
Scalloped Potatoes With Cheese
Use this scalloped potatoes recipe with cheese as a side dish to go along with dinner. This recipe is easy to make. A classic side dish made from scratch with thinly sliced potatoes…
Affiliate links may be included in the post. By clicking the links for qualifying purchases we earn a small commission. This is at no additional cost to you.
Ingredients
1 ½ lb. white potatoes
1/2 medium onion, chopped
4 Tablespoons of all-purpose flour
Salt (to taste)
Pepper (to taste)
2 cups whole milk
3 Tablespoons of cubed butter
1 cup of shredded cheddar cheese
1 Tablespoon of chopped parsley (garnish)
Instructions
How to make scalloped potatoes
Preheat the oven to 375F degrees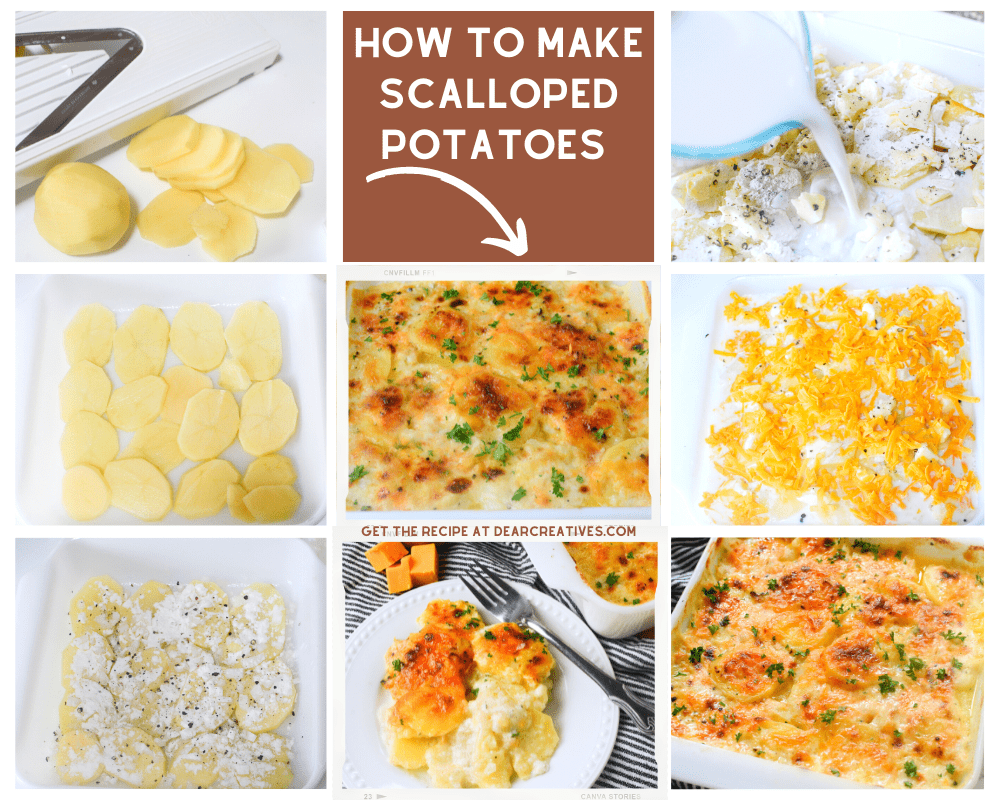 Peel the potatoes. And then use a

mandolin

or chef's knife to achieve thin-sliced potatoes. (Make the slices about to ¼ inches thick).
Finely chop the onions.
Spray the bottoms and sides of an 8 x 8 baking dish with non-stick cooking spray. Alternate the layers of potatoes, onions, flour, salt, and pepper, starting with potatoes first and ending with flour mixture on top. You should have 3 layers. (see the notes for the recipe)
Top the potatoes with the cubed butter.
Heat the milk. Stop heating the milk at the point that is just before boiling.
Pour the milk over the layers in the baking dish.
Top with the shredded cheese. (I like to shred the cheese myself vs. purchasing shredded cheese. I think it melts better and is creamier.)
Bake the side-dish covered. Bake until the potatoes are fork-tender. (For about 50 minutes).
At this point, you will uncover the baking dish and bake until the cheese bubbles and browns. (Bake about another 15 minutes)
Broil for 2 minutes to get a nice golden brown top.
Remove the dish from the oven. Place them on the stovetop grate or trivet and let the baked potatoes dish stand/rest for 15 – 20 minutes. Or let it rest until the sauce thickens.
Recipe Notes
You will need around 5 medium sized potatoes to get the three cups of sliced potatoes for the recipe).
Use yellow potatoes if you prefer or that's what you have on hand.
Yukon Potatoes or Russet Potatoes are best for scalloped potatoes.
Using a

mandolin

will help you get an even thickness of slices. If you don't have one, you will need a very sharp knife.
Put potatoes in a single layer, minimally overlapping but fit larger pieces together with smaller pieces to form a sort of puzzle, to cover as much space as possible.
Place a sheet pan or baking sheet under the dish while baking to catch anything that may overflow out of the baking dish.
Optional ways to make them and add more flavors are by sprinkling them with garlic powder, a dash of cayanne or paprika.
Scalloped Potatoes Recipe
If you are wondering, "What type of casserole dish to use for making casseroles?"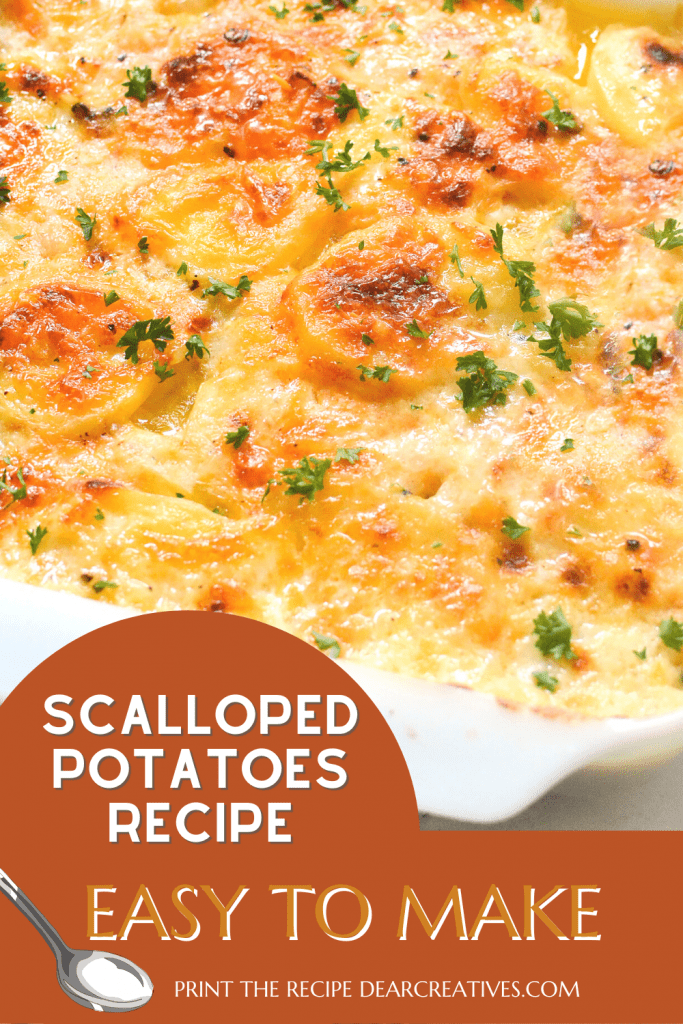 New here? Be sure to Subscribe. Grab our bonus printable recipe binder and cooking resources. Plus, never miss a post with our newsletter!
Don't forget to Pin it for Later
Want to see a few other ways to make scalloped potatoes?
Looking for other side dishes to make?